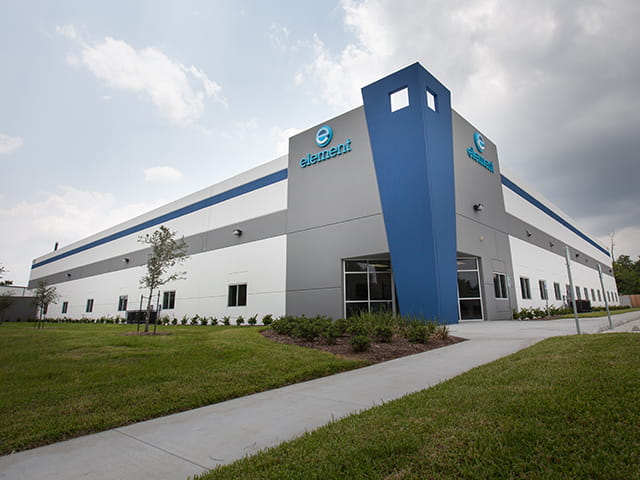 contact details
Element Houston
Address
14805 Yorktown Plaza Drive, Houston, TX 77040 USA
Phone:
+1 713 692 9151
Fax:
+1 713 696 6307
Sales Inquiries:
+1 888 786 7555
Element Houston is the USA's first-of-its-kind "Materials Technology Center", that is both multi material type and multi testing disciplinary type, dedicated to servicing the global Oil & Gas sector.
Located on a 5.3 acre campus adjacent to the Houston Energy Corridor, Element Houston has state-of-the-art equipment for machining, testing, fracture mechanics, corrosion, weld procedure qualification testing, failure analysis and air emissions testing. The facility operates both destructive and non-destructive laboratories; tests a broad range of metal alloys, thermoplastics, composites and elastomers; has large scale and capacity sour service testing capabilities all within the same campus, dedicated to supporting the Oil and Gas, Petrochemical and Pipeline industries on the Gulf Coast of the USA and worldwide. The equipment utilized within the laboratory include wire EDM, water jet, four new servo-hydraulic machines for fracture mechanics and a High Pressure High Temperature laboratory for sweet and sour exposures to metal and polymeric materials.Element Houston's combination of leading edge testing technologies & methodologies; proprietary technology and an innovative design offer clients significantly extended capabilities, reduced testing lead times and increased operational efficiency.
Looking for an approval, accreditation or document?
Find all Element's accreditation, certification and approval documents conveniently available by location.
services available
Element Houston
---

Our team of nearly 2,000 Engaged Experts working across the USA, Europe and Asia are ready to support you.
How could we help you today?
Make an Inquiry