Element Environmental Laboratories are delighted to be gold sponsors of NICOLA 2022.
Our team of experts will be available to discuss your laboratory testing needs: we support the contaminated land, hydrocarbon, industrial, mining and waste sectors and provide analyses of soil, water, waste, sediment, soil gas, vapor, ambient air and hydrocarbon products.
About NICOLA 2022
Join us at NICOLA 2022 to collaborate and network across the industry, academic and regulatory communities in striving to make a difference. The theme for this year is "Resiliency, Nature & Climate Solutions: Striving for Sustainable Land Management".
The event will be held at the Mount Nelson Hotel, 76 Orange Street, Gardens, Cape Town, South Africa.
Keynote speakers will bring impactful insights setting the tone for our platform presenters to share on relevant topics aligned to local and globally trending themes.
The conference represents a fantastic opportunity to share ideas and ways of working which can be applied to your projects and generate value for your organization.
Book a meeting
Schedule a meeting with one of our experts to learn how we help customers meet environmental obligations through our comprehensive range of laboratory testing services.
To request a meeting at NICOLA 2022 please send an email.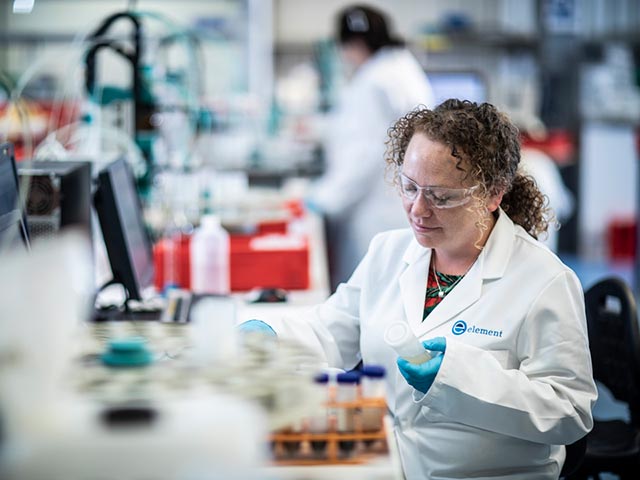 Environmental Testing Services
With a network of accredited environmental testing facilities located in the UK, the Americas, the Middle East, and Africa, Element helps its customers to meet their environmental obligations through our comprehensive range of laboratory and field based environmental testing services.
Ensure that your activities adhere to the highest standards of environmental management with Element Environmental.
READ MORE
Our team of over 9,000 Engaged Experts in North America, Europe, The Middle East, Australia, Asia and Africa are ready to help you.