Element has one of the most comprehensive ranges of materials testing services available in the TIC sector that covers materials selection, application and performance testing as well as failure analysis testing services.
We apply a combination of both destructive testing and non-destructive testing methods to metals and non-metals including; composites, polymers, elastomers, and resins to determine their potential properties, performance, strength, durability and resistance to corrosion and to ultimately help make certain that they are safe, compliant and fit for purpose in their end application.
We are a world leader in the provision of high volume routine mechanical testing services such as tensile testing, impact testing or hardness testing, for both metals and polymeric materials, as well as highly specialized mechanical testing such as fatigue testing, fracture mechanics, crack metal testing, crack propagation testing, creep testing, corrosion testing and chemical analysis services using OES, XRF, ICP, EDS, MS and other analytical techniques.
As part of our material testing service range, Element provides advanced solutions in metals technology, offering critical support in testing and consultation aligned to all stages of metals processing and product development. Our laboratories deliver comprehensive, inter-disciplinary services in the development, processing, characterization and testing of all materials.
Materials testing services
Our range of materials testing services includes
Material properties testing services
Material properties testing is a critical step in understanding how your materials will perform or react under a wide variety of stresses. Material properties testing can assist in R&D projects, prevent failures in the field, and anticipate issues before they arise. Not every material is the same, and guesswork is not an option.
Element can assist you in evaluating and understanding your material's properties and provide you with valuable insight about virtually any material characteristic, and any material type. We offer a broad range of material properties testing services, specializing in metals, advanced composites, polymers, ceramic composites, and many more.
The Element advantage
Element is a trusted testing partner to many of the world's most recognized and iconic brands within the global Aerospace, Transportation, Oil and Gas, Fire and Building Product, Infrastructure and Environmental sectors.

Our materials testing laboratories are staffed by over 6,600 Engaged Experts, who solve our customers' most complex technical and commercial challenges in the fields of materials selection; materials application; production; certification and failure analysis.
To learn more about our materials testing, or to speak with one of our experts, contact us today.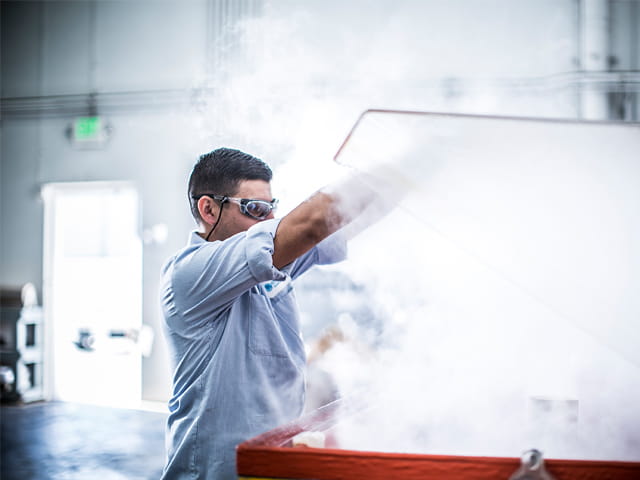 Environmental Testing
From high temperatures and sun exposure to humidity and corrosion, your materials will be affected by external conditions. Our environmental testing services make sure they're fit for purpose.
As technology advances in every sector, materials need to withstand more extreme environments than ever before. To make sure that your materials and products are up to the task, Element offers a full suite of environmental testing services.
Our labs perform environmental testing in a range of thermal, mechanical and corrosive conditions. With years of experience in a variety of industries, our experts are ready to assist with any project.
Some of the environmental testing methods that we offer include:
Color Testing
Environmental Stress Cracking
Flammability Testing
Freeze/Thaw Testing
Gloss Testing
Mold & Fungus Resistance
Ozone Resistance Testing
Temperature & Humidity Testing
Weatherability/UV Weathering
Our team of over 9,000 Engaged Experts in North America, Europe, The Middle East, Australia, Asia and Africa are ready to help you.