Ultrasonic testing (UT) is a non-destructive test method that utilizes sound waves to detect cracks and defects in parts and materials. It can also be used to determine a material's thickness, such as measuring the wall thickness of a pipe.
Because this method has higher power potential than other non-destructive test types, ultrasonic testing can produce images that are more clearly defined than other methods and indicate characteristics deeper than surface level. We offer ultrasonic testing services for a variety of industries, including Aerospace, Oil & Gas, Power Generation and more.
Ultrasonic inspection methods
Depending upon the test requirements, parts are evaluated using contact or immersion ultrasonic testing. Ultrasonic inspection relies on electronic transducers that transmit high-frequency sound waves to a material. These sound waves bounce back images, which reveal key characteristics of a material's properties. The images created by ultrasonic testing can indicate cracks, weld grooves and fractures, as well as indicate material thickness and moving components.
Contact Ultrasonic Inspection
Contact ultrasonic testing is often used in situations where radiographic inspection is not possible because it requires access to only one side of the test specimen. Because of the portability of the equipment and variety of methods available, ultrasonic testing allows for the inspection of parts that are large, irregularly shaped, or unable to be transported.
Immersion Ultrasonic Inspection (IUT)
Immersion ultrasonic testing is a laboratory-based inspection, useful for the detection of smaller defects, from cracking to porosity. Submersing a component or material allows for better sound travel from the transducer, and provides accurate reporting of sub-surface irregularities and flaws. IUT supports a broad range of requirements as it applies to any wall thickness, as well as any material. Element has developed world-leading Immersion Ultrasonic Testing capabilities for the testing of pipe-line girth welds used in the Oil & Gas industry.
The Element advantage
Our ultrasonic testing experts provide in-house, onsite and field inspections and certifications. Whether your inspection requirements are for raw materials or fracture critical components, we offer the equipment, expertise and capacity for the task.
For more information about our ultrasonic inspection services or to request a quote, contact us today.
"Excellent Quality"
Marianne King
Triplett Machine Inc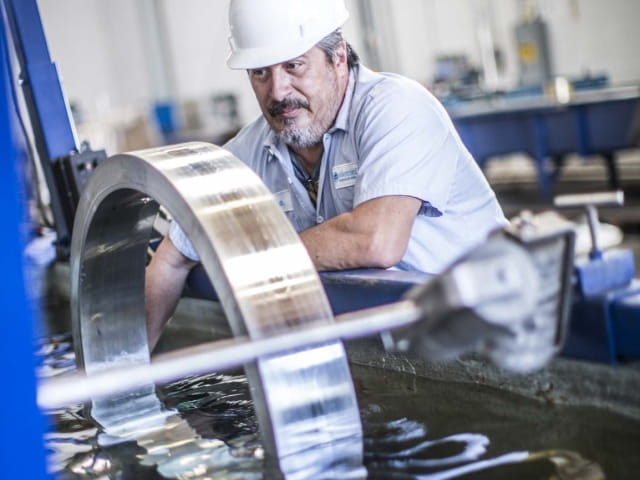 Ultrasonic Testing (UT) & Inspection Services
Our Ultrasonic Testing Capabilities
We offer a full suite of ultrasonic inspection services to accommodate for test specimens of virtually any size.
Our ultrasonic testing capabilities include:
Turntable immersion tanks for components up to 6 feet in diameter
A vertical ring rolling immersion system for components up to 12 feet in diameter
Immersion tanks for plate, bar, and extrusion stock up to 36 feet long
TACTIC immersion line for pipe and bar
Contact ultrasonic for large components, plate, bar, and field services
Data acquisition
C-scan ultrasonic inspection
American Metal Society
AMS-STD-2132, AMS-STD 2154, AMS 2630, AMS 2631, AMS 2632, AMS 2634 
American Petroleum Institute 
API STD 1104
American Society of Mechanical Engineers
ASME III, ASME Section V, ASME Section VIII
American Society for Non-Destructive Testing
NDT 5, NDT-UT-1001
ASTM International 
ASTM A388, ASTM A435, ASTM A577, ASTM A578, ASTM B594, ASTM E114, ASTM E164, ASTM E213, ASTM E273, ASTM E317, ASTM E428, ASTM E587, ASTM E797, ASTM E2154, ASTM E2375, ASTM E2700
American Welding Society
AWS D1.1, AWS D1.5
British Standards Institute
BS EN ISO 9712, BS EN
Deutsches Institut Fur Normung E.V.
DIN EN 10160, DIN EN 10228-3, DIN EN 10228-4, DIN EN 10246-6, DIN EN 10306, DIN EN 10307, DIN EN 10308, DIN EN 12680-1, DIN EN 12680-2, DIN EN 12680-3, DIN EN 14127, DIN EN 583-4, DIN EN ISO 10893-10, DIN EN ISO 10893-11, DIN EN ISO 10893-12, DIN EN ISO 10893-8, DIN EN ISO 10893-9, DIN EN ISO 17640, DIN EN ISO 22825, DIN ISO 4386-1
International Electrotechnical Commission
IEC 60601-2-37
Military Specification 
MIL-STD-2132, MIL-STD-271F, MIL-STD-883, MIL-I-8950
Naval Sea Systems Command 
NAVSEA T9074-AS-GIB-010/271
National Aerospace Standard
NAS 410, NAS 824
Various Customer Specifications
Including Boeing, Bombardier, Cessna, GE, Hamilton Sundstrand, Honeywell, Northrop Grumman, Rolls Royce
Our capabilities
Our Materials Testing Services
---
Our team of over 9,000 Engaged Experts in North America, Europe, The Middle East, Australia, Asia and Africa are ready to help you.