Element is led by a dynamic group of individuals with many years of experience in their respective leadership and management fields.
The Operating Board meets every month to review the overall performance of the business and also to determine group-wide strategies and priorities.
Element's Operating Board members are:
PRESIDENT & CEO
Jo Wetz
Jo was appointed CEO of the Element Group in 2019, having been the group CFO since 2012 and prior to this a Board member of the Group since the buyout from Stork in 2010. A chartered accountant by training, Jo spent his early career in private equity and invested in a number of global testing businesses both in Europe and the US, including leading the buyout of Element in 2010.
Jo has been instrumental in growing Element from 20 locations in five geographies at the time of the buyout in 2010 into a global business with almost 200 locations in 30 countries with circa 7,000 colleagues, through a combination of strong organic growth and the integration of 28 acquisitions.  Over the last ten years at Element he has led the buyouts with 3i and Bridgepoint as well as the significant minority investment in Element by Temasek.
GROUP CFO
Ruth Prior
Ruth was appointed as Chief Financial Officer (CFO), joining Element's Executive Team and the Board on 1 June 2020 and reporting to Jo Wetz, CEO. She is responsible for all the finance, procurement, legal, tax and IT activities within the Group.
Ruth spent two and a half years as CFO at William Hill Plc, leading its finance, assurance, legal and procurement functions, as well as playing a critical role in driving company strategy and business transformation. She was also instrumental in the IPO of payments processing business Worldpay in 2015 – the largest ever private equity backed IPO in the UK at the time.
Ruth is a qualified accountant with a degree in Biochemistry and spent nearly a decade in private equity, working across a variety of sectors including waste, renewables, music, publishing and retail.
EVP, Americas
Rick Sluiters
Rick joined Element in 2004, originally as a Business Development Manager responsible for integrating newly acquired laboratories into the organization. He has held General Manager positions for Element's laboratories in Los Angeles, Detroit and Amsterdam and led several US laboratories through a Lean process transformation.
In 2011 Rick took the position of Vice President of European Operations and formally joined the Element Executive Team. Rick became the Executive Vice President (EVP) of Aerospace in 2014. Under his leadership the global aerospace sector has more than quadroupled in size and successfully integrated over 10 acquisitions, adding capabilities, capacity and footprint to become the number one provider of aerospace testing services in the world. In October 2020 Rick was appointed EVP, Americas, with responsibility for all of Element's operations in the USA, Canada and Mexico, covering 88 laboratories across the aerospace, connected technologies, defence, life sciences and transportation end markets.
EVP, EMEAA
Matt Hopkinson
Matt joined Element in December 2018, bringing a wealth of testing experience and leadership to lead the global Energy sector. In October 2020, Matt was appointed EVP for the EMEAA region, with responsibility for five business units covering testing, certification and inspection in the aerospace, connected technologies, construction, energy and environmental end markets across four continents.
Prior to Element, Matt was a member of the Group Executive Leadership Team at Bureau Veritas, and was most recently Senior Vice President responsible for Commodities laboratories and operations in Europe. Matt has extensive experience in managing global laboratory networks, having held operational and commercial leadership roles in the Americas and Europe, and as well as managing global teams focused on account management, technical governance, systems development and new growth initiatives.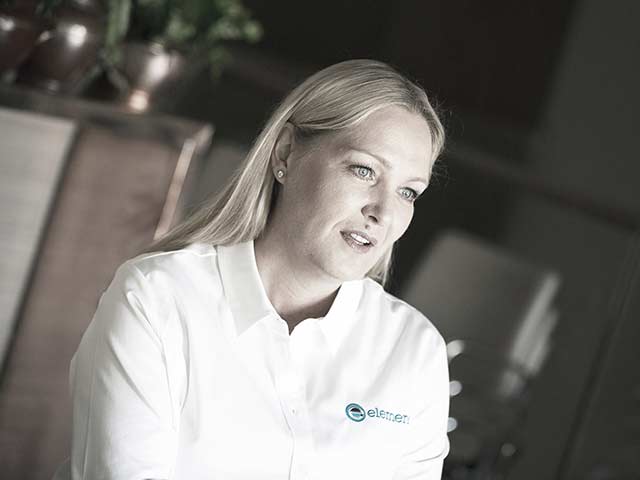 CHIEF PEOPLE OFFICER
Nancy Grösch
Nancy leads the Group HR function across all of Element's geographies, responsible for setting and executing the company's global people strategy. Nancy joined Element in September 2019. With over 20 years' global experience in HR, she brings deep expertise in linking culture, engagement and performance, as well as implementing large-scale change initiatives. Prior to joining Element, she has worked in senior HR roles for global organisations such as Airbus and General Electric and was most recently Senior Vice President, Head of Global HR & Ethics Officer at Jet Aviation.
EVP, Corporate Development
Arnout Lijesen
Arnout joined Element in early 2004 and has been a driving force behind the Group's successful organic and acquisitive growth strategy.
Responsible for defining and executing the Group's overall growth strategy, Arnout has initiated and supports various transformational activities including: a multitude of bolt-on acquisitions in the USA and Europe; the rebranding from Stork to Element; Element's continuous improvement and customer service excellence initiatives; and the Group's entry into China.

Since the carve-out in 2010, Arnout has been focused on leading Element's highly successful mergers and acquisition program. Under his leadership the Group has acquired and successfully integrated over 25 market leading businesses. Prior to joining Element, Arnout previously worked for Unilever Group Unichema and the management consultant firm Arthur D. Little.
EVP, Commercial EXCELLENCE
Frido Langedijk
Frido joined Element in January 2017 and is responsible for the design and delivery of commercial best practices, process, tools and systems that maximize profitable revenue across the Group while enhancing the customer experience.
Together with his team and working as business partners to support the wider commercial organization, Frido is responsible for driving growth through a set of groupwide commercial excellence programs, including key account management, which are focused on consistently improving sales force effectiveness and establishing a high performing, pro-active commercial culture.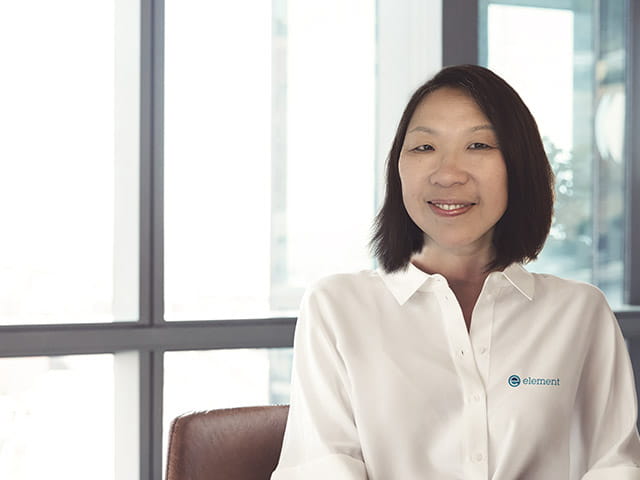 EVP, Digital Transformation
Janet White
Janet joined Element in 2020 and is responsible for the Group's digitalisation strategy, roadmap and implementation of digital initiatives developing and leveraging automation, AI, and IoT solutions to enhance our customers' experience, drive internal efficiencies and deliver growth with digital offerings to enhance our competitive advantage.  
She is a leader with deep experience in digital transformation.  Janet joined Element after 15 years in IBM where she was an executive partner in consulting with global clients across a range of sectors including automotive, aerospace, oil & gas, industrial products, electronics and telecommunications. Prior to IBM, Janet worked for British Airways for 15 years and held roles in IT management, global change program management and business intelligence.