As hydrogen emerges as a big player in the global clean energy market, the materials and infrastructure involved in its generation, transportation, distribution, and storage are presenting new challenges to the industry. Element has extensive technical expertise in testing materials, coating, and electrochemistry in environmental conditions.
As an energy carrier, hydrogen (H2) offers numerous advantages: it can be used in internal combustion engines or fuel cells, producing virtually no greenhouse gas emissions when combusted with oxygen.
Hydrogen can be transported, stored, and even blended with other sources such as natural gas to reduce CO2 emissions. So-called "green" hydrogen produced with electricity from renewable sources such as wind power or solar cells instead of fossil fuels allows CO2-free Energy production.
Testing in a hydrogen environment
Hydrogen-related technologies for production, storage, transportation, and utilization are evolving, and understanding them is an essential part of today's world of energy and sustainability.
The interaction of materials with hydrogen and the associated hazards and failure consequences have made material science and electrochemistry two fundamental areas of research for further development and wider safe application of hydrogen-related technologies.
With decades of experience in testing and qualification of materials, Element is well prepared and actively involved in further development and application of safe hydrogen-related technologies, emphasizing testing, characterization, and qualification of materials, both metals, and polymers, exposed to hydrogen-containing environments.
Element supports customers with their Carbon Capture Usage & Storage projects (CCUS), developing fuel tanks for the aerospace and transportation industry, as well as pipeline and storage facilities for the energy sector.
Element's current research and development activities are focused on expanding the facilities and infrastructures for performing mechanical and fracture mechanics testing in H2 environments.
The result of such testing scenarios will be implemented in a fracture mechanics-based design approach for hydrogen containment and transport components. This will, in turn, significantly reduce concerns about catastrophic failures due to embrittlement and sub-critical crack propagation in structural materials.
Hydrogen testing under cryogenic conditions
Hydrogen can be stored binding it to chemical compounds and as a gas or liquid. Storage of H2 as a gas typically requires high pressures up to 800 bar, while its boiling point of -253°C at one bar requires cryogenic temperatures to keep it liquid.
For the characterization and qualification of materials used for liquid hydrogen storage tanks, Element offers a full range of cryogenic testing for mechanical and fracture mechanics in cryogenic environments as low as -268 °C.
Hydrogen permeation testing on polymers
Because of its small molecular size, hydrogen can permeate through polymeric (non-metallic) materials much faster than methane or other gases traditionally associated with fossil fuels. This needs to be quantified so that, for example, the amount of hydrogen permeating through the walls of a thermoplastic transmission line can be calculated, as well as the losses through seals in compressors etc.
Element is already conducting testing with hydrogen on elastomers and thermoplastics at pressures to 100 bar and has been able to compare permeation rates to previously tested gases.
The Element advantage
Element offers outstanding knowledge and expertise in the fields of materials science, corrosion, coatings, and electrochemistry. Our engaged experts have state-of-the-art equipment to provide testing, certification, and consulting for many areas of hydrogen-related technologies.
For more information about our hydrogen testing capabilities or to request a quote, contact us today.
Blue hydrogen production with Carbon Capture and Storage:
Blue hydrogen is produced from natural gas with CO2 as waste product. When the CO2 is transported to underground sites for permanent storage (carbon capture and storage, CCS), the hydrogen is termed 'blue' and is carbon neutral. This presents challenges to materials from both a CO2 and an H2 perspective as both involve high pressures and temperatures as well as contamination by other trace gases. Rapid gas decompression (RGD) with CO2 also places increased stress on non-metallic seals and components.

Hydrogen in Automotive:
Small storage and fuel cells are needed. Such technologies work at high pressure up to 750-800 bar. The materials must be developed, tested, and certified for these conditions.

Hydrogen in Aviation:
Airbus, among others, is working on hydrogen-powered aircraft. One challenge is to store the fuel in liquid form at -253 °C. The materials for the tanks must be developed, tested, and certified for these low temperatures.
Hydrogen in energy supply:
When hydrogen is to be fed into pipelines instead of or mixed with natural gas, it must be considered that both gases differ in diffusivity and corrosivity. In many cases, adaptations or renewals are required for production plants, transport infrastructure, and distribution to end consumers. This updated infrastructure also requires different maintenance processes.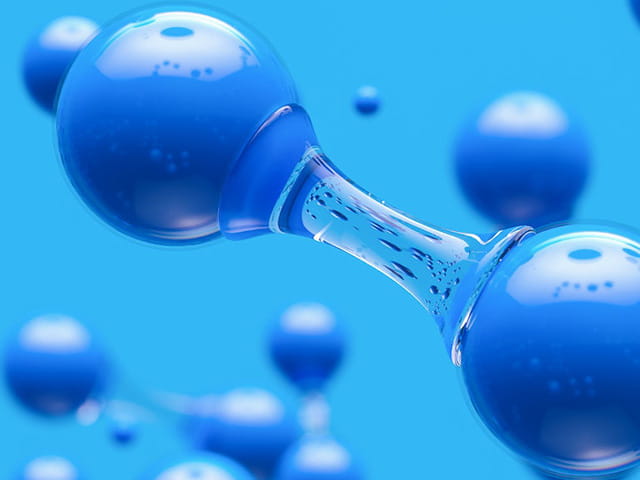 Our modelling and simulation work
Element's Digital Engineering team are utilizing modeling, simulation, data science and other digital solutions to overcome complex challenges across a range hydrogen projects.
Read our case studies to learn how we partner with energy companies working at the forefront of the energy transition to drive projects forwards.
Read our hydrogen case studies
Our team of over 9,000 Engaged Experts in North America, Europe, The Middle East, Australia, Asia and Africa are ready to help you.