Element's polymer testing labs offer world-class expertise in testing for polymeric materials, including elastomers, thermoplastics, composites, coatings, and structural adhesives in a variety of industries.
Element's network of cutting-edge polymer testing labs provide insight on how plastics and other polymeric materials will perform under mechanical and environmental stresses. Our expert staff and advanced laboratory technology allow us to perform a truly comprehensive range of tests, including compositional and chemical analysis, thermal analysis, permeation testing, and mechanical testing of polymers.
Trust an Element polymer testing lab to help you understand the limits of your materials and get the most value throughout their life cycle. For a full list of the standards and methods we utilize, or to learn more about custom testing, please contact us.
Mechanical Testing of Polymers
Polymer mechanical testing subjects the test specimen to different degrees and types of mechanical stress to understand how it will perform under extreme conditions. Element's capabilities for mechanical testing include, but are not limited to:
Hardness testing for polymers and composites
Polymer tensile testing (strength)
Polymer compression, impact, creep and fatigue testing
Yield, adhesive and peel strength
Chemical & Compositional Polymer Testing
Element's labs can also provide detailed information on the chemical makeup of a polymeric material, which gives insight on its quality, determines its compatibility with other materials and identifies any impurities or contaminants. Our labs can identify the components of an unknown polymeric material in great detail using expert chemical and thermal analysis techniques. Chemical polymer testing may be necessary for material verification, failure analysis, or deformulation.
To learn more about Element's polymer testing capabilities, or request a quote, contact us today.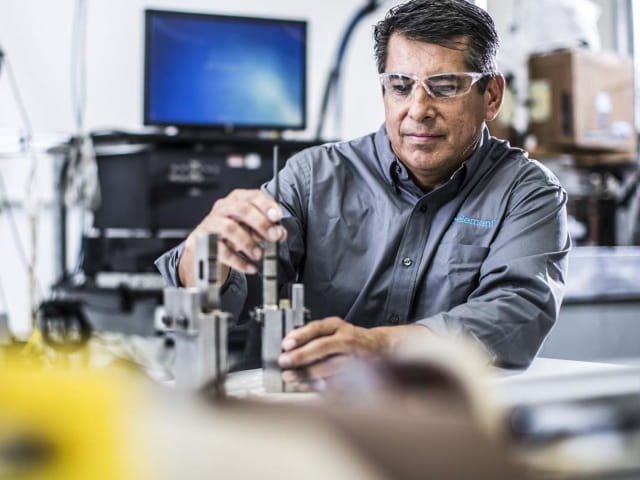 Polymer testing services
Custom Testing Solutions
In addition to providing testing according to recognized industry standards such as ISO and ASTM, Element has years of experience in developing custom test methods and equipment based around clients' project requirements.
Element's Engaged Experts are able to develop custom test methods and equipment when standard test methods are not available, or when clients wish to explore material performance limits, accommodate particularly severe operating conditions, or investigate new materials and new equipment design. 
Combining industry experience with state-of the-art-laboratories and a diverse range of equipment, Element tailors bespoke testing programs around your needs whilst adopting a flexible approach to meeting requests, even for the most challenging projects.  
Our capabilities include:
The design, fabrication, and commissioning of test rigs and fixtures
The use of DAQ software for instrumentation: measurement of pressure, temperature, stress, strain, load, and displacement
The use of machine control software: control of temperature, pressure, displacement, actuation devices
Image processing software: fracture surface analysis, dimensional change
New operating procedure development
Consultancy
Our capabilities
Our Materials Testing Services
---
Our team of over 9,000 Engaged Experts in North America, Europe, The Middle East, Australia, Asia and Africa are ready to help you.