Strain analysis (or stress-strain analysis) is a powerful tool for quantifying the changes of a material under the effects of various loading conditions.  This technique can be conducted with both physical and optical testing methodologies in a variety of working environments. 
In a stress strain analysis, we apply strain gages to your product to determine the stresses acting on the part. Components can be subjected to static or dynamic loading or other environmental stresses, such as load, torque, pressure, vibration, or temperature. Our strain analysis services help you make informed decisions about your product's performance including strength, load limits, useful life and operational performance parameters.
Our Strain Analysis Services 
We provide stress-strain analysis and strain gaging services for products and materials in Transportation, Defense, Aerospace and industrials. From individual components and subsystems to full-size products, we support engineering designs, product validation, strain life predictions and validation of analytical models (FEA & Dynamic Modeling).
Our data acquisition and engineering support specialists work with you to create the optimal test procedure, developing plans for evaluating your materials and products that meet the engineering design criteria. 
World-Class Strain Analysis Capabilities
We can install and measure strain gages in virtually any condition, including low and high temperature environments and immersion in liquids. Our state of the art data acquisition systems allow measurement capabilities for over 300+ strain measurements at the same time.  Whether in the field or in one of our state-of-the-art laboratories, our experts are capable of handling complex and challenging projects, providing you with critical, real-time data in the field. 
For more information about our strain analysis services, contact us today.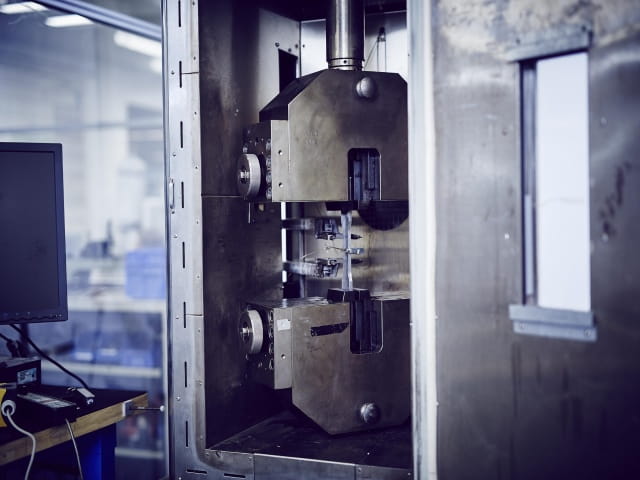 featured service
Benefits of Element's Stress Strain Analysis Program
Element's strain analysis and engineering services combine the benefits of supporting multiple programs while streamlining the testing and validation process.
Our strain analysis services can provide many benefits to your test program, including:
Computer Model Correlation & Validation
On-Site/In-Field instrumentation and data acquisition services
Six Data Acquisition Systems capable of 300+ channels each
Acquisition systems capability of recording real time data to supplement strain measurements including digital video, CAN & LIN bus protocols
Strain gage temperature ranges from -250°C to +1000°C
Application of any strain gage virtually any substrate including composites, glass, ceramics, steels & alloys
Torque strain gage applications both external and internal shaft installation with telemetry systems for rotating machinery
Expertise with over 200+ years combined experience in strain based installation and testing programs
Fatigue life estimations for structures based on the target service life expectations
On-Site support for both the international and domestic geographic locations
Ready to request a quote?
Our deliverable is certainty - high quality data, test reports and certificates that you can absolutely rely on when making decisions about your materials and compliance. Engage with an expert today.
Our capabilities
Our Materials Testing Services
---

Request a Quote
Our team of nearly 6,700 Engaged Experts working across the world ready to support you.
Request a Quote