Mechanical testing, also known as destructive testing, reveals the properties of a material under dynamic or static force. Designed to ensure that materials are suitable for their intended applications, mechanical testing includes methods such as tensile strength, compression strength, impact resistance, fracture toughness and fatigue.
Element offers a full suite of destructive testing services for metallic and nonmetallic materials, as well as components and specialty products. Whether testing to a standard method or developing a custom program, our experts can provide you with accurate, reliable results for projects large and small.
Element in destructive testing
With expertise across some of the world's most vital industries, we can assist with even the most challenging projects, no matter what the material. For more information about our destructive testing services, contact an expert today.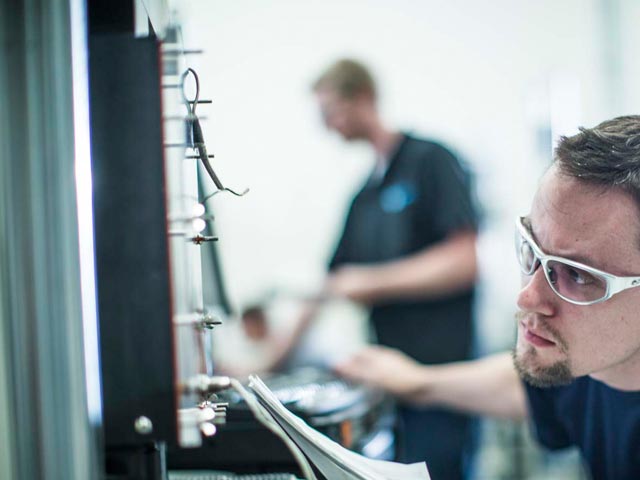 more details
Custom Mechanical Testing Solutions
Element has extensive knowledge and experience with a wide variety of custom mechanical testing applications, including:
Multi-axial loading (static and dynamic, coupon level and component level)
Tension, compression, shear, and torsional loading (static and dynamic, coupon level and component level)
Customized fatigue testing and analysis
Rotating Beam fatigue testing
Tribological (wear) properties:
Metal on Metal (MoM)

Metal on Plastic (MoP)

Fabrics

Taber Abrasion

Finger touch wear simulation (RCA Abrasion)
Oversized component testing:
High Displacement (up to 48")

High Load (up to 300,000 lbs.)
Subzero and elevated temperature environments
Temperature/humidity chambers
Custom loading profiles/waveforms
Custom generated NDE certification coupons
Standards we test to
Element provides mechanical testing to many common industries standards, including those shown below, as well as custom specifications. 
Bend Testing:
API 1104
ASME Section IX
ASTM A370
ASTM A619
ASTM E190
ASTM E290
AWS D1.1
BS 4449
ISO 5173
ISO 7438
Charpy/Izod Impact:
ASTM A370
ASTM A923
ASTM D256
ASTM D746
ASTM D1822
ASTM D4812
ASTM E23
ISO 148
ISO 9016
Fatigue Testing:
ASTM D3479
ASTM D4482
ASTM D5528
ASTM D6873
ASTM D7905
ASTM E466
ASTM E606
ASTM E647
ASTM F1160
ASTM F1800
ISO 1143
Fracture Toughness: 
ASTM B645
ASTM B646
ASTM D5528
ASTM D7905
ASTM E370
ASTM E399
ASTM E1290
BS 7448
EN 6033
EN 6034
Shear Testing: 
ASTM A370
ASTM B769
ASTM C273
ASTM D3163
ASTM D3518
ASTM D5379
ASTM D5868
ASTM D7078
ASTM E23
ASTM F606
SACMA SRM 7 
SACMA SRM 8
Tensile Testing: 
ASTM A370
ASTM A615
ASTM C297
ASTM D638
ASTM D3039
ASTM E21
ASTM E345
ASTM E517
ASTM E646
ASTM E8
ASTM F606
BS EN 6892-1
ISO 6892
ISO 898
ISO 8496
NASM 1312
SAE J1216
SAE J429
Torque Testing: 
ASME B18
ASTM F606
IFI 101
MIL-DTL-18240
MIL-F-18240
NASM 1312
NASM 25027
Our team of over 6,000 Engaged Experts in North America, Europe, The Middle East, Australia, Asia and Africa are ready to help you.
Contact The Element Team