Element offers effective thermal conductivity and measurement services for a wide range of materials, to ensure they insulate, conduct and withstand temperature changes in Aerospace, Oil & Gas and Transportation applications.
Thermal conductivity is the material property that determines how fast or how much heat can be transferred through a material for a given temperature difference. Accurate information of a material's thermal conductivity is crucial in heat transfer applications.
Thermal conductivity testing and measurement services
Element provide thermal conductivity testing and measurement of low- to medium- conductivity materials including liquids, ceramics, plastics and polymers, coatings (epoxies, resins and glues), composites, and building materials.
Our thermal conductivity testing and measurement capabilities include testing to many international standards such as ASTM C518 and ISO 8301. We utilize our latest state-of-art testing instrumentation to test and measure thermal conductivity and the change in thermal properties with time, temperature (up to 190 °C, down to -10 °C) and fluid absorption.
Our Engaged Experts can evaluate any unique samples that you may have and create a custom testing program for your unconventional test requirements or specifications.
The Element advantage
As an ISO 17025 accredited laboratory, Element can provide you with a comprehensive range of thermal conductivity testing and measurement services to help you with quantification of the thermal resistance or insulation or a coated product, and meet regulatory compliance required by governing bodies.
We are here to help you with your requirements, contact our team today.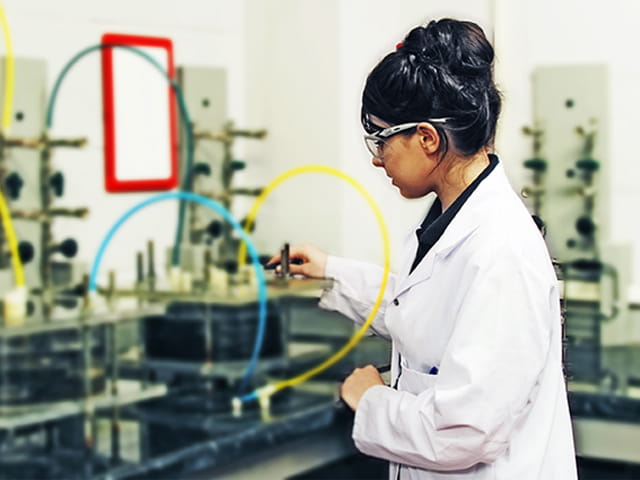 Thermal conductivity testing and measurements
Test Methods
• Laser Flash Diffusivity (LFD) - ASTM E1461
• Axial flow
• Absolute axial heat flow
• Comparative cut bar
• The Probe
We can analyze the type of your material, the expected conductivity, and the desired test temperature range to advise you on the test method that meets your specific project needs.
Our team of over 9,000 Engaged Experts in North America, Europe, The Middle East, Australia, Asia and Africa are ready to help you.