From pressure and burst to impulse and flow, hydraulic and pneumatic test methods provide critical data about the fluid dynamics that keep systems running. With the ability to test a wide range of components and hydraulic fluids, we have the capacity and the expertise to handle virtually any project.
From aerospace and defense to transportation, hydraulic and pneumatic test methods are an integral part of product qualification programs across industries. Our highly skilled staff works with you to create customized solutions for your products. With dedicated testing systems and a team of experts dedicated to your success, we can help you complete your projects on time and on budget.
Pneumatic Test Methods For Engines
We can perform virtually any pneumatic test for aerospace and transportation engines, under a wide range of environmental conditions. Some of the services that we offer include:
Bleed air testing
Performance verification
Leakage and pressure drop
Hydraulic impulse endurance
Fuel icing and ice digestion
High and low-temperature flow simulation
Cracking/reseat pressure
Accelerated life cycling
Fuel contamination
Please contact us for specific flow and pressure ratings available at your local test laboratory.
A Multitude of Hydraulic Fluids Available
In addition to providing test services, we also have a wide range of hydraulic fluids on hand to facilitate a seamless test program. Some of the fluids and oils that we regularly test include:
Jet-A
JP-4 and JP-5
JP-8 and up
MIL-PRF-23699
MIL-PRF-5606
MIL-PRF-7808
MIL-PRF-83282
Phosphate Ester fluids (Skydrol)
Standard hydraulic oil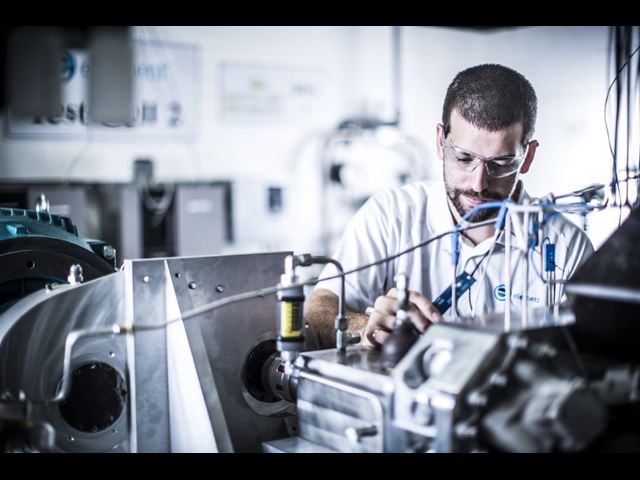 Hydraulic fluid dynamics and pneumatic test services
Our Hydraulic and Pneumatic Test Equipment
Our state-of-the-art test labs can produce extreme levels of pressure, temperature and fluid stress to ensure the safety and performance of hydraulic and pneumatic systems.
Our product qualification labs can test products ranging from small components to full subassemblies. We can work with you to develop custom test protocols, as well as providing accredited testing to industry standards.
Some of our hydraulic fluid dynamics and pneumatic test equipment includes:
Steam testing facility
Blow down facility up to 5000 PSII/65,000 gpm
Bleed air/RAM air facility
Valve certification equipment
Cryogenics chambers
Heat exchangers
Pressure fatigue equipment
Flow simulation up to 6.25 lbs/sec at 600 PSIG, with temperatures up to 2000 F
Ready to request a quote?
Our deliverable is certainty - high quality data, test reports and certificates that you can absolutely rely on when making decisions about your materials and compliance. Engage with an expert today.
More details
Other Product Qualification Testing Services
---

Request a Quote
Our team of over 6,000 Engaged Experts working across North America, Europe, The Middle East, Australia, Asia and Africa are ready to support you.
Request a Quote