In real-world use, products are exposed to a variety of chemicals on a daily basis. Fluid susceptibility testing evaluates how much damage is done by exposure to liquids, and how product design can help prevent failures by fluid contamination.
Evaluate Fluid Contamination in Aerospace & Automotive Hydraulics
Because most fluid contamination is caused by chemical spills or temporary exposure, our test methods are designed to replicate actual conditions as much as possible. Our engineers can help design a fluid susceptibility test plan that best suits your products, including full immersion ("soak"), partial immersion ("wetted"), or minimal contact ("brushed on").
Element's fluids contamination testing program is always kept up-to-date with the latest standards from aerospace, defense and automotive industries, including MIL-STD-810, DEF STAN 00-35 and RTCA DO-160. We keep an updated list of specific fluids used for aircraft, engine components and more, so you can always be sure that your results are accurate and relevant.
Element's fluid susceptibility testing advantage
Our fluid susceptibility testing is designed to support your program with versatile test conditions, state-of-the-art equipment, and availability for quick turn-around times. Our experts can perform any required operational checks during a single multi-day test, saving you travel time and cost.
For projects that require additional environmental considerations, Element's product qualification labs can perform fluid susceptibility testing in elevated temperatures and specified humidity levels. We frequently run fluid contamination testing in environmental chambers for up to 96 hours, so you can be certain that your results are reliable in real-world conditions.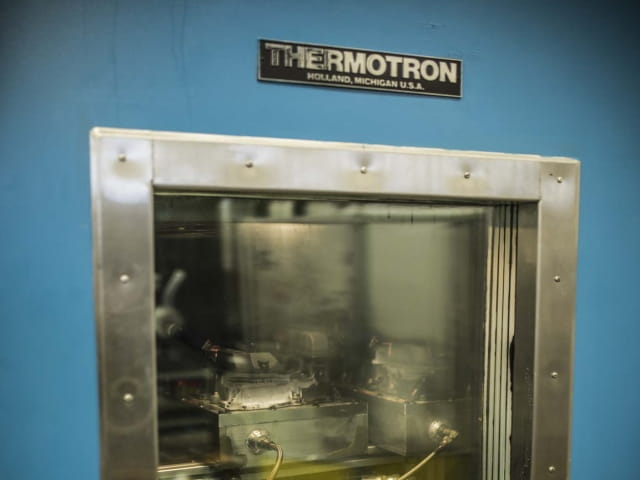 Fluids susceptibility testing
Common Liquids
We understand that in the field, anything can happen. Our fluid susceptibility testing is designed to prepare your products for the worst-case scenario.
Element's experts have years of experience working in the field, so we understand how catastrophic contamination can be. Our fluid susceptibility testing is designed to prepare your products for every contingency, so they keep working no matter what.
Some of the liquids that we that we commonly test include:
50/50 Isopropyl Alcohol/Water mix
Alcoholic beverages
Automotive cleaner
Bug spray
Car Wash Liquids
Coffee
Cola
Deionizer water
Deodorizer
Dish Detergent
Household cleaners and solvents
Hydraulic Fluid
Jet Fuel
Leather Wax
Self-tanners
Shampoo
Sunscreen/Suntan lotion
Synthetic Sweat
Tea
Vegetable oil
Vinyl Cleaner
Window cleaner
Euronorm
BS EN 60068
Civil Aerospace
RTCA DO-160, EUROCAE ED14
International Electrotechnical Commission
IEC 60068-2-18, IEC 6094
Military Standards
MIL-STD-810, DEF STAN 00-35, DEF STAN 07-55
Society of Automotive Engineers
SAE J1455
Telecordia
GR-487-CORE
Ready to request a quote?
Our deliverable is certainty - high quality data, test reports and certificates that you can absolutely rely on when making decisions about your materials and compliance. Engage with an expert today.
More details
Other Product Qualification Testing Services
---
Our team of over 9,000 Engaged Experts in North America, Europe, The Middle East, Australia, Asia and Africa are ready to help you.
Make an inquiry today