How components, vehicles and systems perform when exposed to desert sand and dust can be vitally important, not just to the operator during use, but to the product's lifetime overall performance.
Testing for Sand and Dust
BS EN 60529, MIL-STD-810, RTCA DO-160, and DEF STAN 00-35 address environmental conditions that may be faced by materials and products during operation. The standards provide a basis for evaluating the performance of construction, defense, commercial or consumer end-user products to real-life conditions in various regions around the world.
MIL-STD 810 - Blowing Sand and Dust
Element has blowing sand and dust chambers which are fully calibrated with the unique ability to record test temperature, humidity, wind speed and particle concentration values in real time. Element is UKAS and A2LA Accredited to perform blowing sand and dust per MIL-STD 810.
Our team of experts are committed to providing you the certainty you need for mission-critical equipment, while helping you keep your project on time and on budget. For more information about our services, contact us today.
Military & Civilian Standards
MIL-STD-810, MIL-STD-202, RTCA DO-160, DEF STAN 00-35, DEF STAN 07-55
Euronorm
BS EN 60529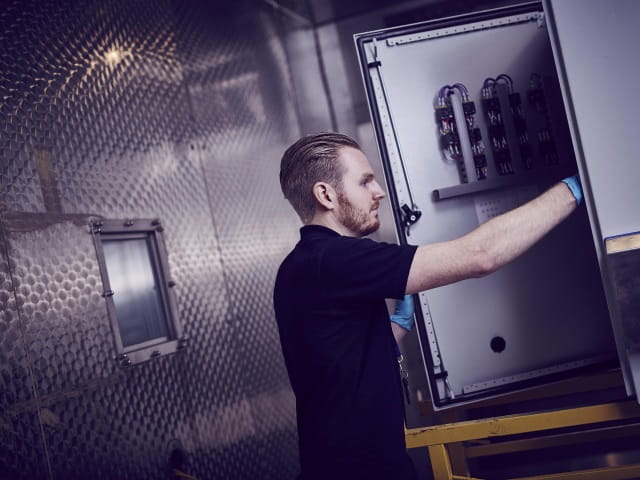 Sand & Dust Testing
Ingress Protection (IP) Testing
Ingress protection testing, or IP testing, determines a product's susceptibility to solid particle ingress (sand and dust), as well as water ingress.
IP Testing (IEC 60529)
IEC 60529 is an international standard designed to give products a determined International Protection Marking according to the IP Code rating. This standard tests the sealing effectiveness of enclosures of electrical equipment against the intrusion of solid particles and liquid.
Electrical Enclosure Rating Testing (NEMA 250 & UL 50E)
Specific to North America, NEMA 250 (National Electrical Manufacturers Association) ratings cover additional product features and tests such as functionality under construction requirements, electrical enclosures for hazardous areas and industrial applications against environmental hazards such as water, dust, oil or corrosive atmospheres.
High Pressure Steam Jet Cleaning (DIN 40050-9)
Covers degrees of protection of electrical equipment of road vehicles against foreign objects, water and access.
Water Resistance of Shipping Containers by Spray Method (ASTM D951)
ASTM D951 is used to determine the water resistance of shipping containers and determines their ability to resist deterioration caused by water and the container's ability to protect contents from water. Frequently used in conjunction with other tests such as drop test, inclined impact test, vibration or compression tests. 
Ready to request a quote?
Our deliverable is certainty - high quality data, test reports and certificates that you can absolutely rely on when making decisions about your materials and compliance. Engage with an expert today.
More details
Other Product Qualification Testing Services
---

Request a Quote
Our team of over 6,000 Engaged Experts working across North America, Europe, The Middle East, Australia, Asia and Africa are ready to support you.
Request a Quote