A salt spray test is a corrosion testing method that uses high-saline environments to measure the corrosion resistance of products, paints and coatings over extended periods.
Sometimes referred to as salt fog, a salt spray test is conducted in a closed chamber that can be adjusted to create a variety of corrosive environments. During testing, samples are subjected to a specified salt concentration for a pre-determined amount of time, based on specification, product type, or industry standards.
Salt Spray, Fog and Corrosion Testing Conditions
In a typical salt spray test, a standardized solution of 5% NaCl (sodium chloride) is used to create a highly corrosive atmosphere. For projects with additional requirements, we can often adjust environmental conditions like temperature and humidity to simulate specific climates or working conditions.
Samples are often checked at regular intervals to monitor corrosion levels and record any milestones, such as white and red rust development or coating degradation. Our labs can provide detailed test reports that include pictures and descriptions of each stage of testing, from start to finish.
Salt Fog vs. Salt Spray Testing
From a testing standpoint, salt fog testing and salt spray testing are the exact same test. These are often referred to by these different names because the levels of salt being applied vary accordingly to the specific environmental conditions needed to be replicated. The test typically applies salt and/or sea mist to coated or painted marine, automotive and military equipment, testing for corrosion over time through an accelerated process.
Salt Spray Capabilities
Our experts can assist in choosing the most appropriate test method for multiple coating types, including electroplated copper-nickel-chromium, electroplates copper-nickel, and anodized aluminum.
The Element Advantage in Corrosion Testing
We support salt spray tests for a variety of products and applications, and our corrosion experts are highly trained across multiple disciplines. With a global platform of accredited, high-capacity labs in the in the Americas, Europe, Middle East, Africa and Asia, we help ensure that your projects are accurate, on-time, and within budget.
Speak to an expert today for more information or to request a quote.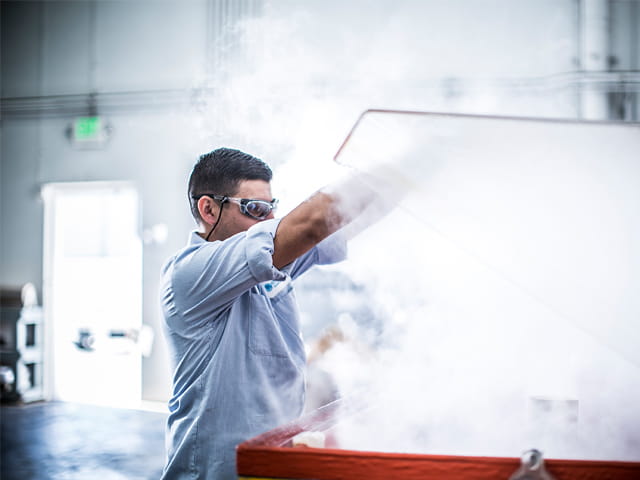 Salt Spray Testing
ASTM B117 Salt Spray, Salt Fog and Corrosion Testing
Element provides ASTM B117 salt spray, salt fog testing as a rapid method to evaluate the corrosion resistance of your material, surface or coating.
The ASTM B117 test method involves creating a controlled accelerated corrosive environment in a salt spray cabinet or chamber to determine the effects of corrosion on a test specimen.
At Element, our high-capacity salt spray testing labs can test a number of test specimens of many sizes, shapes and dimensions for the ASTM B117 Salt Spray Test. We can also accommodate the duration of the exposure for the test according to specific to customers' requirements. Our Engaged Experts provide a thorough report with test data, pictures and discussions to help you understand your test results.
With a global platform of ISO 17025 and NADCAP accredited laboratories in the United States, UK, Europe and Asia, Element offers ASTM B117 salt spray and salt fog testing to support a wide range of regulatory standards and testing requirements in many industries including Oil & Gas, Aerospace, Military and Automotive industries.
Element's materials and product qualification testing team can also provide ASM B117 salt spray testing solutions as part of corrosion testing and accelerated weathering testing services.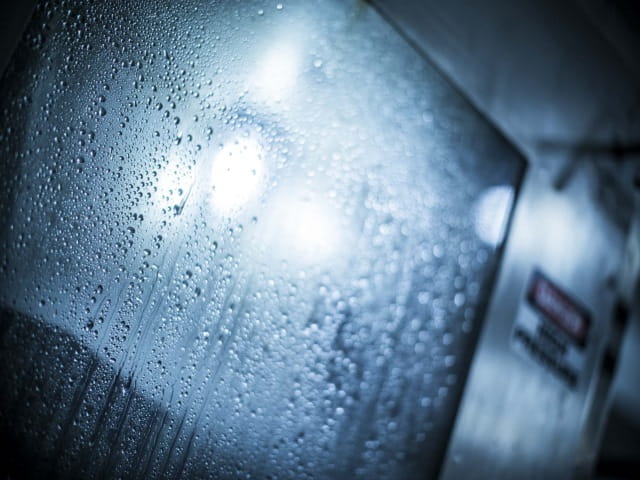 salt spray testing
Alternative salt spray test conditions
Alternative salt spray testing can simulate a variety of corrosive environments to ensure the integrity of a product.
When routine testing isn't enough, Element offers alternative salt spray test methods to cover a variety of conditions. For large or unusually shaped components, our largest chamber is 8'H x 8'W x 10'L, and can reach temperatures of up to 55°C.
Some of our capabilities include:
Neutral salt spray (NSS)
Acetic acid salt spray (ASS)
Copper-accelerated acetic acid salt spray (CASS)
Calcium chloride (CaCl₂)
Synthetic seawater testing
Hydrogen induced cracking (HIC)
Custom cyclic corrosion testing
American National Standards Institute
ANSI/SCTE 143SCTE
American Society for Testing and Materials
ASTM B117, ASTM B368, ASTM D1654, ASTM D1745, ASTM D2247, ASTM G85
General Motors
GM 4298, GM 9540
International Electrotechnical Commission
IEC 60068, IEC 60945, IEC 68-2-11
International Standards Organization
ISO 9227, ISO 12944, ISO 20340
Military Standards
DEF STAN 07-55, DEF STAN 00-35, MIL-STD-202, MIL-STD-810, MIL-A-8625, MIL-F-5541, MIL-DTL-5541, MIL-STD-1312, MIL-STD-883, RTCA DO-160
National Electrical Manufacturers Association
NEMA 250
Netherlands Normalisatie-Instituut
NEN 10068
Society of Automotive Engineers
SAE J1810, SAE J1211, SAE J2334
Telecordia
GR-487-CORE
Underwriters Laboratory
UL 2703, UL 50
More details
Other Product Qualification Testing Services
---
Our team of over 9,000 Engaged Experts in North America, Europe, The Middle East, Australia, Asia and Africa are ready to help you.