Element's state-of-the-art High-Level Acoustic Noise Testing lab was designed and built in conjunction with NASA in our Jupiter, Florida facility. Our lab is unique for acoustic noise testing of large aerospace and other industrial components at intense levels of sound pressure.
Our acoustic noise testing experts compile and analyze the data generated in our high-intensity testing chamber, and provide critical information and analyses to clients in aerospace, military, and defense industries.
Computer-controlled acoustic noise is generated through a digital closed loop control system using three high power microphones as feedback. Depending on the testing standard, data can be analyzed in 1/3 or 1/6 octave frequency bands. Microphones can be analyzed separately or averaged for differently-sized test units or control strategies.
Our high-level acoustic noise testing capabilities
Element's acoustic testing experts have years of experience designing and supporting a wide array of test plans. Our acoustic noise lab can help you meet your military acoustic testing specifications, such as MIL-STD-810, Method 515. If your project requires custom or complex set ups, we can assist in creating unique test plans that will ensure product safety and durability while meeting your program requirements.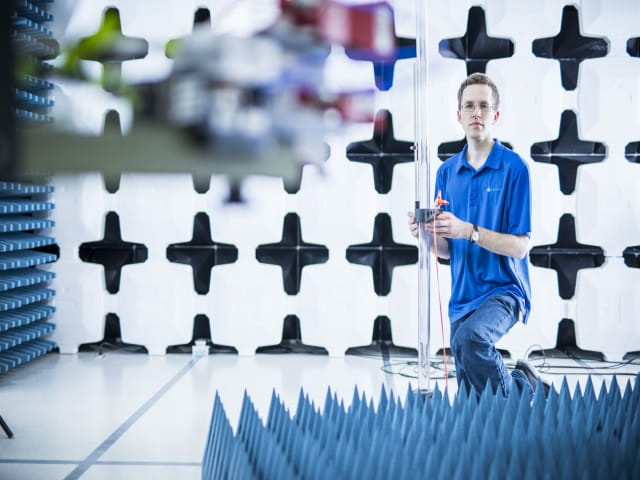 high level acoustic noise testing
Reverberant Chambers for High Level Acoustic Noise Testing
Reverberant chambers are used to test the acoustic noise of large aerospace and other industrial components at intense levels of sound pressure.
In our high level acoustic noise testing lab, noise spectra in the reverberant chambers have been shaped to match acoustic emissions from defense and military sources, including:
Space Shuttle launch noise specifications
Rocket launch noise specifications
Aircraft structural excitation noise
Aerospace engine noise and engine nacelle noise
Unsteady turbulent airflow noise
Meeting military specs, including MIL-STD-810
Other acoustic test specifications required for military and defense equipment
Please contact us today to discuss your specific testing requirements. 
Ready to request a quote?
Our deliverable is certainty - high quality data, test reports and certificates that you can absolutely rely on when making decisions about your materials and compliance. Engage with an expert today.
More details
Other Product Qualification Testing Services
---

Request a Quote
Our team of over 6,000 Engaged Experts working across North America, Europe, The Middle East, Australia, Asia and Africa are ready to support you.
Request a Quote