Element provides IEC/EN 61010-1 testing services, ensuring that your electrical laboratory equipment products are safe, compliant, and get to global markets faster.
What is IEC/EN 61010-1?
Recognized by international licensing bodies, IEC/EN 61010-1 specifies safety requirements for various electrical equipment and their accessories, including test and measurement equipment, industrial process control equipment, and laboratory products.
Laboratory equipment we test to IEC/EN 61010-1
Material heating equipment

In Vitro Diagnostics (IVD) equipment

Electrical test and measurement sensors

Laboratory equipment for mixing and stirring
End certifications and safety standards - meeting IEC/EN 61010-1
We understand the challenges you face and can help support you through the certification process - applicable standards for 61010 testing include:
Supporting you through the IEC/EN 61010-1 process
Risk management and risk assessment
Risk management is crucial in your product's evaluation to IEC/EN 61010 -1. Element's Engaged Experts help eliminate risks by taking requirements for protection and streamlining your product designs to meet the necessary compliance needs. We can help you understand which risk management compliance method suits your products to ensure they are safe and gain end certification.
Support in the early stage of your product design
We provide guidance on regulatory requirements to determine which electrical safety testing method you need and to assist you with early design decisions.
Compliance issue resolution
Our team of testing specialists offer a continuous resource for IEC/EN 61010 -1 compliance issues, helping the product through the critical stages of development ahead of the qualification process and then providing crucial expert guidance during final testing and certification.
Assistance with technical document compilation
Our testing experts can help compile your technical documentation for IEC/EN 61010 -1, including professionally documented test methods and results and Certificates of Compliance for qualifying products.
Test reports and certificates of compliance
Test Reports and Certificates of Compliance form part of your technical documentation for FDA approvals/ clearances, CE marking declarations, and other official notifications to regulators and customers.
Easy access to global markets
We have the knowledge and experience to evaluate your electrical measurement, control, and laboratory equipment to IEC/EN 61010 -1 standard while ensuring compliance with all associated requirements.
The Element advantage
Element assists you in achieving rigorous compliance with the international standard IEC/EN 61010-1, including FDA approval and CE Marking, ensuring the safety and suitability of your products for use in electrical labs, scientific research labs, and manufacturing environments.
Element's global network of accredited test labs delivers bespoke testing solutions tailored specifically for your IEC/EN 61010-1 compliance needs to evaluate your product quickly and cost-effectively.
As well as being UKAS accredited to ISO/IEC 17025:2017, Element is a Notified Body for the European Radio Equipment, EMC & ATEX Directives, an Approved Body for the UK Radio Equipment Regulation, EMC Regulation and Potentially Explosive Atmospheres Regulation, a Telecommunication Certification Body (TCB) for the US, a Foreign Certification Body (FCB) for Canada and a Conformity Assessment Body (CAB) for Japan.
For more information about our IEC/EN 61010-1 electrical laboratory equipment safety testing services or to request a quote,
contact us today
.
Understanding Electrical Product Safety Standards
Learn how to avoid common pitfalls on an electrical product's compliance journey and adhere to electrical product safety standards.
LEARN MORE
FAQ: What is the IECEE CB Scheme?
Our experts can help you learn more about the IECEE CB Scheme through their answering of the most frequently asked questions.
LEARN MORE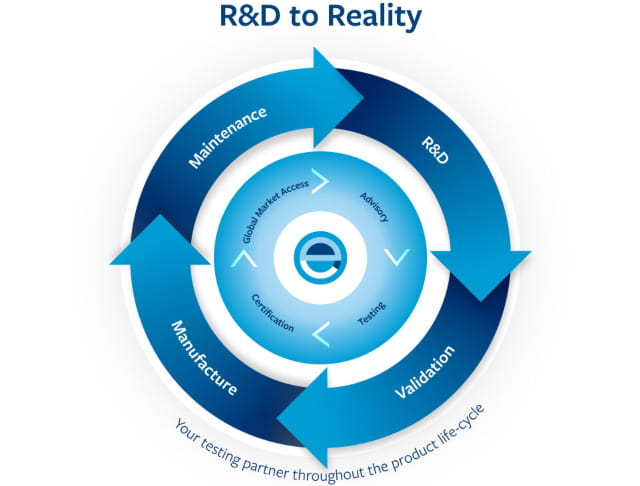 Your Testing Partner Throughout the Product Life-Cycle 
Element's experts support you throughout the whole product life-cycle of your connected devices from R&D, Testing & Certification, Advisory Services and Global Market Access. We ensure your products get to market on time, every time.
Take a look at our services to learn how we can support you from R&D to reality to make tomorrow safer than today.
Explore our services now
Our team of over 9,000 Engaged Experts in North America, Europe, The Middle East, Australia, Asia and Africa are ready to help you.