Join us at our Manchester laboratory on October 4th at our free event: Demystifying biocompatibility and chemical characterization of medical devices.
About the event
This one day event brings together experts from both Element and Chorley Consulting to give medical device manufacturers the opportunity to learn more about the expectations for E&L studies from regulators, how those studies are performed and how the data is evaluated. All under the same roof, on the same day!
The event will provide participants the opportunity to speak directly with a range of experts in both analytical chemistry and toxicological assessment to help you understand what may be required for your device and how it can help you to demonstrate the biological safety of your device.
Why attend?
During the day there will be presentations from experts from Chorley Consulting and Element Materials Technology on:
What do the regulations say?
What is the process for establishing biological safety?
How to prepare extracts from your device
What analytical chemistry can tell us
What can a toxicologist do with the information?
Event agenda
9.30 – 10.00 – Welcome and Coffee
10.00 – 10.15 Intro to Element Life Sciences
10.15- 10.30 – Intro to Chorley & Element
10.30 – 11.00 Chorley presentation
11.00 – 11.30 Element presentation
11.30 – 12.00 lab Tour/Surgery or Q&As
12.00 – 12.45 Lunch
12.45 – 13.15 Customer Speaker
13.15 – 13.45 Element Presentation
13.45 – 14.15 – Chorley Presentation
14.15 – 14.30 Lab Tour/Surgery or Q&As
14.45 – 15.00 Coffee
15.00 – 16.00 Workshop TBC
16.00 - Close and Q&A
Take a laboratory tour
You will also have the opportunity to have a tour of the laboratory facilities and discuss technical aspects of E&L studies with the experts. If you have any questions specific to your device, then there will be an opportunity to book a confidential consultation with an appropriate expert from Chorley Consulting and/or Element Materials Technology.
Meet the experts
Meet our technical experts including Nick Morley and Victoria Darbyshire to speak about how our E&L studies help minimize risk and bring your products to market faster.
The event will be held at our Manchester Life Sciences Lab,
Element's Materials Technology: Waterside Court, 1 Crewe Road, Wythenshawe, Manchester, M23 9BE. Link to Google Maps
There is free parking on site.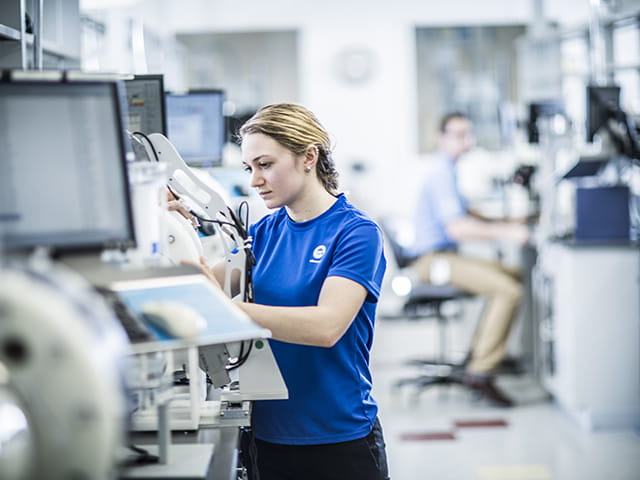 Welcome to Element Manchester
Our Manchester facility is home to over 50 life science experts dedicated to helping our clients ensure patient safety.
We bring cutting-edge extractable & leachable techniques, state-of-the-art equipment, and knowledge of regulatory standards to provide high quality analytical data to help you make key decisions on your product.
Our team of over 9,000 Engaged Experts in North America, Europe, The Middle East, Australia, Asia and Africa are ready to help you.