Element offers a complete range of fire testing services for building materials, including fire resistance and flame spread testing, to help ensure that they meet regulatory requirements and are safe in their end application.
Fire testing standards and building codes are an important aspect of manufacturing products with safe designs and materials to protect the end-user. Failure to meet flammability testing requirements poses a risk to public safety and can also limit or prevent market access. The insight you gain from fire testing of building materials helps you to prevent the use of materials that could compromise public safety due to their excessive flammability potential.
Fire Testing of Building Materials Services & Methods
Element's Material fire testing services focus on assessing the material's burning behavior, from ignition until all combustion has ceased. To do so, we employ various standard methods of test and specified combustion challenges, including:
Our depth of knowledge and experience allows us to provide testing of a large variety of building materials and assemblies, including:
Building interior wall and ceiling finishes

Flooring and floor covering systems

Non-melting foam plastic building materials

Thermal and acoustic insulation for indoor use in building construction

Flame-resistant fabrics of natural, synthetic, or combinations of natural and synthetic fibers, or plastic films intended for such use as tents, awnings, draperies, inflatable structures, or decorations

Materials used in non-combustible construction
Fire Testing of Building Materials Within our Laboratories
Operating in modern facilities outfitted with cutting-edge fire testing equipment, Element's experts provide reaction to fire tests on various interior finish materials used in buildings, including wall and ceiling finishes, textiles, building insulation, and flooring.
Our goal is to help you demonstrate compliance with the relevant regional building codes and the requirements set out by jurisdictional authorities and architects. Element's fire testing services are beneficial in material development, for quality control purposes, or to demonstrate a competitive advantage in the marketplace.
Material Fire Testing Standards
Our fire testing laboratories are accredited to the ISO 17025 standard to conduct fire testing of building materials under the following national and international standards:
ASTM E84, ASTM E136, ASTM E1354, ASTM D2863, ASTM E648

CAN/ULC-S102, CAN/ULC-S102.2, CAN/ULC-S102.3, CAN/ULC-S127, CAN/ULC-S129, CAN/ULC-S135, CAN/ULC-S114, CAN/ULC-S109

ISO 5660-1

NFPA 253, NFPA 701

UL 723
If you don't see the standard you require testing, contact us to see how we can help you.
The Element Advantage
As part of our fire testing services of building materials, we offer non-combustibility testing on materials like concrete that are usually part of a structure or are developed for use in construction applications.
In addition to our reaction to fire testing capabilities, Element's experts supply a full range of testing and evaluation services for building materials used in the construction industry. We carry out various fire tests to validate the materials' mechanical properties, water penetration, corrosion resistance, or weathering effects.
We offer complete on-site testing programs, failure analysis investigations, and consulting services to ensure the materials we test comply with building codes and are safe in their application.
For more information about our fire testing services or to speak with an expert, contact us today.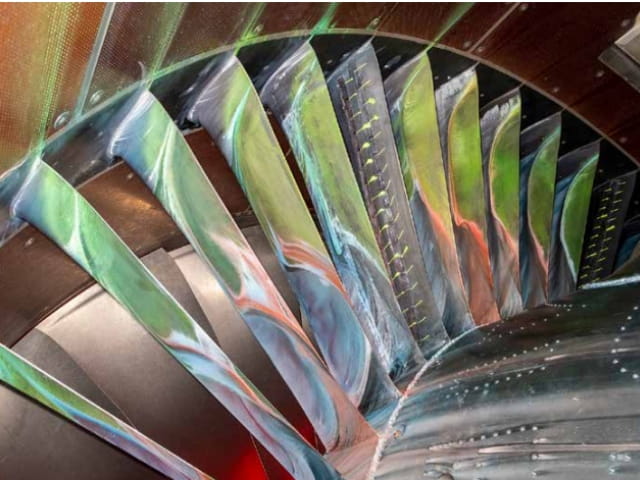 Thermal Paint Temperature Measurement
Thermal Paints are used to provide full surface temperature measurement within concealed areas. They present visual evidence of peak temperatures and isothermal distributions, with temperatures indicated by colour changes or surface texture, that occur at one or more distinct temperatures.
The paints provide temperature distributions for component surfaces that are difficult to obtain such as aero engine turbine blades, vanes, segments, combustors, or rotating components within harsh environments.
Rolls-Royce have been using thermal paints for over 80 years There are a range of paints and services available that include:
Guidance and recommendation on test planning
Paint application
Test design and support
Post-test analysis
Results can be displayed through high resolution photos, 3D models, or 3D and 2D temperature embedded images
Technical report detailing test specification, results and conclusions
Contact our expert team to learn more.
Our team of over 9,000 Engaged Experts in North America, Europe, The Middle East, Australia, Asia and Africa are ready to help you.