Soil boring tests are a crucial first step to any construction project. Soil boring testing provides an informed foundation and structure design, contributing to your project's cost-effective and safe approach.
Soil boring, also called geotechnical boring, is a technique used to investigate and determine soil composition and conditions at a site where construction is planned. Soil boring companies like Element collect and provide expert analysis of soil samples, creating the foundational knowledge for the project that informs structure design.
Element is among the most trusted geotechnical drilling companies in North America and Singapore, we are fully accredited to provide soil boring and analysis for a huge range of projects. Our geotechnical engineers use trucks, ATVs or track-mounted geotechnical drilling rigs to collect samples for our tests and generate a subsurface profile that measures your soil's engineering properties, restrictive soil layers, infiltration levels and more.
Soil boring testing and investigation services
Program Development
Geotechnical Investigation Site Reconnaissance
Field and Land Testing
Construction Quality Control Testing
Environmental Engineering
Foundation and Pavement Design Expansive/Collapsing Soils
Settlement and Subsidence Analysis
Field Permeability Testing
Underpinning and Special Foundations
Marine Soil Investigations
Plate Load Testing
Geophysical Surveys
Advanced In-Situ Tests
Plate load test
The plate load test determines the load capacity of soil and likely settlement under a given load. It requires digging the ground to a given depth of the foundation level, applying a load on a steel plate, and recording the soil response. Our plate test is SAC-SINGLAS accredited to the BS 1377 test standard.
The Element Advantage
Element offers geotechnical boring testing services for manufacturers in construction, mining, manufacturing, marine, and more. From routine classification to complex soil and strength analysis, we can support your project scope on-site or in one of our accredited laboratories.
We are accredited to AASHTO, AMRL, CCRL, ICC, SAC-SINGLAS, and other applicable State and private agencies.
To learn more about Element's soil boring testing, please contact our experts today.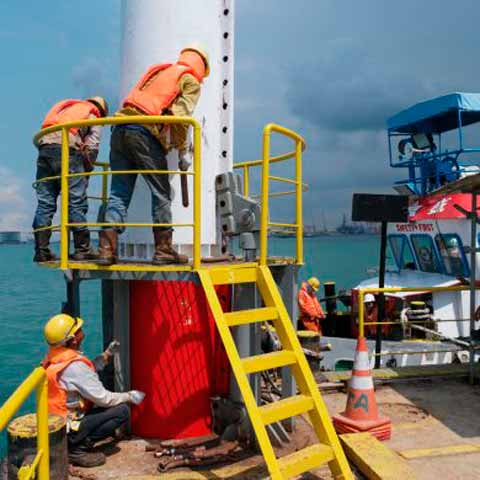 Soil Boring at Jurong Channel Power Gas
Drilling a total of six exploratory boreholes, including standard penetration tests with soil sampling at 1.0 m intervals. Conducting laboratory tests on soil and rock samples.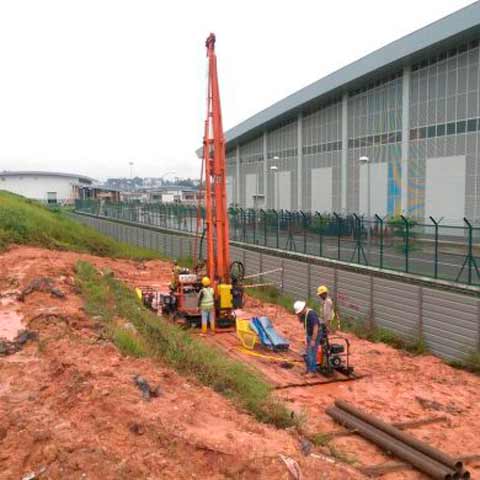 Feasibility Study for Underground Facilities
The project required coring 200+ meters into rock, vertical and inclined boreholes to determine the geological information of the substrata.
Program Development
Geotechnical Evaluation & Field Exploration
Geotechnical Investigation Site Reconnaissance
Field and Land Testing
Construction Quality Control Testing
Environmental Engineering
Foundation and Pavement Design Expansive/Collapsing Soils
Settlement and Subsidence Analysis
Field Permeability Testing
Underpinning and Special Foundations