With the latest 3D Coordinate Measuring Machine (CMM) technology, Element's CMM inspection services allow the precise measurement of components as part of quality assurance.
What is CMM inspection?
CMM inspection delivers the precise dimensional measurements of an object component by scanning a huge number of X, Y, Z coordinates of its surface. There are various CMM methods to record the geometric dimensions, with touch-probes, light, and lasers being the most common. All measured points result in the so-called point cloud. That data can be compared to an existing CAD model to determine the dimensional deviation.
Why CMM inspection is important?
In many areas, the exact dimensions are decisive for the quality of products. For components such as housings, threads, and brackets, the dimensions must remain within tight tolerance limits.
In motors and gearboxes, even the slightest deviation in measurement - such as a thousandth of a millimeter - can have negative effects on the performance of the parts and the machine as a whole.
Benefits of CMM inspection
The advantages of the CMM inspection method include:
Speed
Precision
Accuracy
Automatability
Non-contact measurement CMM inspection procedure at Element
We employ the use of touch-based coordinate measuring machines and optical microscopes to measure components, as well as advanced 3D coordinate measuring technology which generates a three-dimensional picture of an object through digital recordings. This type of data provides detailed information about the differences between a component and its intended state, like a CAD drawing or design diagram, with extreme precision.
CMM inspection services
Our CMM inspection services support you from R&D to series production to quickly and effectively develop solutions for maintaining tolerances.
Dimensional analysis
CAD comparisons
Tool certifications
Reverse engineering
CMM programming
3D scanning
Microscopic inspection
CMM visual inspection
Portable CMM inspection
CMM gear inspection
CMM part inspection
CMM measurement services
Coordinate measurement technology and 3D measurement technology can be used for numerous complex metrological tasks.
Our measurement services include:
Optical and tactile measurement of components with coordinate measuring machines
Contract measurements according to drawings
Initial sample inspections according to DIN EN ISO 9001, VDA 6.1 or QS-9000
Measurements after product modifications
Series tests including statistical recording, evaluation, and customer-specific presentation
Measurement during production
Acceptances and certifications
The Element advantage
With years of experience, Element offers a wide range of testing, inspection, and calibration services to various industries, such as automotive and mechanical engineering.
Element's fully UKAS-accredited laboratories in Europe and North America offer flexible and comprehensive CMM services using optical and tactile 3D measuring technology to measure a wide range of components.
Measurement technology has its limits for dimensional inspection of components with complex geometries and cavities. In these cases, our 3D metrology with industrial computed tomography can offer solutions.
For the measurement of very large components such as rotor blades and structures, Element provides 3D scanning by laser tracking, and surface roughness testing with 3D optical profilometry.
Element locations in Europe and North America offer 3D coordinate measuring machine services using optical and tactile measuring technology.
For more information about our CMM inspection services or to request a quote, contact us today.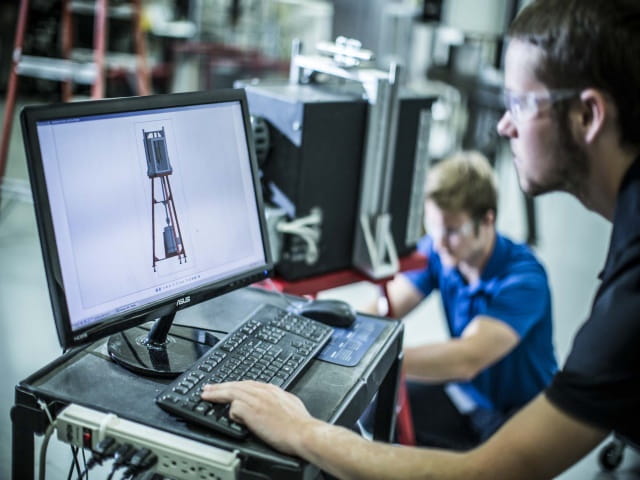 Succeed with Tritop Photogrammetry
The old science of photogrammetry has quietly evolved with advances in digital technology, now known as tritop photogrammetry.
Element's Tritop photogrammetry brings new life to a tried-and-true method, bringing you the most accurate results while keeping you on-budget.
Read MORE
Our team of over 9,000 Engaged Experts in North America, Europe, The Middle East, Australia, Asia and Africa are ready to help you.