Case Study
Hydrogen fuel cell design analysis to optimize flow paths within the cell core.
Background
Hydrogen fuel cells generate electricity through the direct electrical reaction of hydrogen and oxygen within a cell, rather than by combustion. The only product is water, and so they provide a safe and environmentally friendly energy source for a wide range of applications. Element Digital Engineering were asked to provide design analysis support to the developer of an industrial-scale fuel cell. In particular, they were to help optimize the flow paths within the core of the cell.
The Challenge
The performance of the cell in normal operation was governed by the effectiveness with which an optimum mixture of the reactants was supplied to the cell. Various manifolds and distribution systems fed the cell system, and our work was to ensure that the design of these fluid systems gave the best possible distribution. A secondary requirement was to ensure that the start-up and shut-down processes worked properly, again though optimizing the design of the various flow paths dedicated to those stages of the operation.
The Solution
We used Computational Fluid Dynamics (CFD) to build a detailed 3D model of the device and simulate the flows and reactions within it. CFD divides the various volumes within the device into millions of small computational cells, within which the equations of fluid flow are solved. This model was then used to assess various changes to the design and automatically optimize the shape of key components. Over the course of the project (almost eighteen months), many models were built of specific components and operating scenarios.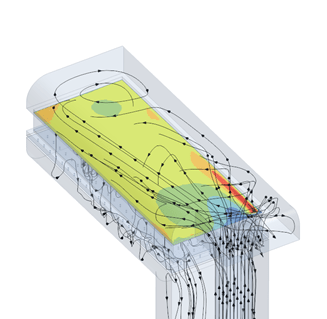 The Result
Through the use of our analysis, considerable advances were made to the design of the device and in particular to the start-up and shut-down.
Our team of over 9,000 Engaged Experts in North America, Europe, The Middle East, Australia, Asia and Africa are ready to help you.