The UKCA (UK Conformity Assessed) Mark is the new UK product marking for goods being placed on the market in Great Britain (England, Wales, and Scotland). It covers most goods that previously required the CE marking.
What is the UKCA marking?
The UKCA (UK Conformity Assessment) mark has now come into force to replace the CE Mark for manufacturers selling products in Great Britain (i.e. United Kingdom excluding Northern Ireland). The UKCA mark will work in the same way as the CE mark, which means products will need to be assessed to the UKCA requirements before they can be sold on the GB market.
What are UKCA requirements?
Where the EU maintained lists of harmonized standards, so too does the UK maintain lists of designated standards, which can be used to support the UKCA declaration of conformity. Each UK Regulation has its own list of standards. Some of these lists will differ from the analogous EU list, and so different standards may be used on the EU and UK declarations of conformity.

The UK government will allow conformity assessment activities for CE marking undertaken by 31 December 2024 to be used by manufacturers as the basis for the UKCA marking, until 31 December 2027.
What products need the UKCA marking?
Most products that are currently covered under CE marking will fall under the new UKCA requirements. There are exceptions and different rules for certain products, including medical devices, construction products, and vehicles.
Element is an approved body, and we work in partnership with manufacturers to help to gain UKCA marking for a range of products, including:
Electrical and electronic equipment
Radio equipment
Low voltage equipment
Equipment used in potentially explosive atmospheres
Marine equipment
What is the UKCA timeline?
From January 2021, businesses placing products onto the UK market, regardless of where in the world they are based, have the choice to either use the CE marking or begin applying the UKCA marking. As of 31 December 2024, the option to use the CE mark will cease, and the UKCA mark must be used (save for some limited exceptions). Although the rules are broadly similar between the CE and UKCA regimes, some differences must be observed.
To reduce labeling costs, the UK government will allow businesses to affix the UKCA marking and include importer information for products from EEA countries on an accompanying document or label until 31 December 2027.
UKCA mark guidance: are you ready?
Initially, there was a transition period until 1 January 2022 when CE marking will continue to be recognized in the UK. However, in response to the impact of the pandemic on businesses, the UK Government has extended the deadline to apply UKCA marks for certain products to demonstrate compliance with product safety regulations until 31 December 2024.
In addition, in June 2022, the UK Government introduced further "Easement measures" to smooth the implementation of UKCA marking. These measures included extensions of some deadlines until as far ahead as 1 January 2028.
It is essential to understand in detail your obligations and have carried out all the necessary preparations for its introduction. This requires you to have met all of the new UKCA requirements such as:
Product marking labeling requirements ("Easement measures" may apply)
Produced a UKCA declaration of conformity
Product compliance with the current Designated Standards
These designated standards are listed by the UK Government and technical requirements.
If you are importing manufactured goods into Great Britain, then additional labeling requirements may apply for importers.
For holders of EU Notified Body certificates for CE marking, before the UKCA marking can be applied, there will need to be a certification from the UK Approved Body. Your EU Type Examination certificate may not be fully valid for UKCA marking after 31 December 2024, but the UK Government "Easement measures" may allow you to use them for a limited period after this date.
The manufacturer or their authorized representative is responsible for affixing the UKCA marking to the product to declare that the product conforms with the relevant requirements.
UKCA mark self-declaration
Because the conformity assessment procedures remain largely unchanged, this means the option for self-declaration still exists, but only for products that also qualify for self-declaration under the CE marking rules. Each directive and regulation has different criteria for this, so it is always best to check before placing any products on the market.
The UKCA declaration of conformity will look very similar to the UK declaration of conformity, but will refer to the UK legislation instead of the EU legislation. There may also be a requirement to list new standards.
For some products, the self-declaration alone will not be sufficient, and an approved body may be required to issue a UK-type examination certificate for the product. If in doubt, Element can advise on the appropriate conformity assessment procedure for any given product.
What does it mean for my business?
All of this means that businesses should act now to ensure that they have everything in place for the 31 December 2024 deadline. Broadly speaking, each of the CE marking directives has been transposed into UK law under a corresponding UK Regulation.
For example, the Electromagnetic Compatibility Directive 2014/30/EU has been transposed into the Electromagnetic Compatibility Regulations 2016 (as amended), and the Radio Equipment Directive 2014/53/EU has been transposed into the Radio Equipment Regulations 2017 (as amended). Despite some changes in the text, the essential technical requirements remain largely the same, as do the options for conformity assessment procedures.
UKCA testing, certification and guidance
Element's team of engaged experts provides equipment manufacturers with UKCA mark guidance to allow for a smooth transition for their products to meet the new standards.
We have an in-depth understanding of the requirements to review the product's test reports, labeling, instructions for use, and declaration of conformity to guide you through the process. By using our expertise and knowledge, we ensure your obligations are met in conjunction with the UKCA mark requirements.
The Element advantage
As well as being UKAS accredited to ISO/IEC 17025:2017, Element is a Notified Body for the European Radio Equipment, EMC & ATEX Directives, an Approved Body for the UK Radio Equipment Regulation, EMC Regulation and Potentially Explosive Atmospheres Regulation, a Telecommunication Certification Body (TCB) for the US, a Foreign Certification Body (FCB) for Canada and a Conformity Assessment Body (CAB) for Japan. Element is also a certification body under the IECEE CB Scheme.
For further UKCA mark guidance on Element's new UKCA compliance review service, or to book your assessment, please contact us here today.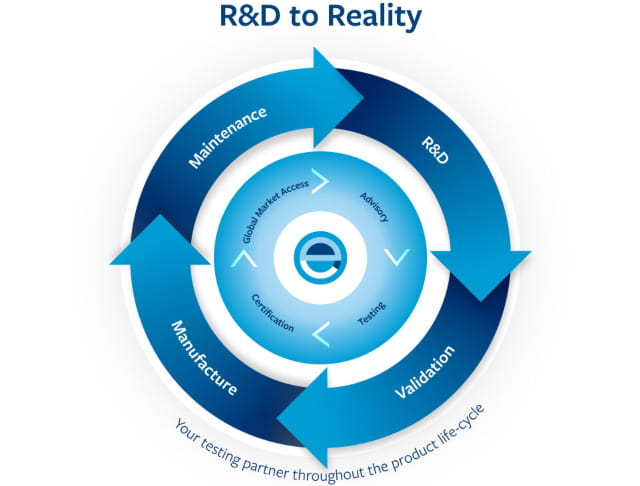 Your Testing Partner Throughout the Product Life-Cycle 
Element's experts support you throughout the whole product life-cycle of your connected devices from R&D, Testing & Certification, Advisory Services and Global Market Access. We ensure your products get to market on time, every time.
Take a look at our services to learn how we can support you from R&D to reality to make tomorrow safer than today.
Explore our services now
Our team of over 9,000 Engaged Experts in North America, Europe, The Middle East, Australia, Asia and Africa are ready to help you.