Low cycle fatigue (LCF) is low-cycle endurance testing, where components are subject to mechanical cyclic plastic strains that cause fatigue failure within a short number of cycles. Element provides testing to a number of industry specifications including ASTM E606, the standard test method for strain-controlled fatigue testing.
Fatigue testing measures how cyclic forces will affect a product or material over time, using varying loads, speeds and environmental conditions. Our fatigue test methods, like low cycle fatigue, are useful for simulating specific scenarios and investigating real-world failures.
LCF Testing per ASTM E606
Before testing, the subject material is first machined and longitudinally polished or ground into cylindrical or flat test specimens with a uniform-gage section. The samples are then loaded into a tension-compression endurance testing machine and subject to repeated stress under a constant strain rate in accordance with ASTM E606. Extensometers are used to control strain range by measuring deformation in the gage section of the specimen.
Typical low cycle fatigue tests are targeted to run no more than 100,000 cycles. Test frequency ranges between 0.25 Hz and 5 Hz, depending on material and requirements.
By testing multiple specimens at varying strain levels, S/N or strain-life curves can be developed for the material. ASTM E606 recommends testing at least ten samples to gain statistical confidence in strain-life curves.
The Element Advantage
Element has the unique capabilities required to provide comprehensive low cycle fatigue testing and results, from raw material blanking and specimen machining to precision data acquisition and reliable, comprehensive test reports.
For more information about our low cycle fatigue testing or to request a quote, contact us today.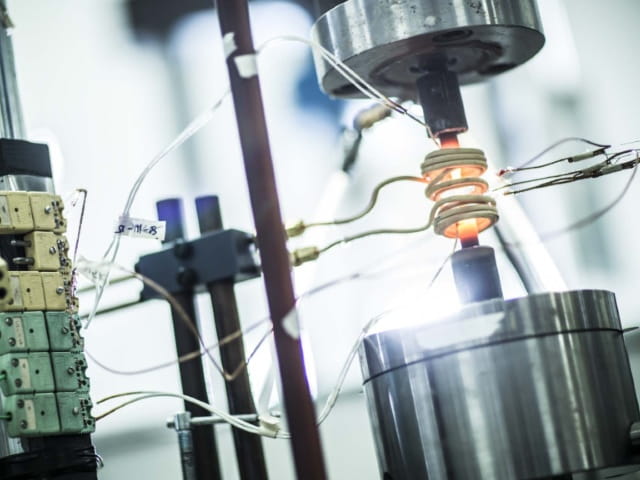 low cycle fatigue
Our Fatigue Test Methods
Element performs a variety of fatigue tests, including high cycle fatigue, low cycle fatigue, and specialized programs on a range of metals and alloys, polymers and components. 
Low cycle fatigue 
Axial fatigue 
Torsional fatigue 
Shear fatigue 
Proof load testing
Bending fatigue testing
Multiple degrees of freedom fatigue testing
Multi-channel/compound cyclic testing
Custom and special project setups available
Standards We Test To
ASTM International 
ASTM E467, ASTM 606
British Standards
BS 7270
General Motors Specifications 
GMW16704, GMW16705
International Organization for Standardization 
ISO 12106
Our capabilities
Our Materials Testing Services
---
Our team of over 8,000 Engaged Experts in North America, Europe, The Middle East, Australia, Asia and Africa are ready to help you.
Contact The Element Team