Case Study
Our Residence Time case study explores Element's commitment to achieving UK legislation
Multiple contributors

By Engaged Expert
Mark Elliott

By Engaged Expert
James Eldridge
The Customer
Element is working with a large Energy from Waste provider that operates waste plants in the UK.


The Challenge
UK legislation states that waste incineration plants must verify that burnt gas from the Qualifying Secondary Combustion Chamber has a residence time of over two seconds at a temperature of over 850°C (1100°C for Clinical Waste) with an oxygen content above 6% (dry). This residence time ensures complete combustion of harmful compounds, such as Dioxins and Furans, and they are not released into the atmosphere.

The process of residence time sampling is challenging due to working in high-risk environments. All sampling procedures must be to the satisfaction of the Regulatory Authority (the Environment Agency), and reports must meet the demands and scrutiny expected by the customer and Regulator. Testing equipment has to withstand the harsh environment of raw burnt gas (including high concentrations of corrosive compounds) and remain operational at temperatures above 1,200oC. It is vital all equipment is performance checked and suitably calibrated.

Working safely in a high-risk environment with high temperatures and to technically challenging procedures demands a dedicated, safety-first approach. Furthermore, this is a 'pass', 'fail' test. If the plant doesn't pass, it must stop operations. Therefore the sampling strategy, experience of site engineers, and accuracy of testing is critically important.


The Solution
The solution is Element's new Centre of Technical Excellence Team. Our dedicated Senior Technical Advisor, James Eldridge, formulated a testing program to meet all legislative requirements and with safety as our highest priority.

Our sampling operation consisted of four teams, totaling nine experts, utilizing bespoke sampling equipment. This included using multiple oxygen analyzers, suction pyrometers, thermocouples, flow measurement devices and isokinetic source samplers, to conduct simultaneous monitoring at several locations to an extremely precise program.

We utilized the "Plug Flow Method" with testing over two load conditions and a minimum of two tests performed on each load. The plant was tested at Maximum Capacity Rating (100% MCR) and at the most unfavorable conditions (lowest stable plant load) of around 60-70% MCR.

A temperature grid at two locations was established to determine the coolest point across each sampling plane. Figure 1 below shows the workings of a Qualifying Secondary Combustion Chamber. The two sample planes are labeled as 'sample plane 1' and 'sample plane 2'. These were located close to the inlet and outlet of the Qualifying Secondary Combustion Zone. Highly accurate velocity measurements were completed to identify the representative point for flow profiling and established the coolest locations within the Qualifying Secondary Combustion Zone. Then multiple simultaneous one-hour tests were conducted, the flow rate was calculated to the conditions of the Qualifying Secondary Combustion Zone and ultimately the residence time of the gas and the corresponding temperature could be verified.

Our experienced team offered the highest quality service to make certain that the accuracy of sampling and safety operations were our main focus.

Figure 1.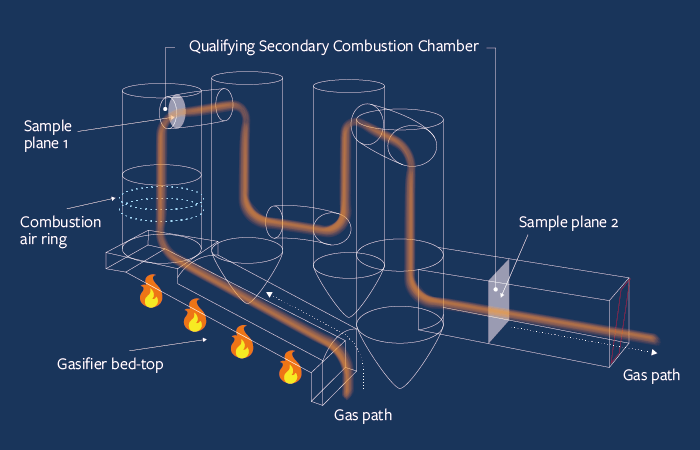 The Result
Our three-week sampling program was conducted to the full satisfaction of the Environment Agency and customer. The waste incineration plant has verified that the residence time is met and continues to operate without downtime. Thanks to our proven track record and technical expertise, our safe and compliant residence time sampling operations are now available across the UK.

Contact us today to find out more about our Residence Time Verification services.
Our team of over 9,000 Engaged Experts in North America, Europe, The Middle East, Australia, Asia and Africa are ready to help you.