Element provides marine sediment analysis in support of offshore survey work and helps clients comply with environmental legislation when carrying out maritime engineering projects and dredging operations.
Our laboratory experts have developed specific sediment sample preservation and analysis procedures, designed to maintain sample integrity and produce high-quality data, consistent with regulatory requirements.
Client projects we support include impact assessment studies, baseline surveys, drilling works, near-shore construction, offshore renewable energy developments, and dredging activities to create or maintain navigable waterways.
Scope of marine sediment analysis
Our Deeside, UK laboratory's ISO 17025 accreditation includes marine sediment analysis and Marine Management Organisation (MMO) validation for selected determinants. We offer a wide range of analysis and our specialist technical staff provide advice on what is appropriate to our customers' specific needs – where MMO methods are not required we can often offer low-cost alternatives.
With regards to the OSPAR Guidelines for the Management of Dredged Materials our analyses include:
Inorganics including Trace Metals
Organotins (Tributyltin and Dibutyltin)
Polychlorinated biphenyls (PCBs)
Polycyclic aromatic hydrocarbons (PAHs)
Organochlorine pesticides (OCPs)
Total Organic Carbon (TOC)
Most UK-based marine developments must be approved by local environmental agencies, including; the Marine Management Organisation, Marine Scotland, Natural Resources Wales, and the Northern Ireland Department of Agriculture, Environment and Rural Affairs. In Ireland the Marine Institute, and Environmental Protection Agency have responsibility.
What are marine sediments?
Marine Sediments have the potential to become a deposit for numerous pollutants, especially where industrial activities are commonplace, such as shipping or oil & gas exploration. The study of Marine Sediments is the field of analytical chemistry associated with the impact of manmade environmental damage. Element helps protect marine environments by calculating pollutant levels and working with our clients and environmental agencies to support the preservation of these ecosystems.
The Element advantage
We are accredited by the United Kingdom Accreditation Service (UKAS) to ISO 17025:2017 for a wide range of matrices including soils, surface and groundwaters, effluents, air, petroleum products, marine sediments, sorbent tubes, and stack emission samples. The UKAS accreditation is recognized globally under the International Laboratory Accreditation Cooperation (ILAC) mutual recognition arrangement.
We participate in proficiency testing schemes, including the Quality Assurance of Information for Marine Environmental Monitoring in Europe (QUASIMEME) scheme.
We organize local and international sample collections from sites or offices and offer fast turnarounds for your urgent samples. Contact us for more information.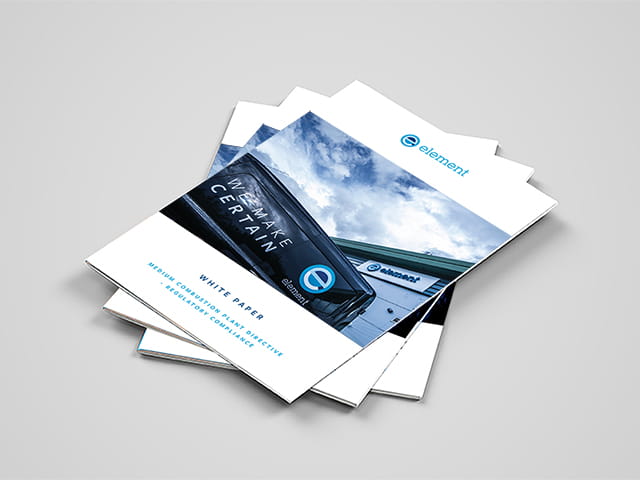 Environmental Testing and Compliance Content
Discover our environmental thought leadership content including articles, white papers, case studies and FAQs.
Written by our industry experts, we explore a range of laboratory and field-based topics related to how we help clients comply with environmental legislation and maintain safe operations.
READ MORE
making tomorrow safter than today
Environmental Services
---
Our team of over 9,000 Engaged Experts in North America, Europe, The Middle East, Australia, Asia and Africa are ready to help you.