Many potential dangers in the workplace can have lasting detrimental effects on employees. Element's occupational hygiene services help protect your employees from ill health damage in by assessing, monitoring, controlling, and managing workplace hygiene hazards. Our hygienists assist you in reducing risks, promoting the well-being of your employees, and ensuring you comply with the law.
What is occupational hygiene?
Occupational hygiene is the science dedicated to anticipating, recognizing, evaluating, and controlling health hazards in the workplace that may cause work related illness, injury, impairment, or otherwise affect the well-being of employees.
What is the role of occupational hygiene?
Occupational hygiene is about the protection of worker health through the application of relevant expertise to assist employers and employees in improving workplace conditions and practices.
Why is occupational hygiene important?
We are your critical partner providing necessary, justified and proportionate assistance with your legal obligations to improve worker health protection.
What does occupational hygiene focus on?
Occupational Hygiene focus's on giving the best possible advice to control workplace hazards that can cause harm by drawing together knowledge and experience of chemical, physical and biological health impact and industrial processes. Scientific sampling and observational analysis are some of the key skills required to deliver a solutions led approach in improving worker health protection.
Occupational hygiene hazards
Chemical hazards: chemicals, liquids, vapors, mist, fumes, dust, and gases.
Physical Hazards: noise, vibration, heat, illumination, ergonomics, thermal environment, lightning, Ionization & non Ionization radiation
Biological hazards: legionella, bioaerosol, viruses, mold, fungi & bacteria
Ergonomics hazards: awkward posture, force & repetition
With years of experience, Element is here to help you achieve compliance with all related regulations.
Our occupational hygiene services include:
The Element advantage
Over the past two decades, Element has provided occupational hygiene services across a variety of industries. Our highly experienced occupational hygienists, consultants, and technologists are Certified Industrial Hygienists (CIH) as well as members of the British Occupational Hygiene Society (BOHS).

We utilize modern technology and equipment with advanced science and engineering methods to recognize, evaluate, control, and eliminate occupational hygiene hazards, ensuring fast and on-time results. We are adept in local, national, and international standards and we are here to help you comply with all related regulations.
HSG173 Monitoring strategies for toxic substances
HSG281 Electromagnetic fields at work – A guide to the Control of Electromagnetic Fields at Work Regulations 2016.
EU Non-binding guide to good practice for implementing Directive 2013/35/EU Electromagnetic Fields: Volumes 1 & 2.
MDHS 14/4 General methods for sampling and gravimetric analysis of respirable, thoracic, and inhalable aerosols (UKAS Accredited)MDHS 25/4 Organic isocyanates in air
MDHS 47/3 Determination of rubber process dust and rubber fume (measured as cyclohexane-soluble material) in air
MDHS 59/2 Machine-made fibersMDHS 83/3 Resin acids in rosin (colophony) solder flux fume
MDHS 84/2 Measurement of oil mist from mineral oil-based metalworking fluids
MDHS 86/2 Hydrazine in airNIOSH 5524 Metalworking fluidsMDHS 91/2 Metals and metalloids in air by X-ray fluorescence spectrometry (Mercury)
MDHS 95/3 Measurement of personal exposure of metalworking machine operators to airborne water-mix metalworking fluid
MDHS 101/2 Crystalline silica in respirable airborne dustMDHS 102 Aldehydes in Air 
MDHS 104 Volatile organic compounds
NIOSH 5000 Carbon BlackNIOSH 5040 Diesel Particulate Matter (as Elemental Carbon)
NIOSH 6015 Ammonia
NIOSH 7300 Metal Elements by ICP
NIOSH 7903, 7904. 7906, 7907, 7908 Methods for Sampling and Analysis of Airborne Inorganic Acids
OSHA ID-214 Ozone In Workplace Atmospheres
BS EN ISO 10882 Health & Safety in Welding and Allied Processes - Sampling of Airborne Particles and Gases in the Operator's Breathing Zone
BS EN ISO 16000-4: 2004 Diffusive sampling and formaldehyde in air
EN ISO 16000-6: 2011 VOCs in air by active sampling
BS EN 16017-2: 2003 VOCs – indoor, ambient and workplace air by passive sampling
BS EN ISO 16000-3: 2001 formaldehyde and other carbonyls in air by pumped sampling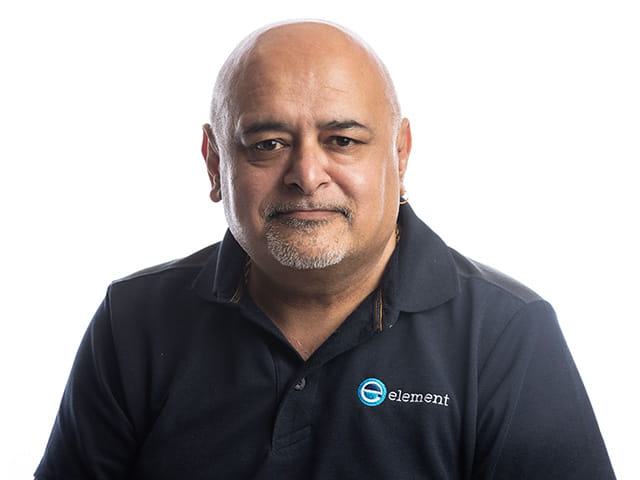 Q&A with Parmjit Gahir
Watch our Q&A with Head of Occupational Hygiene, Parmjit Gahir to discover why partnering with Element will help you achieve compliance with all workplace safety regulations.
To learn more about Parmjit's almost 30 years of Occupation Hygiene experience, view his expert page here.
An Introductory Guide to Occupational Hygiene
A healthy bottom-line is directly linked to a healthy workforce.
Download our reference guide to understanding each aspect of occupational hygiene in the workplace, spanning from hazardous substances to noise and temperature, to help you identify potential occupational hygiene risks.
READ MORE
Occupational Hygiene Services
---
Our team of over 9,000 Engaged Experts in North America, Europe, The Middle East, Australia, Asia and Africa are ready to help you.