Element offers environmental compliance services throughout energy from waste plants to make certain that our customers comply with environmental permits, employees remain safe and local environments are not contaminated.
What is energy from waste?
An energy from waste (EfW), also known as waste to energy (WtE) incinerates domestic waste to generate energy in the form of electricity and/or heat.
Total environmental compliance
Element provides end-to-end services to support EfW operators with all environmental and pollution control measures. Our UKAS-MCERTS accredited stack emissions monitoring, Certified Industrial Hygienists (CIH), and ISO 17025 accredited laboratory analysis mean that we are your one-stop-shop for total environmental compliance.
In fact, we conduct more testing of this kind on EfW sites across the UK, Ireland, and Europe than anyone other supplier. Our proven track record, high safety standards, technical expertise, and network of local engineers mean there is no one better placed to support you.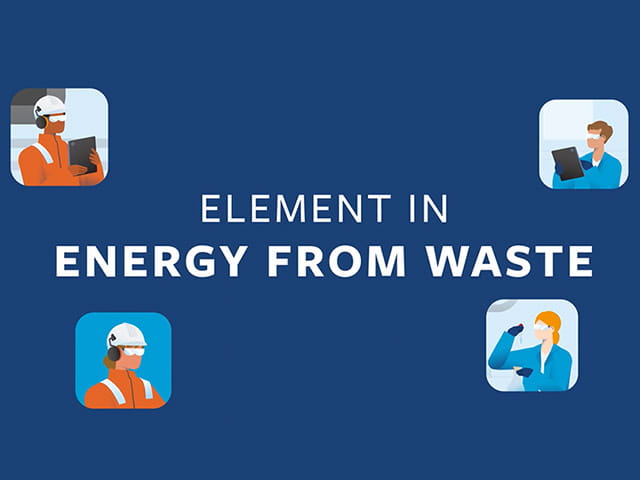 VIDEO
Element in energy from waste
Watch our video to discover how Element is supporting waste plant operators from site commissioning to emissions testing, process monitoring, and the analysis of soil, ash, and water.
Our experts provide trusted testing solutions for every part of the energy-from-waste process.
Energy from waste plant permits
Regulation of waste incineration is covered by EU legislation, principally the Industrial Emissions Directive 2010. An environmental permit will set strict conditions which limit the discharge to air, water, and soil of specified substances.
Energy from waste plant services
Our team is ready to help you achieve compliance, minimize risks and improve environmental sustainability by providing a broad spectrum of services including onsite stack emissions monitoring, residence time verification, ambient air quality, occupational hygiene, and the laboratory analysis of ash, water and soil including VOC, and dioxins & furans. We work alongside operators to comply with environmental permits and ultimately protect human health and our earth.
The Element advantage
Element offers environmental testing solutions throughout the UK, Europe, North America, the Middle East, and South Africa. We are equipped with cutting-edge testing equipment and staffed by a global community of technical experts ready to assist you in achieving environmental and health & safety compliance. Contact our experts today.
making tomorrow safter than today
Environmental Services
---
Our team of over 9,000 Engaged Experts in North America, Europe, The Middle East, Australia, Asia and Africa are ready to help you.