Element examines the concentrations and composition of Diesel Engine Exhaust Emissions (DEEE) to help you reduce exposure to harmful DEE fumes and comply with COSHH regulations, environmental protection and management Act.
What is diesel engine exhaust emission (DEEE)?
Diesel Engine Exhaust Emissions contain many hazardous substances including heavy metals, toxic gases, PAHs, NOx, Particulate/Soot, VOCs, and more. Element can accurately measure and assess the personal exposure risks to these harmful compounds and provide expert bespoke advice on control measures.
How are diesel engine emissions measured?
The general principle of measuring airborne substances is via active sampling using battery-powered pumps attached to individuals or in static locations. Known volumes of air are drawn through sample media (filters, sorbent tubes, or impinger solutions) positioned in the individual's breathing zone or for background measurements fixed in static locations.
We can also perform passive sampling if required and direct reading calibrated handheld analyzers for immediate results. Depending on the analysis required the sample media will undergo subsequent laboratory analysis.
Detailed interpretative reports will be issued following the site visit and include:
Executive summary of the workplace air monitoring project
Site observations
Substance toxicities
Comparison of results with UK Workplace Exposure Limits or recognized international standards
Discussions and conclusions
Recommendations for remedial action and recognized good industrial practice
All reports are in accordance with our ISO 9001 Quality Management System and peer-reviewed by an experienced and qualified team member.
Our diesel engine exhaust emission (DEEE) capabilities
Element provides a full range of emissions advisory, testing and training services for your DEEE testing needs:
Exposure monitoring
COSSH and DEEE risk assessments
Evaluation of the existing control measures
Advice and guidance
We support clients across many industries that require employees to work in locations where they could be exposed to DEEE, such as train depots and railways, automotive garages, bus stations, warehouses, ferries, toll booths, car parks, and fire stations.
In addition to our UK laboratories, sampling and analyses of a range of parameters in accordance with US-EPA (United States – Environmental Protection Agency) methods can be performed from our Singapore based laboratories.
The Element advantage
Element's UKAS ISO 17025-accredited laboratories can perform independent and specific air tests, targeting DEEE, PAHs, and other potentially harmful products of vehicle combustion.
We have over 20 years of experience in this sector and BOHS Module W501 Measurement of Hazardous Substances and Module W505 Control of Hazardous Substances qualifications.
Our highly qualified Occupational Hygienists will work with you to prepare COSHH risk assessments and develop solutions that will help reduce specific exposure in the workplace.
For more information about our diesel engine exhaust emissions or to request a quote, please contact us today.
How harmful are diesel engine exhaust emissions?
Diesel Engine Exhaust Emissions are considered one of today's primary polluting issues, with the World Health Organisation (WHO) classifying them as carcinogenic to humans (Group 1). Long-term exposure can lead to an increased risk for lung and bladder cancer, whilst exposure for a brief period can cause lung irritations and/or allergic reactions.
What are the emissions from a diesel engine?
The composition of DEEEs will depend on the type and condition of the engine, specification of the fuel, workload/demand on the engine, and engine temperature. As well as particulates, vehicle combustion can produce significant pollutants in the form of Polycyclic Aromatic Hydrocarbons (PAHs), carbon dioxide (CO), carbon monoxide, oxides of nitrogen, sulphur dioxide, and other hydrocarbons.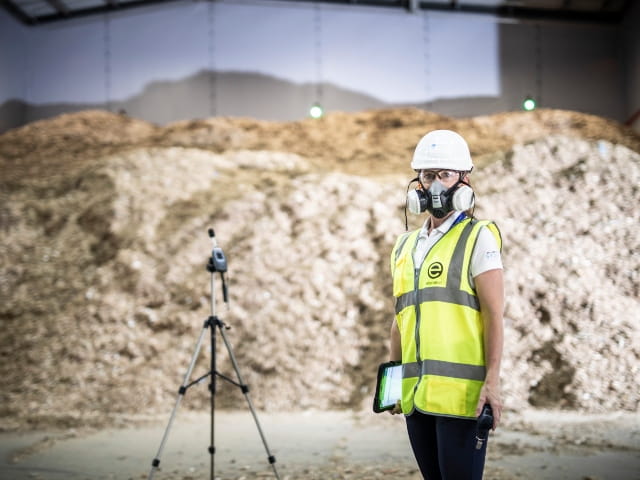 An Introductory Guide to Occupational Hygiene
A healthy bottom-line is directly linked to a healthy workforce. Download our reference guide to understanding each aspect of occupational hygiene in the workplace.
Download Your Copy Today
making tomorrow safter than today
Environmental Services
---
Our team of over 9,000 Engaged Experts in North America, Europe, The Middle East, Australia, Asia and Africa are ready to help you.