Metallurgical testing is used in virtually every industry and covers a wide range of services, from grain size analysis to fractography. Our Engaged Experts can identify the material type, defects, and processing errors using a variety of techniques and equipment.
Manufacturers are employing better technology to bring innovative materials to the market. While many traditional testing methods used for evaluating metals remain the same, metallurgists are facing more challenges than ever before.
What is metallurgical testing/metallography?
Metallurgical testing focuses on quantifying the properties of metals in conjunction with mechanical testing and chemical analysis. Metallography is frequently used to determine the material type, grade, or grain size, the inclusion content of a metal, test the corrosion resistance of a coating or material and provide certifications for new material or mixed batches, microstructure analysis, and failure analysis.
Our metallurgical testing capabilities
Our metallography experts look at metals both above and below the surface. From grain size to coating evaluations, our Engaged Experts answer even the most challenging metals questions.
We can test to standard protocols, or partner with you to design unique programs to fit your needs. Many of our metallurgical methods can be done on-site, or alongside our experts in one of our state-of-the-art labs.
Metallurgical testing methods
Some of the metallurgical testing methods we use include:
Alloy depletion
Alpha case evaluation
Austenite measurements
Carburization/depth of decarburization
Case depth
Casting evaluation
Ferrite measurements
Fractography
Grain size measurements
Inclusion content
Microstructure evaluation
Particle analysis
Photomicrography
Plating and coating thickness
Recast evaluation
The Element advantage
Element's testing laboratories have the required expertise and technology to investigate a wide range of metallic conditions and test both, traditional metals and advanced alloys. Our trained metallurgists are experienced in corrosion, fractography, material identification, macroscopic evaluation, microscopic evaluation, and weld testing.
With metallurgical testing locations across the globe, we can assist with any project, no matter how large.
For more information about our metallurgical testing services or to request a quote, contact us today.
American Society of Mechanical Engineers
ASME B46.1, ASME IX, ASME Sec VIII, ASME V.6
ASTM International 
ASTM A90, ASTM A123, ASTM A247, ASTM A255, ASTM A262 , ASTM A342, ASTM A370, ASTM A428, ASTM A490, ASTM A561, ASTM A574, ASTM A604, ASTM A604 , ASTM A799, ASTM A800, ASTM A923, ASTM A923, ASTM A967
ASTM B117, ASTM B137, ASTM B244, ASTM B276, ASTM B390, ASTM B487, ASTM B487, ASTM B489, ASTM B499, ASTM B504, ASTM B557, ASTM B571, ASTM B657, ASTM B659, ASTM B665, ASTM B748, ASTM B764, ASTM B767, ASTM B769, ASTM B962, ASTM B963
ASTM C633, ASTM C692, ASTM C1617
ASTM D610, ASTM D1186, ASTM D1400, ASTM D1654, ASTM D2247, ASTM D3359, ASTM D7091, ASTM D7091
ASTM E3, ASTM E10, ASTM E18, ASTM E21, ASTM E45, ASTM E53, ASTM E92, ASTM E111, ASTM E112, ASTM E132, ASTM E190, ASTM E247, ASTM E290, ASTM E327, ASTM E340, ASTM E376, ASTM E381, ASTM E384, ASTM E407, ASTM E415, ASTM E466, ASTM E517, ASTM E562, ASTM E606, ASTM E646, ASTM E766, ASTM E883, ASTM E930, ASTM E975, ASTM E977, ASTM E1019, ASTM E1077, ASTM E1097, ASTM E1181, ASTM E1245, ASTM E1251, ASTM E1268, ASTM E1351, ASTM E1382, ASTM E1479, ASTM E1508, ASTM E1999, ASTM E2567
ASTM F1089, ASTM F136, ASTM F1854, ASTM F2111, ASTM F2328, ASTM F67, ASTM F606, ASTM F788, ASTM F812, ASTM F835
ASTM G17, ASTM G28, ASTM G36, ASTM G48, ASTM G64, ASTM G79, ASTM G87, ASTM G132
American Welding Society
AWS A4.2, AWS B2.1, AWS D1.1, AWS D1.2, AWS D1.4, AWS D1.5, AWS D1.6, AWS D14.1, AWS D15.1, AWS D17.1, AWS D17.2
International Standards Organizations
AS 7452, AS 7454, AS 7455, AS 7456, AS 7459, AS 7460, AS 7461, AS 7466, AS 7470, AS 7471, AS 7472, AS 7473, AS 7474, AS 7477, AS 7478, AS 7479
BS ISO 3057, BS 131, BS 2633, BS 4449, BS 4871, BS 4872, BS 6286, BS 6744, BS 709, BS EN 287, BS EN 288, BS EN 1321, BS EN 10328, BS EN ISO 1463, BS EN ISO 2360, BS EN ISO 2639, BS EN ISO 4526, BS EN ISO 5173, BS EN ISO 5817, BS EN ISO 643, BS EN ISO 6509, BS EN ISO 9015, BS EN ISO 9016, BS EN ISO 9606, BS EN ISO 15614, BS EN ISO 15620, BS EN ISO 15630, BS EN ISO 17639
DIN 50190, DIN 50600, DIN 50602, DIN 54150, DIN 54150, DIN EN 10328, DIN EN ISO 643, DIN EN ISO 1463, DIN EN ISO 17639, DIN EN ISO 2639, DIN EN ISO 2639, DIN EN ISO 3651, DIN EN ISO 3887
EN 12797, EN 1321, EN 15614, EN 3683, EN 3684, EN ISO 3887, EN ISO 5817, EN-ISO 8249
ISO 365, ISO 643, ISO 898, ISO 1463, ISO 1513, ISO 2360, ISO 2808, ISO 3057, ISO 3369, ISO 3651, ISO 4405, ISO 4406, ISO 4407, ISO 4967, ISO 4968, ISO 5817, ISO 5817, ISO 6157, ISO 6520, ISO 9602, ISO 9606, ISO 9227, ISO 13520, ISO 16232, ISO 17639, ISO 21809, ISO 26146
Aerospace Materials Specifications
AMS 1595, AMS 2315, AMS 2315, AMS 2380, AMS 2643, AMS 4928, AMS 4965, AMS 4967, AMS 753, AMS W6858
SAE International
SAE ARP 1341B, SAE J1061, SAE J121, SAE J122, SAE J123, SAE J403, SAE J404, SAE J417, SAE J419, SAE J422, SAE J423, SAE J425, SAE J439, SAE J448, SAE J78, SAE J81, SAE J933
We test to a number of other industry, customer and in-house standards.
White Paper: What is Metallurgical Testing? 
Metallurgical testing covers a huge scope of industries. Could metallurgical testing be helpful for you? Dr. John Tartaglia helps guide you through the basics of metallurgical testing.
Read MORE
Metallurgical Failure Analysis 
Understanding why a part failed is critical to preventing future failures. Element failure analyst Craig Schroeder discusses an overview of metallurgical failure analysis.
Replication Metallography: A Non-Destructive Solution 
Element discusses replication metallography as a non-destruction solution to metallurgical evaluation.
Read MORE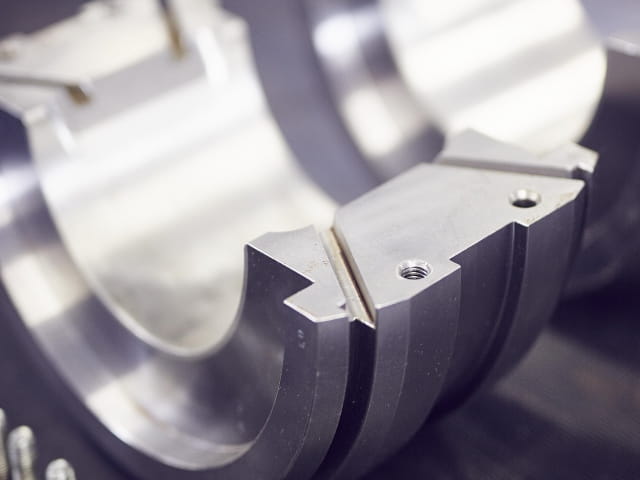 metallurgical testing
Macroscopic Evaluation
Our Engaged Experts use a combination of visual methods and instrumentation to detect surface-level metallic properties.
Macroscopic testing refers to any method performed using little to no magnification, or any other instrumentation used to examine surface level properties. These assessments focus on outward characteristics of metals and are often detectable by the naked eye. Our experts will use a variety of visual inspection techniques to evaluate the "big picture" - ensuring that the quality, integrity and properties of a material are what they should be.
Macroscopic evaluations are typically performed on finished products or treated metals, in addition to raw materials. Our macroscopic methods offer an efficient way to assess the overall condition of a material and can detect flaws or imperfections before a part goes into use or production.
Some of the tests that we offer include:
Coating weight
Contaminant and cleanliness
Digital imaging
Eutectic melting point
Fractography
Grain flow
Macrostructure
Passivation
Surface discontinuities
Surface roughness
Visual inspection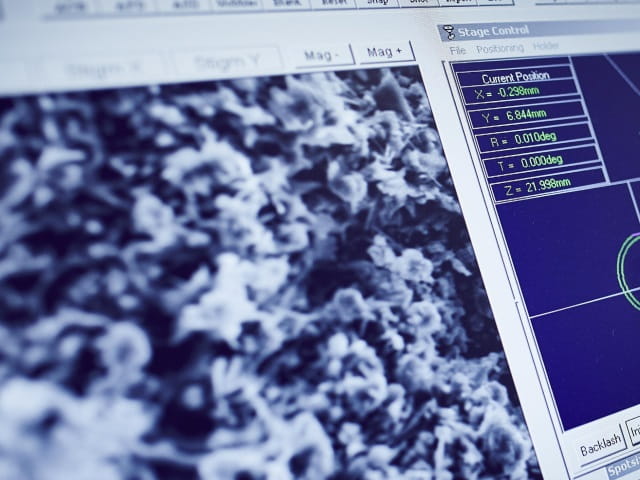 metallurgical testing
Microscopic Evaluation
Element's metallurgists use state-of-the-art technology to find patterns, defects and metallic characteristics below a material's surface.
Microscopic testing includes methods that use microscopic instruments to search for characteristics below the surface of a material, or those too small to be detected by the human eye alone. These types of evaluations are generally performed using a Scanning Electron Microscope (SEM), or other high-powered optical microscopic equipment. These methods apply when examining the subsurface of a material or a small section of a larger sample.
Some of the methods that we use include:
Alloy depletion
Banding
Bradealloy
Casting evaluation
Case Depth (Carburization/Depth of decarburization)
Coating thickness
Constituent content
Corrosion creep back
Failure analysis
Ferrite content
Fiber length
Fractography
Grain Flow
Grain size
Inclusion content and severity
Intergranular corrosion
Intermetallic phase determination
Microstructure evaluation
Near-surface examination
Nitriding
Passivation
Photomicrography
Pitting and crevice corrosion
Porosity
Recast evaluation
Replication metallography
Scanning Electron Microscopy (SEM) / Electron Dispersive Spectroscopy (EDX)
Volume fraction
Weld Evaluation
metallurgical testing
On-Site Metallography
For larger or more complex projects that require on-site service, Element can perform a full suite of diagnostic and routine metallographic methods in the field.
While our labs can test a wide variety of material and component types in our facilities, there are some situations that require on-site testing. To accommodate this, we offer a comprehensive range of metallurgical test methods in the field for components and materials that are too large, too heavy, or too fragile to be transported to a lab. We offer the same quality testing and accurate results that you would get in one of our labs, and on-site services can often reduce test times for particularly urgent projects.
Some of the on-site services that we offer include:
Coating inspection
Creep damage assessment
Equotip hardness
Ferrite content
Fractography
Microstructure evaluation
Positive Material Identification (PMI)
Thermal degradation
Our capabilities
Our Materials Testing Services
---
Our team of over 9,000 Engaged Experts in North America, Europe, The Middle East, Australia, Asia and Africa are ready to help you.