As the automotive industry advances electronic devices, our experts remain on the cutting edge of technological change and consumer trends. We offer comprehensive electronic component testing services to automotive electrical standards to help you bring innovative electronic systems to market that will interact safely and seamlessly with other electrical components and accessories.
For electrical and electronic products to be sold in markets around the world, they must meet electrical safety regulations and standards to denote compliance.
As a trusted testing partner, we support our customers by providing a complete suite of automotive electronics and EMC testing to the most stringent standards ensuring the safety and reliability of electrical and electronic equipment, from electrical braking modules and airbag safety systems to autonomous control systems and built-in navigation and entertainment systems. 
For more information on our electronic component testing services or to request a quote, please contact us today.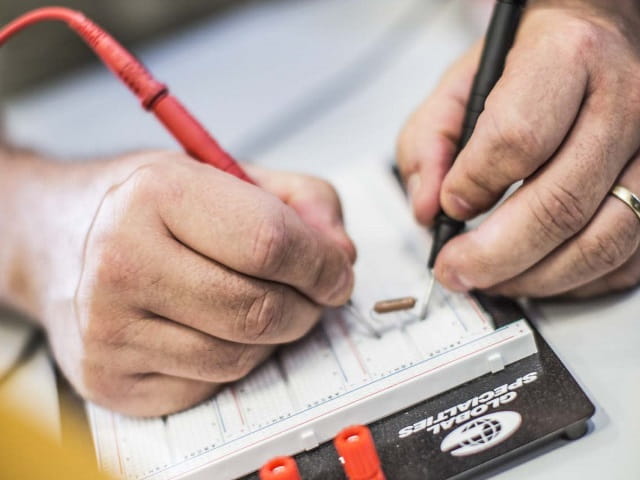 automotive electronics testing
Electrical Load Testing
Element's electrical engineering experts offer comprehensive solutions for electrical load testing to OEM customers and their chain suppliers around the world. 
Our laboratories are outfitted with advanced equipment, including two oscilloscopes capable of measuring signals at 1 GHz, and an array of environmental chambers providing testing temperatures ranging from -73°C to +177°C. 
Our electrical load testing services include:    
Reverse Polarity
Over-Voltage
Switched Battery Lines
State Change Waveform Characterization
Ground Path Inductance Sensitivity
Power Supply Interruptions
Battery Voltage Dropout
Intermittent and Continuous Short Circuit to Battery and Ground for Input/Output
Multiple Power and Ground Short Circuits Including Pass Though
Jump Start
Parasitic Current
Sinusoidal and Pulse Superimposed Voltage
Insulation Resistance
Power Offset
Ground Offset
Discrete Digital Input Threshold Voltage
Open Circuit - Single and Multiple Line Interruption
Over Load - All and Fuse Protected
Crank Pulse Capability and Durability
Isolation Evaluation
Puncture Strength
Element understands the challenges of bringing electrical and electronic components to market in a timely fashion while meeting the high-quality expectations of the industry. 
We perform testing to a wide variety of specifications and requirements, including various ASTM, DIN, FLTM, DOE, ECE and FMVSS regulations, Ford, GM, Chrysler, John Deere, IEC, ISO, JIS, Mil-STD, NES, RTCA, DO 160, SAE, Honda, Toyota, UL, USCAR, and VW specifications. 
Our team of over 9,000 Engaged Experts in North America, Europe, The Middle East, Australia, Asia and Africa are ready to help you.