Element is an industry-leading UKAS accredited provider of asbestos project management services, including management surveys, project plans, and asbestos removal management. We use our in-depth experience to help clients save time and money by avoiding costly obstacles.
Element has vast experience working alongside asbestos removal contractors providing independent project management for asbestos removal. We work on-site alongside our customers and other parties to ensure the safety of everyone throughout the entire asbestos removal process. We have experience working on a variety of removal projects, Asbestos Testing and Sampling, and Asbestos Advisory Services, we offer the experience to foresee potential obstacles before they obstruct operations, saving our clients time and money.
Asbestos management surveys
After looking at your gap analysis, the purpose of a management survey is to locate, identify and assess the condition of any suspect asbestos-containing materials which could be damaged or disturbed so that they can be effectively managed.
The information can then be used by the Duty Holder to manage risk in accordance with the 'Duty to Manage Asbestos' requirements of Regulation 4 of the Control of Asbestos Regulations 2012.
Asbestos management plan
Following the asbestos management survey, we can help create or update your asbestos management plan. This plan will include the current status of your property and guide how to manage asbestos at this property, setting out timescales, standards, and measurements to outline how you can reach and maintain compliance.
Asbestos removal management
Our experienced senior asbestos consultants with BOHS (British Occupational Hygiene Society) modules P403 & P404, are experts in writing detailed technical specifications for the safe removal of Asbestos Containing Materials (ACMs).
We support you in scoping out the full project requirements, including sourcing multiple contractor bids and liaising with contractors, reviewing risk assessments, method statements, training records, safety certification, and conducting asbestos air testing. Regardless of complexities, we ensure everything is completed in accordance with regulations.
Upon completion of licensed asbestos remedial works, a four-stage clearance procedure will be undertaken:
A preliminary check of the site condition and job completeness
A thorough visual inspection of the work area
Clearance air monitoring
Final assessment and work area dismantling
The Element advantage
We have a large team of highly experienced and BOHS-qualified asbestos consultants throughout a network of locations across the UK, Europe, and the Middle East. As a UKAS Accredited ISO 17020 for Management Surveys and ISO 17025 for Air Monitoring and analytical services, we provide a professional, friendly advisory service to ensure all work is in accordance with HSG 248. We are your one-stop shop providing high-quality service and value for money.
Find out more about how we can help you with your asbestos project management, contact our experts today.
FAQ - What is Asbestos removal? 
Read our FAQs on Asbestos removal to find out about how asbestos is removed, who is responsible for removing it, the different types of removal, how to dispose of asbestos, and how Element helps support asbestos removal projects.
Asbestos FAQ #1 - What is asbestos removal?
Discover the risks involved in asbestos removal and the responsibility of the duty holder. Also, learn more about asbestos removal projects with our helpful list of 10 things to consider when managing an asbestos removal project.
Find out more
Asbestos FAQ #2 - How should I dispose of asbestos waste?
Read our asbestos FAQ on how to dispose of asbestos waste. Our second in a series of three FAQs exploring the complexities of asbestos removal projects and highlighting the benefits of choosing an experienced third-party project management team.
Find out more
Asbestos FAQ #3 - What types of asbestos removal are there?
What types of asbestos removal are there? Read our third FAQ to learn more about licensed versus non-licensed asbestos removal and what tasks are carried out during removal.
Find out more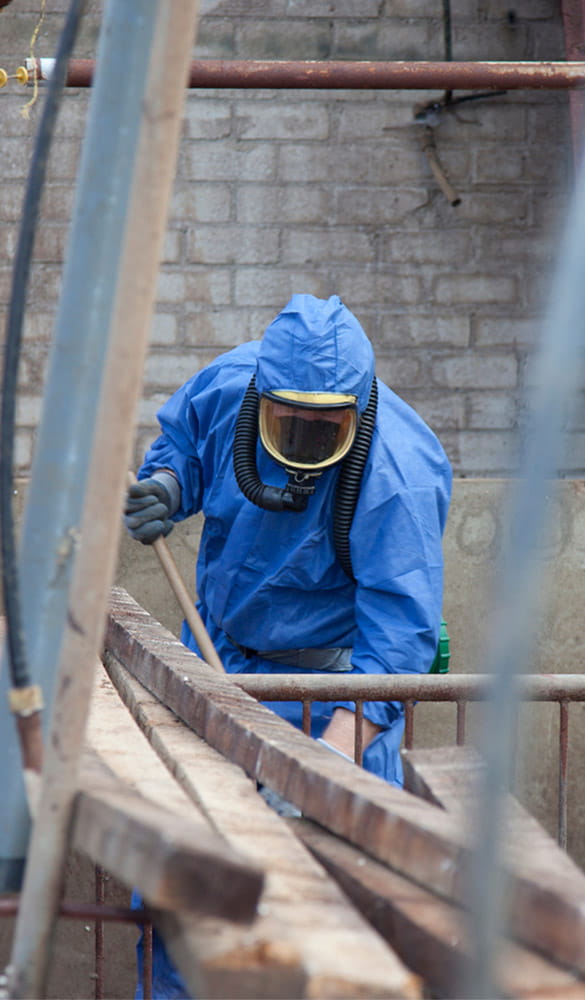 Resources
Read our case study on asbestos inspection
Learn how the scale and complexity of nuclear power stations are challenging environments for critical asbestos work.
making tomorrow safter than today
Environmental Services
---
Our team of over 9,000 Engaged Experts in North America, Europe, The Middle East, Australia, Asia and Africa are ready to help you.