The equipment used for noise assessments is continually evolving to allow for more precise measurements. Element's new acoustic camera is one of the most advanced pieces of equipment in the industry. The camera quickly identifies the exact location for unwanted noise sources, can visualize noise sources, detect quality problems, and reduce development times.
The acoustic camera visually represents the level of sound approaching the camera from different directions. The operation is based on signals coming from 256 individual microphones mounted on a 1.05m dish. The high number of receivers allows for low-level noise assessments. The sound from different directions will reach each microphone on the dish at different times. By analyzing the delays and comparing these to the noise from different directions, it is possible to indicate the level of sound from a given direction.
The microphone dish also has a wide-angle optical camera for recording live video images. The visual representation of sound levels can be superimposed over the top of the optical picture. Measurements can be taken from 0.5m to infinity, although resolution reduces as distance increases.
The acoustic camera can perform a range of noise assessments, including:
Source location and identification of tonal sources for industry.
Sound Insulation -highlights weak points in partitions and doors.
Noise breakout from buildings.
Let our expert noise consultants take care of everything for you. Whether it's environmental, road, or traffic noise assessments or assessing industrial noise complaints, our experienced team can help you meet your environmental permit requirements.

For more information about our noise assessment services and our acoustic camera, contact us today.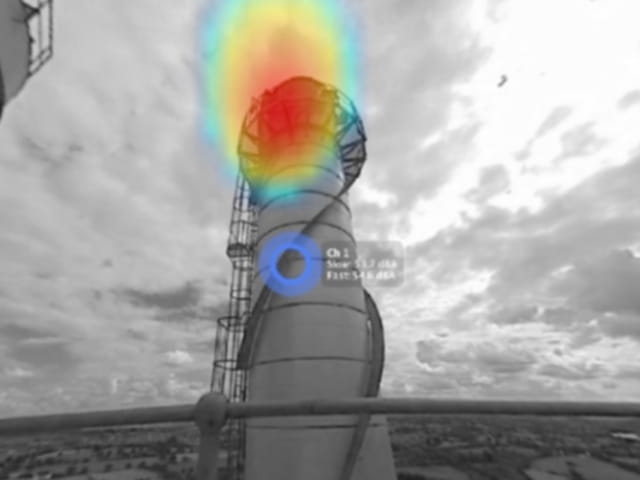 Acoustic camera surveys
Noise Assessment Reports
We provide reports in a clear, concise format based on pictures taken with the camera. Movie files will also highlight areas of interest. We will retain the raw data files, so customers can revisit data if required.
Our team of over 6,000 Engaged Experts in North America, Europe, The Middle East, Australia, Asia and Africa are ready to help you.
Contact The Element Team