Element provides a range of specialist air dispersion modeling solutions to a diverse range of sectors including industrial, manufacturing, waste, cement and also governmental and environmental consultants.
Air Dispersion Modeling computes weather patterns and local topography to predict the concentration of emissions at ground level caused by an emissions source. Air Dispersion Modeling software allows our experts to explore the effects of various solutions including increasing the height of a stack, changes in volumetric flow rate and different emission concentrations.
Emissions from stacks and other industrial sources cause environmental and health concerns not just locally but within a large radius, often several miles.
The concentration of emissions are compared to local Ambient Air Quality standards and regulations.
Air dispersion modeling capabilities
Our experts can assess the air quality impacts of parameters such as NOx, NO2, particulates, SO2 and many more. Using state of the art computerized software such as US EPA ISC-AEROMOD we model different scenarios to determine the environmental impact at both human and ecological receptor locations. Measurements of ambient air concentrations in the area of interest or around a site boundary are often taken to assess background levels.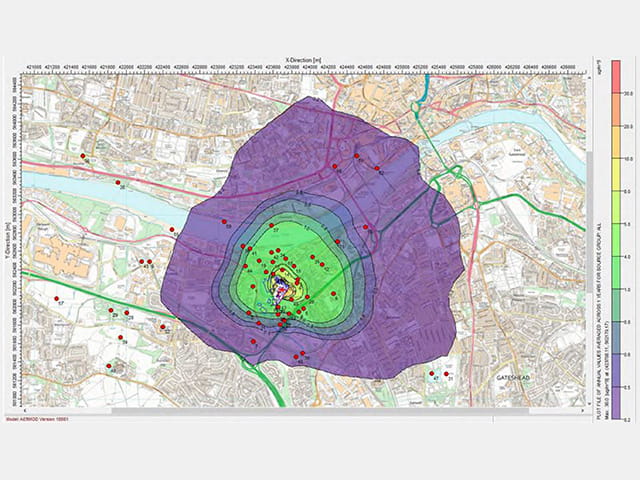 Visualizing your emissions data 
Results are presented in both tabular form and contour plots as in the image below to allow comparisons against long term and short term air quality standards. Our countrywide network of experts allow us to provide a local and highly responsive service.
Emissions data can either be taken from historical reports or Element can undertake ISO 17025 UKAS-MCERTS accredited emissions testing via our network of 12 offices across the UK & Europe.
Stack Emission Testing teams that specialize in CEMS, PEMS, EN 14181 QAL2, AST and RATA testing, as well as routine process compliance work using ISO, EN and US EPA monitoring methods.
The Element advantage
We provide a unique combination of experienced Air Quality Consultants and Dispersion Modeling expertise with the largest resource of Emissions Monitoring teams and equipment in the UK.
Our Engaged Experts, members of the Institute of Acoustics and the Chartered Institute of Environmental Health, can provide the certainty your application needs by exhaustive testing, assessment, and modelling. You can trust Element to support you with all your Air Dispersion Modelling, Air Quality and Acoustic Consultancy services.
For further information, please contact our experts today.
Case Study: EIA scoping project for Warringtonfire
Learn how we performed an EIA (Environmental Impact Assessment) for the construction of the UK's largest built environment product testing facility.
The project included acoustic design assistance, noise assessments, and air quality dispersion modeling to demonstrate that the new facility would not have a detrimental impact on the surrounding environment.
read our case study
FAQ: The latest insights on Noise Impact Assessments
We asked our environmental expert Stephen Wigham to answer Frequently Asked Questions regarding environmental noise assessments and environmental impact assessments.
Discover how our independent environmental compliance experts are helping clients understand the environmental impact of new developments.
READ OUR FAQ
Discover how we use acoustic noise cameras for Noise Impact Assessments
Our cameras visually represent the level of sound approaching the camera from different directions.
Acoustic noise data is required for environmental, road & traffic noise assessments, or assessing industrial noise complaints, our experienced team can help you resolve issues, and comply with legislation and environmental permit requirements.
LEARN MORE
making tomorrow safter than today
Environmental Services
---
Our team of over 9,000 Engaged Experts in North America, Europe, The Middle East, Australia, Asia and Africa are ready to help you.