Element provide MCERTS accredited temporary CEMS (Continuous Emissions Monitoring Systems), to ensure that your plant or industrial site continues to operate and complies with environmental permits.
If your site encounters an unexpected breakdown of its emissions measurement instruments our team will quickly devise a recovery plan based on your monitoring requirements and processes. Our experts are experienced in providing temporary CEMS solutions that eliminate the risk of non-compliance with environmental legislation. We operate across sectors including waste, energy, power generation, manufacturing and many more.
No matter the size of your site, we provide the back up when you need it.
Temporary CEMS capabilities
If you have Duty and Standby CEMS, or just a single Duty CEM, we offer peace of mind over breakdown risk or failure of parts. Partnering with Element ultimately eliminates the possibility of halting site operations due to planned or unplanned CEMS downtime.
We are experienced providers of rapid response temporary CEMS solutions. Our local teams deploy portable MCERTS accredited emissions monitoring systems for parameters such as NOx, NO, NO2, N2O, CO, CO2, O2, TVOCs, SO2, HCl, NH3, H2O (water vapour) and more.
Our emergency solutions are aimed at keeping your site operational whilst your regular CEMS is being repaired. We have over 60 full emissions monitoring systems across the UK and Europe, meaning that we can accommodate from days, to weeks, to months if necessary.
Our experience with EN 14181 QAL2 & AST emissions monitoring along with QAL3 measurements and linearities means no one is better placed to support you.
The Element Advantage
Our friendly and professional team will quickly determine the most suitable instrument based on the Lowest Certified Range, your Emission Limit Values (ELV) and typical stack gas composition and temperatures.
As the UK's Number one provider of ISO 17025 UKAS - MCERTS accredited stack emissions testing, we operate from a network of 11 offices throughout the UK and Europe. Contact our experts today.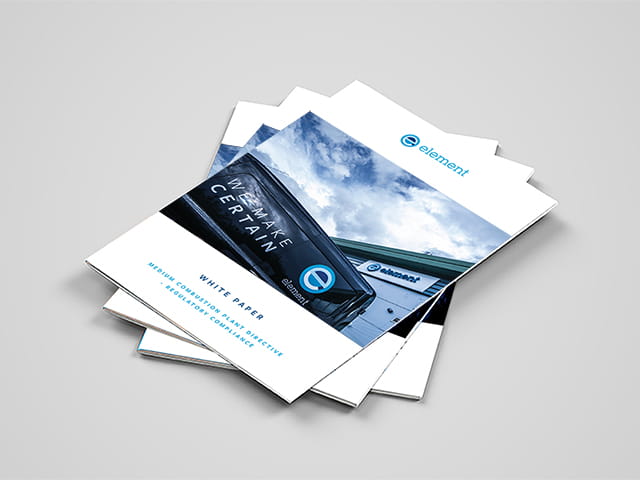 Environmental Testing and Compliance Content
Discover our environmental thought leadership content including articles, white papers, case studies and FAQs.
Written by our industry experts, we explore a range of laboratory and field-based topics related to how we help clients comply with environmental legislation and maintain safe operations.
READ MORE
making tomorrow safter than today
Environmental Services
---
Our team of over 9,000 Engaged Experts in North America, Europe, The Middle East, Australia, Asia and Africa are ready to help you.