BS EN 14181 is a European standard that encompasses the calibration, testing, and overall performance of Continuous Emissions Monitoring Systems (CEMS). Our team undertake annual EN 14181 maintenance and annual surveillance testing to ensure safe and compliant operations to all quality assurance levels.
What is EN 14181?
EN 14181 describes the quality assurance procedures needed to ensure that CEMs - installed to measure emissions to atmosphere – comply with strict requirements related to uncertainty on measured values. There are 4 quality assurance levels defined in EN 14181, which are explained further down the page.
Why choose Element for EN 14181 calibration and testing?
Our dedicated Emissions Monitoring Teams conduct more testing of this kind than anyone else in the UK or Ireland. With over 350 EN 14181 campaigns each year we have gained a massive amount of valuable, real-world, practical experience able to deal with every scenario that may arise.
Our vast experience in delivering CEMS measurements that are representative and accurate, gives you confidence that your CEMS is reliable and functioning to a high standard in order to comply with legislation.
If a CEMS isn't performing accurately, our experts will source the issue and advise you on the best course of action. We offer training courses for detailed insight into best practice for the management of CEMS. Additionally, we offer Temporary CEMS solutions to eliminate the risk of non-compliance after an unexpected breakdown of your system.
For more information and to speak with our experts, including Mark Elliott and James Eldridge, contact us today.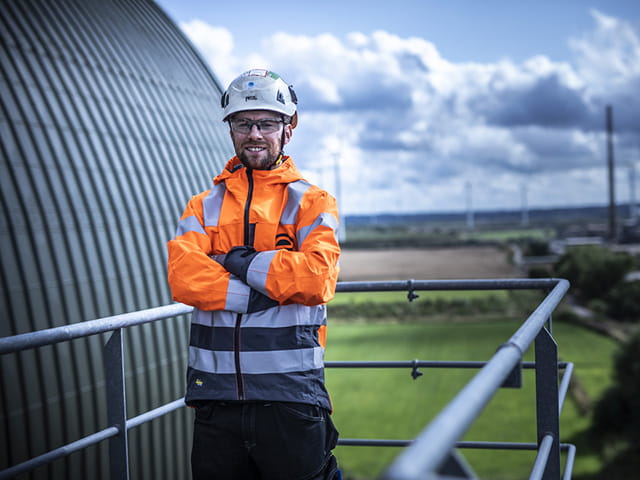 Video: Learn more about BS EN 14181
Element developed our Centre of Technical Excellence especially for EN 14181 work with the aim of establishing a clear industry-leading set of best practices and act as a hub of knowledge focusing all our expertise and practical know-how to deliver accurate, robust support and advice to our clients.
EN 14181 is complex and vitally important and you can rely on our trusted experts to give the best possible customer focused assistance to guide you through the process from start to finish.
"Our technical experts offer guidance and support to ensure your CEMs are functioning to a high standard and make certain your measurements are accurate."
James Eldridge
Senior technical advisor - Element environmental
QAL1
QAL1 uses pre-described criteria to prove that the total uncertainty of the CEMS meets the requirements and specifications and is fit for purpose.
The total uncertainty is calculated by summing together all the relevant uncertainty components arising from specific performance characteristics.
QAL2
QAL2 involves the use of EN ISO/IEC 17025 accredited testing laboratories, such as Element Materials Technology, to produce a set of comparable data results alongside the operating CEMs.
This quality assurance procedure is used for the determination igf calibration functions, variability, and establishing calibration ranges applicable to the function.
Note - variability is a test of the measured values of the CEM against the maximum permissible uncertainty given by legislation.
QAL3
QAL3 demonstrates ongoing Quality Assurance and Quality Control of the CEMS. QAL3 is different from QAL2 and AST as it is conducted on a routine basis (e.g. weekly, fortnightly or monthly) usually by the operator to demonstrate the CEMS are under control and continues to function normally.
ASTs
Annual Systems Tests (ASTs) are conducted annually following any QAL2 and are generally considered a "mini QAL2". AST determines whether the calibration functions established during the QAL2 remain valid and whether the associated range can be extended following a larger spread of data. Although similar to QAL2, AST 'parallel measurements' are reduced to a minimum of 5 over a minimum of 1 day. Whereas QAL2 requires a minimum of 15 'parallel measurements' spread across 3 days.
EN 14181 Training Courses
We deliver tailored Training Courses either on your site, online or at one of our Element Laboratories. The course takes you through an EN 14181 campaign from start to finish, best practices around planning the testing, communications with CEMS manufacturers, the intricacies around the paired measurements, CEMS data, calibration functions and much more.
Linearity Checks
Elements Centre of Technical Excellence teams regularly conduct Linearity checks to assess the linear performance of the CEM in accordance with EN 14181. This is typically conducted at 2 x the Daily ELV (Emission Limit Value) or the Short Term ELV. We hold ISO 17025 certified calibration gas with an uncertainty of < 2%. The linearity measurements can sometimes be used as surrogate data to establish calibration functions. The Linearity Checks are conducted by passing concentrations at zero, 20%, 40%, 60%, 80% of the range, and a final zero again. We also determine the T90 response time and various other checks required.
The Element advantage
Element are the No.1 supplier of ISO 17025 UKAS-MCERTS Accredited Air Emissions Testing in the UK & Ireland. With our network of 12 offices, and nearly 50 teams, we have local experts ready to help you. Our unique advantages include:
Safety Philosophy – We are proud of our safety record and zero-harm culture that is driven by every single member of the team
Industry Leading Experts and MCERTS certified site teams to ensure the highest quality of testing
Two dedicated workshops to calibrate, repair and performance check our large pool of sampling equipment, instruments and analysers.
In-House Element Laboratories for analysis of samples including metals, mercury, dioxins & furans, acid gases and more.
e-Mission digital portal to manage all aspects of your permit compliance including dynamically held emissions data to track and trend your results.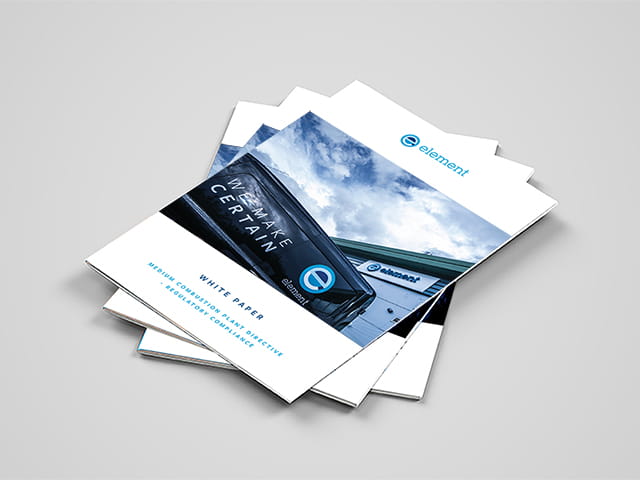 Environmental Testing and Compliance Content
Discover our environmental thought leadership content including articles, white papers, case studies and FAQs.
Written by our industry experts, we explore a range of laboratory and field-based topics related to how we help clients comply with environmental legislation and maintain safe operations.
READ MORE
making tomorrow safter than today
Environmental Services
---
Our team of over 9,000 Engaged Experts in North America, Europe, The Middle East, Australia, Asia and Africa are ready to help you.