Element recognizes that existing test methods in ASTM, ISO, ASME, AWS, SAE and other regulatory specifications may not always be suitable for your product or component. In these situations, a customized approach to mechanical testing is essential to achieving your qualification or R&D goals.
For custom testing projects, Element's Engaged Experts work hard to understand your testing goals prior to beginning a project. Our experts will work with you to develop a custom testing solution that will give you the data and analysis you need.
With full-service CNC machining capabilities, Element can quickly fabricate special fixturing or custom mechanical test setups. We also have the capability to lead or assist your testing and product development efforts, with our internal fabrication capabilities, 3D modeling software, and Finite Element Analysis (FEA) software packages. Our data acquisition, testing, and product development knowledge can be applied to achieve the results your organization demands.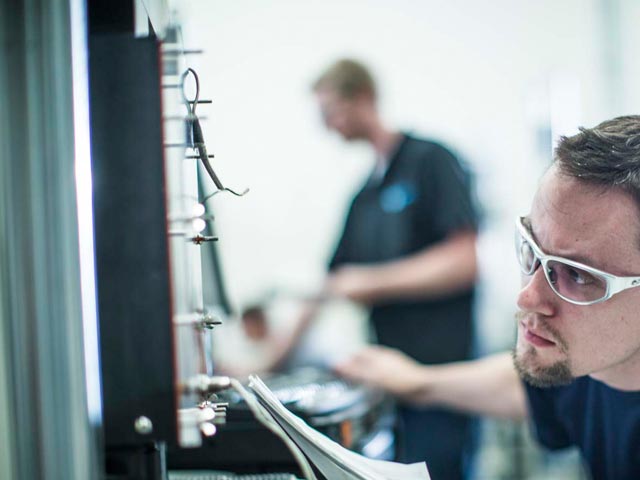 more details
Custom Mechanical Testing Solutions
Element has extensive knowledge and experience with a wide variety of custom mechanical testing applications, including:
Multi-axial loading (static and dynamic, coupon level and component level)
Tension, compression, shear, and torsional loading (static and dynamic, coupon level and component level)
Customized fatigue testing and analysis
Rotating Beam fatigue testing
Tribological (wear) properties:
Metal on Metal (MoM)

Metal on Plastic (MoP)

Fabrics

Taber Abrasion

Finger touch wear simulation (RCA Abrasion)
Oversized component testing:
High Displacement (up to 48")

High Load (up to 300,000 lbs.)
Subzero and elevated temperature environments
Temperature/humidity chambers
Custom loading profiles/waveforms
Custom generated NDE certification coupons