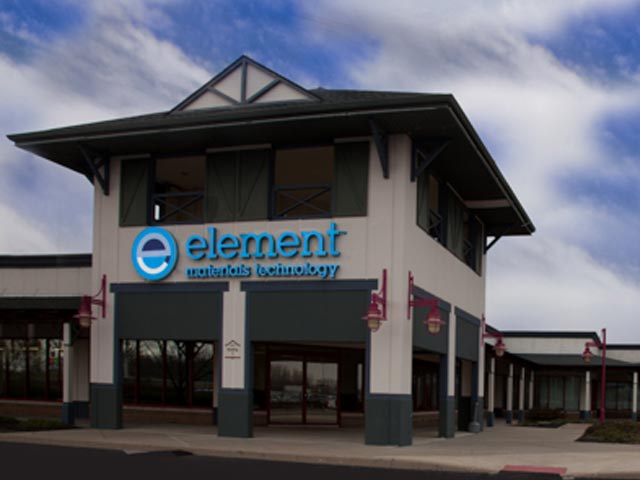 Contact details
Element Daleville
Address:
9301 Innovation Drive, Suite 115, Daleville, IN 47334-0569 USA
Phone:
+1 765 378 4102
Fax:
+1 765 378 4107
Sales Inquiries:
+1 888 786 7555
Element Daleville is a state-of-the-art Aerospace materials testing laboratory, holding one of Element's most extensive lists of customer approvals. Our Daleville laboratory serves customers from a variety of industries including aerospace, castings, forgings, medical device, automotive, power generation and manufacturing.
Accredited by A2LA to ISO 17025:2005 for chemical and mechanical testing, as well as Nadcap, Element Daleville is registered and is in compliance with the United States Department of State under its International Traffic in Arms Regulations (ITAR) pursuant to the Arms Export Control Act (AECA). Additionally, Element Daleville has held an impressive array of aerospace airframe OEM and aero engine approvals for more than 65 years, including Pratt & Whitney, Sikorsky, Boeing, Bell Helicopter, Safran, Bombardier, GE, Gulfstream, Rolls-Royce and others. Most recent additions to the Aerospace customer approval list are Honda Aerospace and Kawasaki Heavy Industry. View all customer approvals
Element Daleville specializes in the analysis of the chemical composition, mechanical and metallurgical characterization of exotic and standard metal alloys, forgings, castings and components, as well as, failure analysis, reverse engineering, weld certification/qualifications, and special engineering projects such as test procedure development, fixture design and manufacturing, metallurgical field services and life cycle testing.
Looking for an approval, accreditation or document?
Find all Element's accreditation, certification and approval documents conveniently available by location.
Services available
Element Daleville
---

Our team of nearly 2,000 Engaged Experts working across the USA, Europe and Asia are ready to support you.
How could we help you today?
Make an Inquiry