From total knee prostheses to individual components, we offer a full suite of total knee replacement (TKR) testing services. Our experts have experience testing femurs, patellas, tibial trays and tibial bearings, and can assist with custom setups and challenging projects.
Element's medical device testing labs perform a variety of mechanical testing services for total knee replacements (TKRs), including fatigue testing, wear testing and metallurgical evaluation for both bicondylar and unicondylar knees. We can assist in protocol development and design, feasibility studies and regulatory submissions for knee implants, and provide testing to many of the industry's most used standards.
Our Knee Implant Testing Services
Element's team of experts are uniquely situated to provide every stage of knee implant testing in-house, giving us greater oversight over the testing process and the ability to manage your project from start to finish. Our testing labs feature dedicated frames for knee implant testing, giving us greater capacity and competitive turnaround times.
Some of the services that we offer include:
Wear Testing
Range of Motion Testing
Contact Pressure using TEKscan capabilities
Bearing Interlocking Strength
Constraint
Particle Evaluation
For more information about our knee implant testing services, or to speak with an expert, contact us today.
American Society for Testing and Materials
ASTM F1223, ASTM F1672, ASTM F1800, ASTM F1814, ASTM F1800, ASTM F2083, ASTM F2723, ASTM F2777
International Standards Organization
ISO 14879, ISO 14242, ISO 14243
knee implant testing
Knee Implant Fatigue Testing
Whether for feasibility or submission purposes, Element's fatigue testing services provide the critical data you need to validate your device design.
Tibial Tray (ASTM F1800 & ISO 14879)
Tibial tray fatigue testing (link to fatigue) is performed by fixating one half of the tibial baseplate and applying a constant amplitude load to the unsupported half of the baseplate. Per ASTM F1800 & ISO 14879, testing is performed to a run-out of 10 million cycles. For submission testing, five samples must survive 10 million cycles under at least 900 N of load.
Tibial Bearing Components
For implants that are posterior-stabilized, shear fatigue testing of the UHMWPE tibial post is recommended. Six samples are cycled at varying loads to develop an S/N curve. At least one sample should complete full run-out to 10 million cycles.
Femoral implants
Femurs are evaluated for fatigue properties in a variety of conditions. Various flexion angles and cementing configurations can be tested to evaluate fatigue performance. Both S/N curves and minimum run-outs can be tested.
Tibial Insert Endurance under High Flexion
For knee systems designed to allow high flexion, this test method evaluates the ability of UHMWPE inserts to resist deformation and fracture due to repeated deep knee bend activities. Tests are performed in-vitro to 220,000 cycles at a 2,275 N load. Results are benchmarked by performing pre- and post-test scans, along with constraint tests.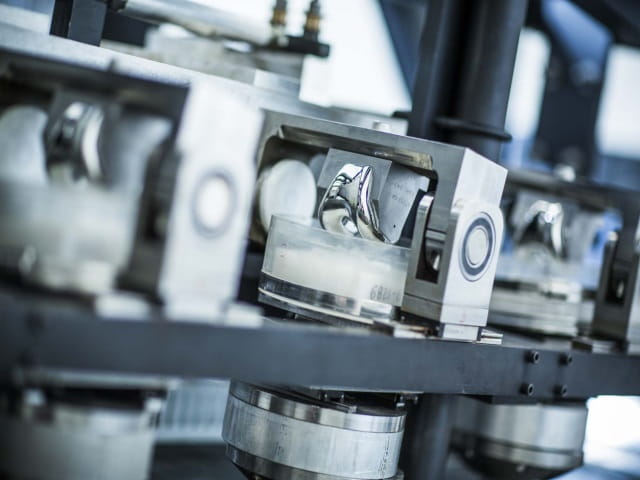 knee implant testing
Contact Pressure & Constraint Testing
Contact pressure and distribution can have significant effects on knee implant wear properties, while constraint testing is critical in determining the dislocation and motion resistance of the implant system.
Contact Pressure
Utilizing a variety of pressure sensitive films, Element provides contact stress analysis of tibiofemoral and femoral-patellar knee implant contact mechanics. Testing is performed at multiple flexion angles with varying normal loads.
Constraint Testing (ASTM F1223)
Element provides both translational and rotational knee constraint testing services per ASTM F1223. Anterior, posterior, medial, lateral and rotational tibiofemoral shear forces are applied to induce either subluxation or a specified angle of rotation. This test can be crucial when comparing standard inserts, congruent inserts, or posterior stabilized inserts.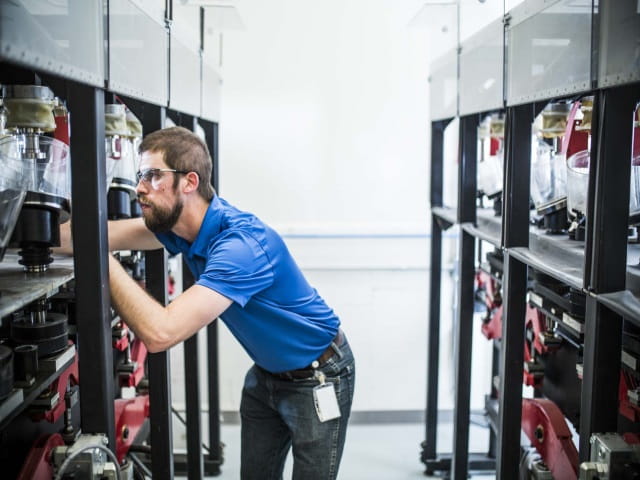 knee implant testing
Knee Implant Wear Testing
Knee wear testing allows for the measurement of wear rates between the femoral component and the tibial insert. Element can perform wear testing in either force or displacement control.
ISO 14243-1 or ISO 14243-3
Axial force (Fz), anterior/posterior force (Fx), flexion/extension (My), and tibial rotation (Mz) are coupled to accurately simulate the complex, simultaneous motions of the human knee. Test programs run at a frequency of 1 Hz to 5,000,000 cycles. At various intervals, the samples are removed and precisely measured for mass loss. After testing, a particle analysis is performed on the test solution using SEM/EDS equipment to create a comprehensive morphology report.
Element's knee wear test frames contain:
6 test stations and 2 load/soak controls
Ability to perform force or displacement-controlled testing (ISO 14243-1 or ISO 14243-2)
Environmental chambers for bovine solution
Ready to request a quote?
Our deliverable is certainty - high quality data, test reports and certificates that you can absolutely rely on when making decisions about your materials and compliance. Engage with an expert today.
More details
Other Product Qualification Testing Services
---
Our team of over 9,000 Engaged Experts in North America, Europe, The Middle East, Australia, Asia and Africa are ready to help you.
Make an inquiry today