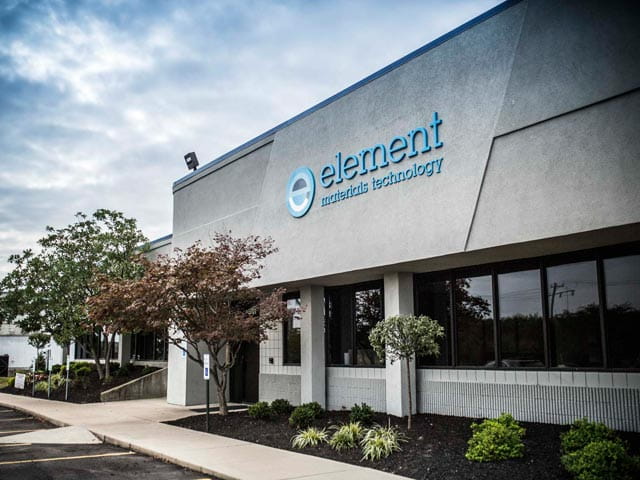 contact details
Element Cincinnati
Address:
3701 Port Union Road, Fairfield, OH 45014 USA
Phone:
+1 513 984 4112
Sales Inquiries:
+1 888 786 7555
A recognized leader in testing, inspection, and product certification for over 40 years, Element Cincinnati (formerly MAR-TEST and Accutek), was established as an independent mechanical testing laboratory with expertise in metals, alloys, and ceramic matrix composites. Our state of the art 60,000 square foot facility and 250+ test machines enable us to provide high capacity service to customers across a unique range of industries, including aerospace, biomedical, industrial manufacturing, power generation, and transportation.
Element Cincinnati's capabilities range from high and low cycle fatigue testing at elevated and subambient temperatures to fracture mechanics and monotonic testing under tension, compression, shear, and torsion.
As Element's Ceramic Matrix Composites (CMC) Center of Excellence, Element Cincinnati has made considerable investment developing knowledge of testing mechanical properties in extreme environments, partnering with clients from their initial R&D efforts in CMCs to develop repeatable, relevant testing protocols.
A world leader in testing composite and metal materials using both standard methods and increasingly intricate and customized procedures and equipment, Element is a leader and proactive participant within the international advanced composites community with active membership in ASTM D30 (Committee on Composite Materials), ASTM C28 (Committee on Advanced Ceramics) and CMH-17 (Committee for the Composite Materials Handbook), Nadcap and A2LA .
Element Cincinnati also boasts one of the widest ranges of accredited medical device testing in the world, including static, fatigue, and wear testing solutions for hip, knee, spine, and trauma devices.
Looking for an approval, accreditation or document?
Find all Element's accreditation, certification and approval documents conveniently available by location.
our services
Element Cincinnati
---

Our team of nearly 2,000 Engaged Experts working across the USA, Europe and Asia are ready to support you.
How could we help you today?
Make an Inquiry