Element is a global leader in Ceramic Matrix Composites (CMCs) testing for the Aerospace industry, helping you characterize your next-generation materials and develop your products with the properties needed for lightweight and extreme high-temperature applications.
Advantages of ceramic matrix composites in Aerospace
Components manufactured from ceramic matrix composites combine the heat resistance of ceramics with improved structural strength, performing at exceedingly higher temperatures upwards of 3,000°F. As the practical application of CMCs increases, so does the need to understand the mechanical properties of your materials to ensure they perform as expected.
CMCs will play an important role over the coming decades as gas turbine OEMs continue to push the limits of fuel efficiency and performance while decreasing weight.
Our ceramic matrix composites capabilities
Because of the unique requirements of testing in extreme environments, gathering pertinent data requires specialized equipment and extensive experience. Our Engaged Experts have developed their knowledge of CMC properties by partnering with our clients from their initial R&D efforts to providing repeatable, relevant testing protocols.
With a thorough understanding of CMCs, we help you ensure your materials are safe, quality, compliant, and fit for purpose.
The Element advantage
Our Experts are on leading boards: ASTM D30, ASTM C28 and CMH-17
Element is a proactive participant and leader within the international advanced composites community with active membership in ASTM D30 (Committee on Composite Materials), ASTM C28 (Committee on Advanced Ceramics), and CMH-17 (Committee for the Composite Materials Handbook), NADCAP, and A2LA.
We bring you the expertise of our network of engineering professionals, combining their extensive aerospace material testing experience with our state-of-the-art testing facilities to ensure certainty in your products and confidence to go to market quickly and safely.
For more information about our ceramic matrix composite testing services, or to request a quote, contact us today.
ASTM C1161 - Flexural Strength
ASTM C1273 - Tensile Strength
ASTM C1275 - Tensile Strength
ASTM C1291 - Elevated Temperature Creep, Creep Rupture
ASTM C1292 - CFCC Shear Strength
ASTM C1337 - Elevated Temperature Creep, Creep Rupture
ASTM C1341 - CFCC Flexure Strength
ASTM C1358 - CFCC Compression
ASTM C1359 - Tensile Strength (Hi Temp)
ASTM C1360 - Ambient Tension-Tension Cyclic Fatigue
ASTM C1361 - Cyclic Fatigue
ASTM C1366 - Elevated Temperature Tensile Strength
ASTM C1425 - Elevated Temperature Shear Strength
ASTM C1468 - Trans-Thickness CFCC Tensile Strength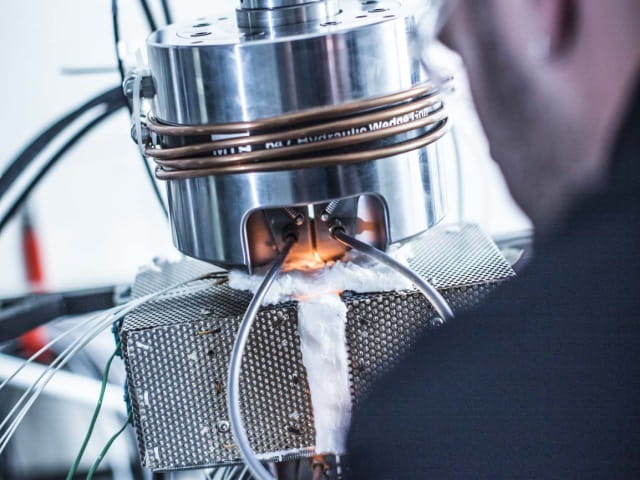 ceramic matrix composites testing
Testing services for ceramic matrix composites (CMC)
We offer a range of testing services for ceramic matrix composites.
Precision Specimen Preparation, including tight tolerance machining, radius creation and precision hole introduction
Temperature capability from -300°F to 3,000°F
Static and fatigue testing: tensile, compression, flex, shear, through-thickness and others
Fatigue testing, load control, strain control, spectrum and custom
Creep rupture, dwell fatigue, custom cyclic
Proprietary and custom testing
Feature based/element/component testing
Structural tests with multi-channel data acquisition
our services
Our Aerospace Materials Testing Services
Our aerospace laboratories have an extensive range of are Nadcap approved and ISO 17025 accredited tests and test to a variety of industry standards including ASTM, SAE and ISO as well as to a large number of Aerospace Prime and aero engine manufacturer approvals including Boeing, Airbus, GE Aviation, Rolls Royce, Pratt and Whitney, Safran and Bombardier.
---
Our team of over 9,000 Engaged Experts in North America, Europe, The Middle East, Australia, Asia and Africa are ready to help you.