Components manufactured from Ceramic Matrix Composites (CMC) combine the heat resistance of ceramics with improved structural strength, performing at exceedingly higher temperatures upwards of 3,000°F. CMCs are utilized across multiple industries, but found a new home in the Aerospace industry's requirement for lighter weight materials that can withstand high temperatures experienced in jet engines.
As the practical application of CMCs increases, so will the need to work with the right testing partner to ensure your materials perform as expected. With the unique anisotropic characteristics of composite materials, developing the knowledge of testing mechanical properties in extreme environments requires considerable investment. Element has made this investment by partnering with our clients from their initial R&D efforts in CMCs to developing repeatable, relevant testing protocols.
Our Ceramic Matrix Composite Testing Capabilities
Element is a world leader in testing composite and metal materials using both standard methods and increasingly intricate customized procedures/equipment. We bring you the expertise of our network of engineering professionals, combining their extensive material testing experience combined with our state of the art testing facilities to ensure your CMC project will always be delivered on time.
Element is a proactive participant and leader within the international advanced composites community with active membership in ASTM D30 (Committee on Composite Materials), ASTM C28 (Committee on Advanced Ceramics) and CMH-17 (Committee for the Composite Materials Handbook), NADCAP and A2LA.
The value of trusting Element with your CMC testing is clear. Working with our leading Engaged Experts enables our clients to validate certainty in their products and confidence to go-to-market quickly and safely.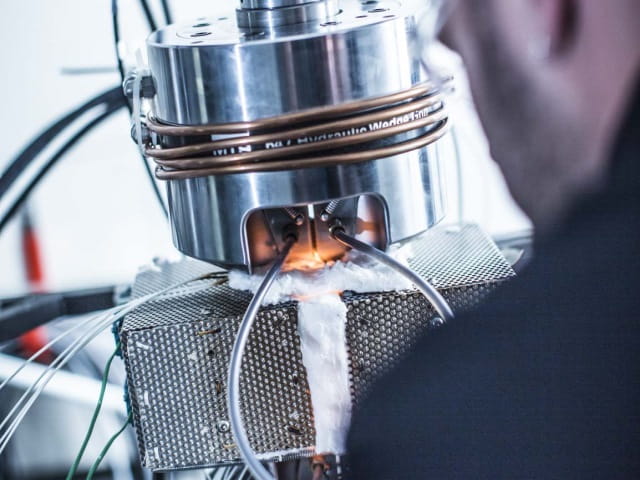 ceramic matrix composites testing
CMC Testing Services, Specifications and Environments
CMC Testing Services
Precision Specimen Preparation, including tight tolerance machining, radius creation and precision hole introduction
Temperature capability from -300°F to 3,000°F
Static and Fatigue testing: Tensile, compression, flex, shear, through-thickness and others
Fatigue testing, load control, strain control, spectrum and custom
Creep rupture, dwell fatigue, custom cyclic
Proprietary and custom testing
Feature based/element/component testing
Structural tests with multi-channel data acquisition
Common CMC Test Specifications
ASTM C1161 - Flexural Strength
ASTM C1273 - Tensile Strength
ASTM C1275 - Tensile Strength
ASTM C1291 - Elevated Temperature Creep, Creep Rupture
ASTM C1292 - CFCC Shear Strength
ASTM C1337 - Elevated Temperature Creep, Creep Rupture
ASTM C1341 - CFCC Flexure Strength
ASTM C1358 - CFCC Compression
ASTM C1359 - Tensile Strength (Hi Temp)
ASTM C1360 - Ambient Tension-Tension Cyclic Fatigue
ASTM C1361 - Cyclic Fatigue
ASTM C1366 - Elevated Temperature Tensile Strength
ASTM C1425 - Elevated Temperature Shear Strength
ASTM C1468 - Trans-Thickness CFCC Tensile Strength
CMC Testing Environments
Temperature capability from -300°F to 3000°F
Fatigue, HCF, Dwell, Strain control

Structural tests with multi-channel data acquisition
Ready to request a quote?
Our deliverable is certainty - high quality data, test reports and certificates that you can absolutely rely on when making decisions about your materials and compliance. Engage with an expert today.
our services
Our Aerospace Materials Testing Services
Our aerospace laboratories have an extensive range of are Nadcap approved and ISO 17025 accredited tests and test to a variety of industry standards including ASTM, SAE and ISO as well as to a large number of Aerospace Prime and aero engine manufacturer approvals including Boeing, Airbus, GE Aviation, Rolls Royce, Pratt and Whitney, Safran and Bombardier.
---