Material properties testing is a critical step in understanding how your materials will perform or react under a wide variety of stresses. Element can assist you in evaluating and understanding your material's properties, from tensile strength to thermal analysis and beyond.
Benefits of material properties testing
The benefits of understanding material properties affect every stage of an application. Material properties testing can assist in R&D projects, prevent failures in the field, and anticipate issues before they arise. Not every material is the same, and guesswork is not an option.
Material properties testing services
Element offers a broad range of material properties testing services, specializing in metals, advanced composites, polymers, ceramic composites, and many more. Element can provide valuable insight about virtually any material characteristic, and any material type.
The Element advantage
We have experience providing testing for many sectors, and handle projects large and small. With a global network of labs and resources, we perform everything from routine tensile testing to custom fatigue programs.
For more information about our material properties capabilities, or to request a quote, contact us today.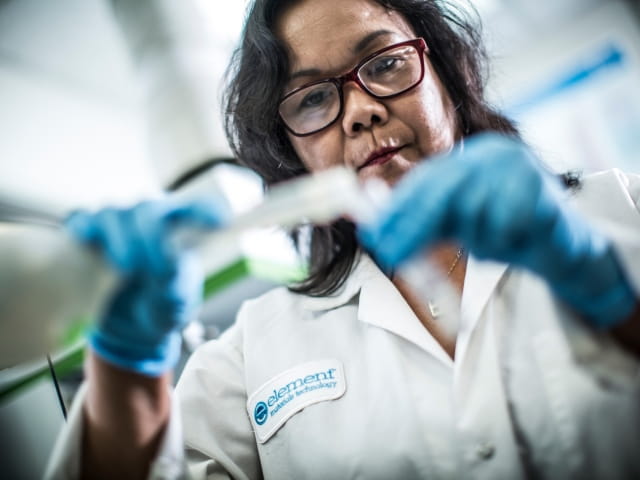 Materials Properties Testing services
Chemical Analysis
Whether you need to confirm a material type or receive a full report, Element's chemical analysis labs have the answers you need.
Our chemical analysis services cover a range of material types, from traditional metals and alloys to new polymers and composites. We equip our labs with state-of-the-art technology, and can perform a variety of analysis techniques. 
In addition to standardized procedures, our labs can set up custom or complex test plans. Some of the services that we offer include:
Atomic Absorption (AA) / Graphite Furnace Atomic Absorption (GFAA)
Combustion Analysis
Density and Specific Gravity
Dimensional Stability
Direct Current Plasma (DCP)
Fourier Transform Infrared Spectroscopy (FTIR)
Gas Chromatography/Mass Spectrometry (GC/MS)
Glow Discharge Spectrometry (GDS)
Gravimetric Wet Chemistry
Ignition Loss
Inductively Coupled Plasma (ICP)
Moisture Content
Optical Emission Spectroscopy (OES)
Recovery Time
Volatile Organic Compound (VOC) Determination
Water Vapor Transmission
X-Ray Diffraction (XRD)
X-Ray Fluorescence (XRF)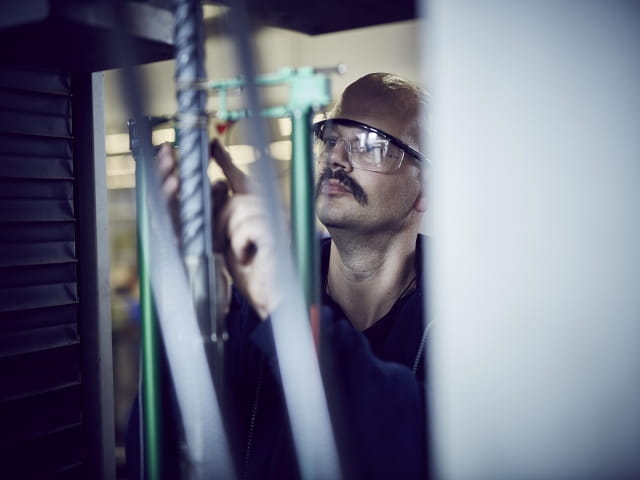 MATERIALS PROPERTIES TESTING SERVICES
Mechanical Testing
Mechanical testing covers a diverse range of methods, and is a critical part of any materials testing program.
Mechanical testing is one of the most important parts of any materials testing program. By pushing materials to failure, we can collect data about their strength, flexibility, ductility, hardness, and more. Our labs help you get the most out of these critical test methods. 
Element offers a wide range of mechanical tests, on both metallic and non-metallics. In addition to standardized methods, our labs can assist with custom or complex set-ups. Some of the services that we offer include:
Abrasion Resistance Testing 
Adhesive Strength Testing
Bend Testing
Bond Strength Testing
Coefficient of Friction
Compression Testing
Creep and Stress Rupture Testing
Elongation Testing
Expansion Testing
Fastener Holding Testing
Fatigue Testing
Flexural Strength Testing
Fracture Toughness Testing
Hardness Testing
Impact Testing
Indentation Force Deflection (IDF)
Modulus of Rupture
Package Seal Burst Strength Testing
Peel Strength
Puncture Resistance Testing
r-Value Testing
Shear Testing
Strain Gaging
Stress/Strain Analysis
Tear Testing
Tensile Testing
Torque Testing
Weld Mechanical Testing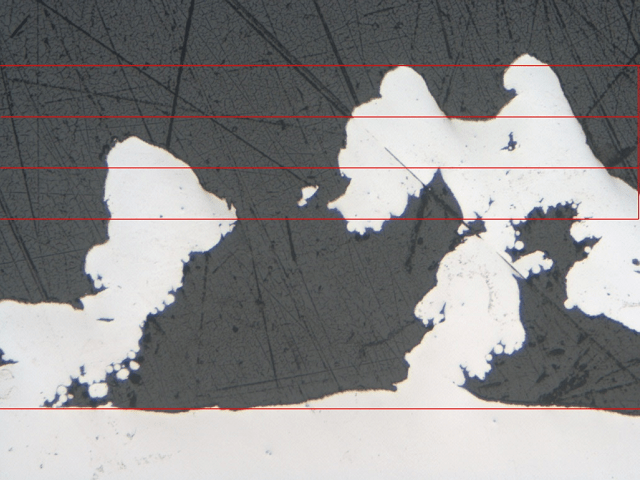 MATERIALS PROPERTIES TESTING SERVICES
Metallurgical Testing
Our metallography experts look at metals both above and below the surface. From grain size to coating evaluations, our Engaged Experts answer even the most challenging metals questions. 
Metallography is a group of techniques used to investigate properties of metals and alloys. Metallographic methods characterize the microstructure of a material, determine the inclusion content of a metal, test the corrosion resistance of a coating or material, and much more. 
Our metallography labs have state-of-the-art equipment for investigating a wide range of metallic conditions. We can test to standard protocols, or partner with you to design unique programs to fit your needs. Some of the methods we use include:
Alloy Depletion
Alpha Case Evaluation
Austenite Measurements
Carburization/Depth of Decarburization
Case Depth
Casting Evaluation
Ferrite Measurements
Fractography
Grain Size Measurements
Inclusion Content
Intergranular Corrosion
Microstructure Evaluation
Particle Analysis
Passivation
Photomicrography
Pitting and Crevice Corrosion
Plating and Coating Thickness
Recast Evaluation
Replication Metallography
Scanning Electron Microscopy / Energy Dispersive Spectroscopy (SEM/EDS)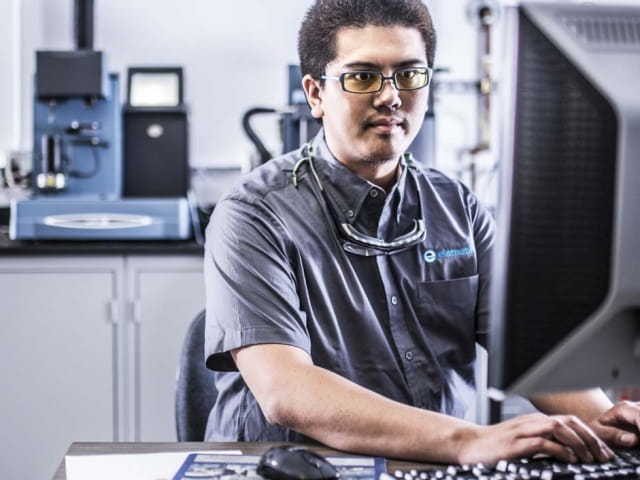 MATERIALS PROPERTIES TESTING SERVICES
Thermal Analysis
Because of their unique properties, plastics and rubbers can be particularly difficult to characterize. Our thermal analysis methods remove uncertainty by identifying important characteristics in non-metallic materials. 
Thermal analysis methods use a combination of heat and mechanical force to track changes in material structure. These tests identify important heat-dependent characteristics, such as glass transition temperature and phase transitions. 
Because of the fluid nature of these materials, understanding their properties is vital. Our thermal analysis methods provide insight into how materials can be used and stored. We help you anticipate changes, and avoid issues before they become failures.Some of the methods that we offer include:
Differential Scanning Calorimetry (DSC)
Dynamic Mechanical Analysis (DMA)
Heat Deflection Temperature
Linear Thermal Expansion
Thermogravimetric Analysis (DSC)
Thermomechanical Analysis (TMA)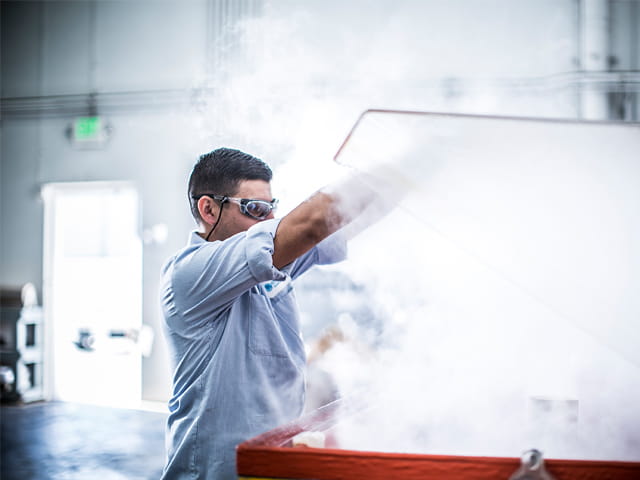 MATERIALS PROPERTIES TESTING SERVICES
Environmental Testing
From high temperatures and sun exposure to humidity and corrosion, your materials will be affected by external conditions. Our environmental testing services make sure they're fit for purpose.
As technology advances in every sector, materials need to withstand more extreme environments than ever before. To make sure that your materials and products are up to the task, Element offers a full suite of environmental testing services. 
Our labs perform environmental testing in a range of thermal, mechanical and corrosive conditions. With years of experience in a variety of industries, our experts are ready to assist with any project. Some of the environmental testing methods that we offer include:
Accelerated Aging & Ultraviolet Exposure
Color Testing
Environmental Stress Cracking
Flammability Testing
Freeze/Thaw Testing
Gloss Testing
High Temperature-High Pressure (HTHP) Testing
Mold & Fungus Resistance
Ozone Resistance Testing
Salt Spray Testing
Sweet and Sour Gas Exposure
Temperature & Humidity Testing
Water Immersion
Weatherability/UV Weathering
Our capabilities
Our Materials Testing Services
---
Our team of over 9,000 Engaged Experts in North America, Europe, The Middle East, Australia, Asia and Africa are ready to help you.