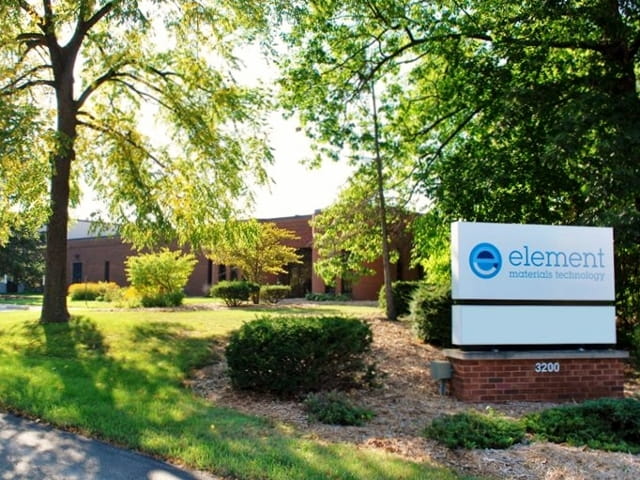 contact details
Element New Berlin
Address:
3200 South 166th Street, New Berlin, WI 53151
Phone:
+1 262 782 6344
Fax:
+1 262 782 3653
Sales Inquiries:
Element New Berlin is a specialist provider of mechanical engineering services and failure analysis services for a range of ferrous and non-ferrous materials as well as for polymer and other advanced materials.

Founded in 1978 and operating out of the Milwaukee metropolitan area, Element New Berlin has over 37 years of experience in this highly specialist field supporting multiple clients from within the Aerospace, Oil & Gas and Transportation and Industrials sectors

We employ 48 Engaged Experts at our New Berlin facility who collectively possess hundreds of "man years" experience in helping our clients to select and apply the most appropriate materials for their applications, products and services and also in completing comprehensive root cause analysis studies when their materials or products fail. 

These expert metallurgists, chemists, and polymer specialists are internationally recognized as some of the most experienced in their field.
Our Services
Mechanical engineering services include: 

Product performance testing  
Product qualification and validation testing 
Life cycle, reliability, and durability testing of parts and assemblies 
Cyclic component, product, or part fatigue life testing  
Stress and strain analysis including field stress analysis 
On site strain gage installation and measurement  
Creep and stress rupture of polymers/plastics, and DMA creep prediction models
Material engineering services and failure analysis services:

Metal:
Metal part failure root cause analysis
Forging failure analysis
Casting failure analysis 
Fracture analysis
Heat treatment process selection
Case hardening process selection
Polymer:
Root cause analysis
Material failure root cause analysis
Plastic or polymer part failure analysis
Part assembly failure root cause analysis
General materials:
Material application trouble shooting
On site metallography – confirmation of micro structure – grain size
Validation of material composition
Material substitution comparison
Material selection and applications
Expert Witness Services
Element's laboratories regularly serve law firms and insurance companies from around the world, including joint plaintiff and defendant investigations for litigating parties. We pride ourselves in providing the answers as to why an event occurred, not just how.In support of our investigations, Element's New Berlin laboratory houses highly advanced analytical instrumentation aiding our scientists and engineers in the analysis of metals, plastics, rubbers, composites, paints, and coatings.Our root cause analysis services for both material and product failures include:
Visual review (both onsite and in the laboratory)
Chemical/compositional Analysis
Thermal Analysis
Cross-sectional Analysis
Microscopy
Stereomicroscopy
SEM Analysis
Fractography
Physical Properties Verification
Expert Witness services for insurance claim resolution, litigation and legal claims purposes
Accredited Laboratory
Element New Berlin is a fully accredited A2LA and ISO 17025 laboratory and hold client approvals with Pratt and Whitney and Snecma Group – SAFRAN.
Looking for an approval, accreditation or document?
Find all Element's accreditation, certification and approval documents conveniently available by location.

Our team of nearly 2,000 Engaged Experts working across the USA, Europe and Asia are ready to support you.
How could we help you today?
Make an Inquiry