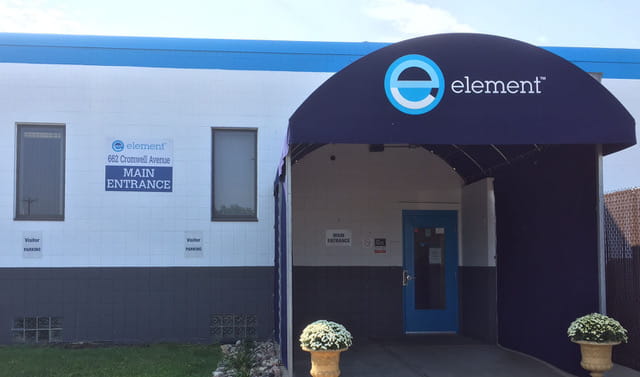 Contact Details
Element St. Paul
Address:
662 Cromwell Ave, St. Paul MN 55114 USA
Phone:
+1 651 645 3601
Fax:
+1 651 659 7348
Sales Inquiries:
+1 888 786 7555
Element St Paul has been in business since 1938, supporting its clients in a diverse range of industry sectors and testing a vast array of materials and products.
Our laboratory in St. Paul operates a full materials testing laboratory with mechanical, metallurgical, advanced materials, nondestructive testing (Nadcap certified), certified weld inspection, failure analysis and chemistry services.
In addition, Element St. Paul offers a full product evaluation laboratory that delivers shock and vibration testing, corrosion HALT/HASS, finite element analyses, professional engineering consulting services for custom product testing for our clients.
St. Paul also has complete test centers for building products such as windows and doors, anchors and fasteners, as well as foam and mattresses, and a team of Professional Civil Engineers who provide geotechnical and construction materials testing services all over the US and Canada.
Our services include:
Mechanical Testing

Metallurgical Testing

Advanced Materials Testing

Nondestructive Testing (Nadcap certified)

Certified Weld Inspection

Failure Analysis

Chemistry

Building Products Engineering

Environmental simulation and accelerated aging
Looking for an approval, accreditation or document?
Find all Element's accreditation, certification and approval documents conveniently available by location.
Services Available
Element St Paul
---

Our team of nearly 2,000 Engaged Experts working across the USA, Europe and Asia are ready to support you.
How could we help you today?
Make an Inquiry