About Element Cape Town
Element Cape Town is an Environmental Testing laboratory serving a wide range of clients from petrochemical, mining, industrial, contaminated land and waste sectors, throughout South Africa and Africa.
The laboratory was established in 2016 and offers a wide range of analysis on soils, waters, effluents, leachates, wastes, sediments, products, gases, vapors and ambient air samples.
Laboratory Capabilities and Services
Working in collaboration with our sister laboratory in Deeside in the UK, we offer a wide range of standard routine analysis including hydrocarbons, VOCs, SVOCs, PAHs, PCBs, Dioxins & Furans, PCBs, Pesticides, PFAS, metals, COD, BOD, anions, cations, waste characterization suites and asbestos testing. In addition, more specialist assessments are undertaken such as hydrocarbon environmental forensics, bioaccessibility testing (e.g. BARGE, FOREhST), monolithic leachability testing and bench scale remediation trials.
The analysis of gases, vapors and ambient air is an area of specialization for Element. Sampling equipment includes evacuated (Summa type) inert Silonite coated canisters, BottleVacs, thermal desorption tubes (passive or pumped) and Radiello. A wide range of analytes are offered, including ultra-low VOCs.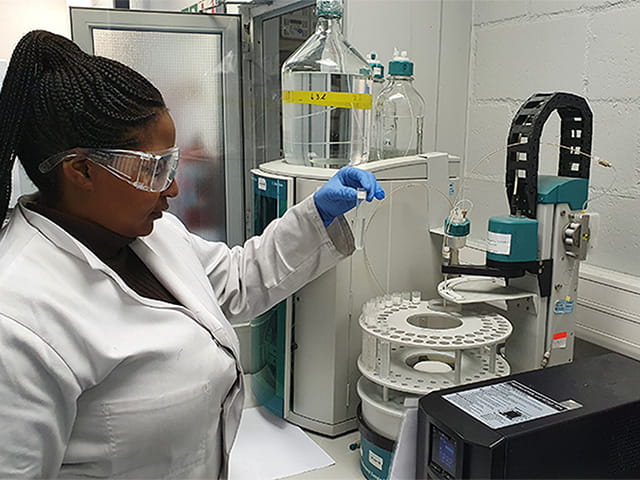 Analytical suites include: 
Contaminated Land (Soil Screening Values SSV- GNR 331 & Contamscan suite)
Waste Testing (Assessment for Landfill disposal SANS 10234)
Petroleum Based Analysis
Drinking Water (SANS 241:2015)
"Great customer service with fast turnaround times."
David Swanepoel
Rison Groundwater Consulting
Our Accreditations
The Cape Town laboratory is accredited to ISO/IEC 17025:2017 by the South African National Accreditation System (SANAS) and holds accreditation for various chemical analyses, including TPH CWG, VOCs, SVOCs, PAHs, Sulphate, Chloride, and Earth Metals. The scope of accreditation is progressively being extended to include new methods and sample matrices.

Element Cape Town is committed to the principles of Broad-Based Black Economic Empowerment (B-BBEE), is level 4, and a proud YES member.