About Element Plano
Element Plano is a premier 50,000 square foot state-of-the-art laboratory serving the defense, aerospace, telecommunications (NEBS), commercial electronics, wireless, medical and automotive industries. We are ISO/IEC 17025 accredited under A2LA for a wide array of foreign and domestic product test standards across several major disciplines.
Our team of over 9,000 Engaged Experts in North America, Europe, The Middle East, Australia, Asia and Africa are ready to help you.
Element Plano Specialties
Extensive EMI, EMC & ESD Services at Element Plano
Element Plano (CAGE code 4KDC2) offers a full range of EMI, EMC and ESD services. In addition, our facility has the capacity and capability to meet just about any product test requirement at our laboratory, at your facility, or at the product installation site.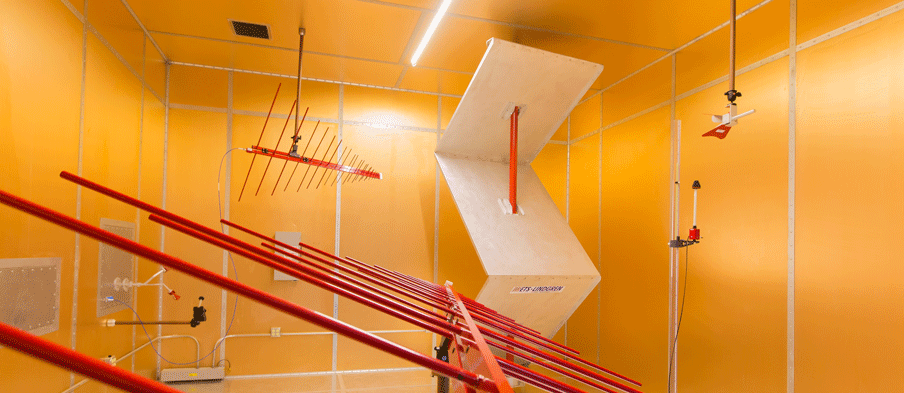 EMI/EMC/E³ Capabilities
• Servicing the Defense, Aerospace, Space, Consumer Electronics, Medical, Telecom and Automotive Industries
• Radiated Susceptibility ~ 200 V/m, frequency range 10 kHz to 40 GHz,
• HIRF Testing 100 MHz – to 1o 18 GHz up to 7200 V/m pk
• Radiated Emissions ~ 30 Hz to 40 GHz
• 10 meter Semi-anechoic chamber with a 12' x 12' door
• Two 3 meter semi-anechoic chambers
• Four MIL/AERO Semi-anechoic chambers
• MIL/AERO semi-anechoic chambers
• Reverberation chamber 100 MHz to 18 GHz
• Extended ground plane test beds
• Indirect Lightning-Single stroke, multiple stroke, multiple burst, Level 5 DO-160
• AC & Telecom port surge, Electrical Fast Transients, Ring-wave, and bust testing
• Electrical power characteristics testing for Aerospace, Defense, and Automotive
• Airborne acoustic noise and structure-borne noise
• Antenna characterization
• Shielding effectiveness, transfer impedance
• Electrostatic discharge up to 30 kV
• HERO
• RADHAZ analysis
3 & 10 Meter Chambers
Our Plano facilities house 7 EMI chambers, including two 3 meter chambers and one 10 meter chamber up to 65'L with 12' x 12' vehicle door accredited for world-wide certification testing.
ESD, Surge & Lightning
We also offer military and aerospace capabilities that cover 200V/m, 10KHz to 40GHz as well as indirect lightning effects and multiple burst/multiple stroke lightning up to Level 5 of DO160, Airbus and Boeing.
Simulated Lightning
• Lightning: Single and Multiple stroke, and Multiple burst indirect effects up to 10kV/10kA capabilities
Reverberation Chamber for Accelerated EMC/EMI Testing
Element Plano offers product testing services by means of a 100 MHz LUF Electromagnetic Reverberation chamber and direct illumination test method testing up to 12,000 V/m AM/FM/PM in frequency bands above 1 GHz.
HIRF Radiated Immunity >7200 V/m
We have more than 50 years of electromagnetic compatibility testing experience. This means when it comes to mission-critical equipment that is expected to operate effectively in extreme environments, HIRF testing is the ideal way to test electrical and electronic systems.
Dynamics and Environmental Testing at Element Plano
Our Plano location is a full-service environmental test facility capable of managing your environmental test programs for commercial and military. Our technicians and engineers are leading experts in the performance of an array of environmental simulations including thermal, shock, seismic, vibration and acoustic testing — to name just a few.
Seismic Simulation at Element Plano
Our seismic simulation testing equipment includes the following capabilities:

• 10.5″ stroke • 20,000 force pounds • 0.6Hz–500Hz • testing to GR 63-CORE Zones 1–4
Electrodynamic Shakers, Shock, Random, Sine Vibration
Our electro-dynamic shaker systems feature the following capabilities:
• Two T-2000 shakers, a T-1000, and a T-514 shaker; up to 3″ stroke, 9,000–25,000 force pounds, 5Hz–3,000Hz, Sine 25,000 pounds (111 kN) peak, Random 22,000 pounds, (98 kN) rms, Shock 50,000 pounds (311 kN) peak
• Up to 32 channels response, data acquisition and analysis; Static and dynamic load
• Acceleration chamber up to 200 RPM
Temperature, Humidity, Altitude Chambers
Temperature, humidity and altitude testing form the backbone of many environmental testing requirements. In addition to testing for extreme thermal fluctuations and elevated levels of humidity, we can test products at simulated altitudes of up to 80,000 feet.
Acceleration, Sand and Dust, Explosive Atmosphere
Some of our acceleration, sand and dust testing capabilities include:

• Wind-driven rain up to 80 mph
• Large scale sand & dust chambers to 74 mph
• Settling dust (ambient temp) and sand and dust combined
Product Safety, CE Mark, FCC and Wireless Certification
From design-level consultation and pre-compliance testing, to formal product qualification, the Plano team is truly a "one-stop-shop" for all your compliance needs. We specialize in product testing for the following markets:

• Defense (DoD)
• Aerospace
• Telecom-NEBS
• Wireless
• CE MARK
• Medical

Additionally, Element Plano provides radio testing and approval services for North America, European Union, South Korea, Australia and Taiwan and is one of five Verizon/NEBS-certified facilities, committed to providing the highest quality testing services to manufacturers of Telecom/ITE equipment:

• RF regulatory and Dynamic Frequency Selection (DFS) testing
• FCC-designated Telecommunications Certification Body
• WiFi, RFID, Bluetooth, ZigBee and other wireless capabilities
Approvals held for a wide range of domestic/international wireless testing standards
We test to MIL-STD 461, MIL-STD 704, MIL-STD 1399, MIL-STD-810, RTCA DO-160 and NEBS just to name a few. We do it all with the constant goal of helping you save time and money by achieving your compliance requirements quickly and efficiently, so you can expedite products to market without wasteful delays. From design-level consultation to pre-compliance testing to formal qualification testing services, plus finished product modifications, production sampling, international approvals management and field resolution, the Plano team is truly a comprehensive facility for all your compliance needs.
Power Quality
28 VDC, 115 VAC 60/400 Hz, 440 VAC 60 Hz single and 3 phase up to 45 kVA
Primary Test Specifications at Element Plano
EMI/EMC/ESD
MIL-STD-461/464
MIL-STD-810
MIL-STD-202
DO 160
Boeing D6-36440
Boeing D6-44588
Boeing D6-16050
Airbus ABD0100.x.x
MIL-STD-704A
MIL-STD-1275
IEEE C37.90.1 & .2
IEEE 1613
GR 1089-CORE
GR 63-CORE
GR 487-CORE
GR 3108
GR 3178
ASTM
ISTA
ISO 13766
CISPR 22/11
CISPR 24
VZ. TPR. 9205
FCC part 15 & 18
EN300386
EN55024
EN55022
EN55011
EN61000-4-xx
EN61000-3-x
K20 - 22
KN 22
KN24
KN32/35
Dynamics & Environmental
MIL-STD-810
MIL-STD-202
MIL-STD-167
MIL-PRF 28800
DO 160
ISTA
ASTM
IEC 60529
NEMA 250
GR 13
GR 49
GR 63
GR 487
GR 937
GR 3115
GR 3108
GR 3125
UL 50
ETSI 300-019-xx
IEC 60068-2-xx
International Approvals and Certification
Getting your product into international markets can be difficult with geopolitical dynamics fundamentally impacting the type of markings you might need to get your product into a new country. Our team of experts is dedicated to helping you secure regulatory approval in global markets with a streamlined process designed to avoid delays and duplicative testing. Our international approval services include:

• A Single-Point-of-Contact for 180 Countries
• In-country Testing and Approvals
• Globally Recognized Test Reports
• In-Country Representation
• On-going Compliance Tracking
• Compliance Strategy for Faster Certification
Testing & Certification
Element Plano is a world-class product compliance laboratory, CAGE code 4KDC2, providing a full range of services; EMI/EMC/ESD, Environmental including salt fog, sand and dust, Dynamics including shock and vibration, Wireless, and Product Safety through our NRTL and CBTL partners. From design-level consultation, to pre-compliance testing, formal qualification testing services, finished product modifications, production sampling, international approvals management, and field resolution. Element is truly a "one-stop-stop" for all of your compliance needs.
Plano's services also include Military and Aerospace capabilities that cover RS 103, 200V/m, 10KHz to 40GHz, RS 105 EMP as well as indirect lightning effects and multiple burst/multiple stroke lightning up to Level 5 of DO160, Airbus, and Boeing.
Approvals & Accreditations
We are internationally accredited to ISO/IEC 17025 by A2LA for an extensive list of standards. Our EMC testing and certification services cover North America, the EU, Japan, Australia, Taiwan and South Korea. We provide Product Safety testing and approvals for manufacturers seeking CE certifications, CB reports, and listings with UL, TUV and CSA. Wireless services include RF and DFS testing and certifications for North America via our TCB/CCB status. We also provide radio testing and approvals services for the EU, South Korea, Australia and Taiwan. As a Verizon-certified Independent Test Lab, Element Plano provides NEBS testing services for Telecom/ITE equipment.
Wireless
• RF regulatory and Dynamic Frequency Selection (DFS) testing
• FCC-designated Telecommunications Certification Body
• Wi-Fi, RFID, Bluetooth, ZigBee and other wireless capabilities
• Approvals held for a wide range of domestic/international wireless testing standards