About Element Newark
Element Newark offers a range of services, including shock and vibration testing, thermal stress, and extreme environment simulation. Together with our sister lab, Element Fremont, we support virtually every industry in the Bay Area, including aerospace, defense, telecom, medical, automotive, industrial, and more.
Our team of over 9,000 Engaged Experts in North America, Europe, The Middle East, Australia, Asia and Africa are ready to help you.
Element Newark Specialties
Environmental Simulations at Element Newark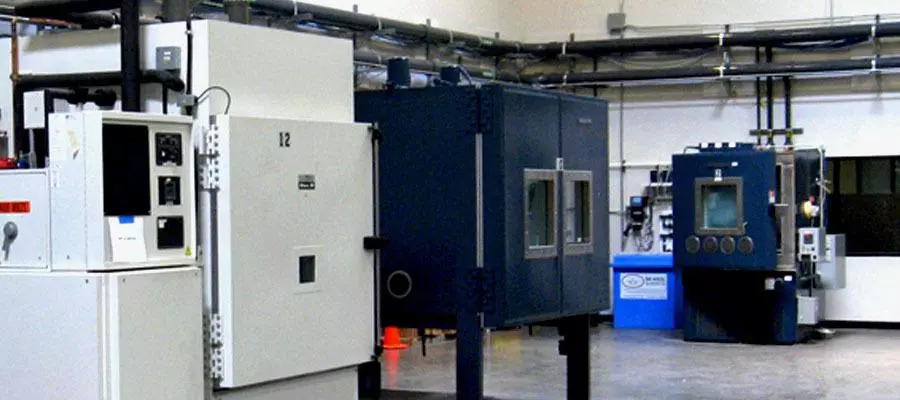 We can simulate any environmental condition imaginable at Element Newark. Key environmental services and capabilities include:

• Numerous Temperature and Humidity Chambers (2′x2'x2′ to 12′x12′x12′)
• HALT Testing-100°C to +200°C, Ramp Rate 70°C/Min Up to 60gRMS (5Hz to 5kHz)
• IP (Ingress Protection) testing per IEC 60529 and ISO 20653
• Temperature, Humidity, Altitude Chamber up to 65,000
• Up to 50kW heat dissipation capability for Temp and Humidity Testing
• Fire Resistance
• Thermal Shock
• Acoustic Noise
• Corrosion
• Salt Fog
• Hygroscopic Dust
• Mixed Flow Gas (MFG)

We test to a wide range of standards, including:
MIL-STD-810
MIL-STD-202
RTCA DO 160
ISTA
ASTM
NEMA
GR 12-CORE
GR 49-CORE
GR 63-CORE
GR 487-CORE
GR 937-CORE
GR 3115-CORE
UL 50
UL 94
ETSI 300-019-xx
IEC 60068-2-xx
Robust Dynamics Capabilities at Element Newark
Ensure that your product is ready for mass production with our full line of dynamics testing services. Whether it's testing materials for fatigue and corrosion or putting components through HALT/HASS accelerated stress tests, after dynamics testing, your products are far more prepared to go to market successfully once you've had the chance to make any needed modifications to their design and/or manufacture. That is why we have one of the most comprehensive arrays of dynamics testing services anywhere. Common services at the lab include the following:

• Acceleration Testing
• Acoustic Noise Testing
• Impact Testing
• Corrosion Testing
• Vibration Testing
• Shock Testing
• Drop Testing
• HALT Testing
• HASS Testing

Key Highlights include:
• Electrodynamic Shaker Systems with 2" Stroke, 20,000 Force Pounds, 5Hz–2,000Hz, Mechanical Shock
• Seismic System with 10.5" Stroke, 15,000 Force Pounds, 0.6Hz–500Hz
• Seismic Testing to GR 63 - CORE Zones 1–4
• Up to 32 Channels Response, Data Acquisition, and Analysis
• Fixture design and fabrication services
• Temperature over Vibration testing
• AC156 (including OSHPD) to Seismic Testing
• ISTA Certified Laboratory
Extreme Environmental Simulations
At Element Newark customers get access to a variety of equipment and capabilities, including:

• Temperature, Humidity, and Altitude
• Wind, Ice, Rain, Sand, and Dust
• Salt Fog and Salt Spray Corrosion
• Solar Radiation & Actinic Testing
• Highly Accelerated Life Testing
• Highly Accelerated Thermal Shock
• Fire Resistance
• Salt Fog
• Hygroscopic Dust
• Mixed Flow Gas

Key testing capabilities:
• Temperature/Humidity Chambers from 2'x2'x2' to 18'x12'x12' Walk-in Chambers
• Temperature/Altitude to 80,000 Feet
• Temperature/Humidity/Altitude to 65,000 Feet