Article
Element Detroit Expands Vehicle Testing Capacity
By Engaged Expert
John Saad
Element's Troy, Michigan, laboratory has recently completed construction on one of the Midwest's largest in-ground reactive mass bedplates, increasing the facility's capacity dramatically. Electric vehicles and their components require these types of large in-ground bedplates as a foundation for reactive mass testing, as they are heavier than internal combustion vehicles. This expansion provides vehicle manufacturers in the Midwest with better, faster access to comprehensive testing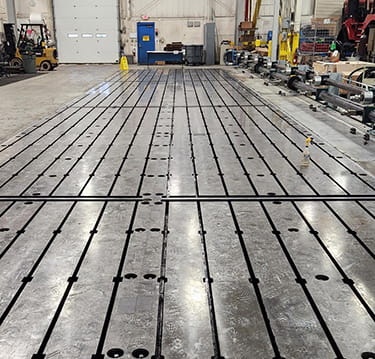 solutions for even the most advanced vehicle designs.
The 85-foot by 16-foot bedplate area can accommodate loads up to around 50,000 lbs. and allows experts to test multiple full vehicles simultaneously. This expansion adds 1,360 square feet of bedplate capacity to the laboratory, bringing its total bedplate square footage to 7,908.
This project represents one of Element's many commitments to the electrified future of vehicle testing. Continuous, proactive improvements to our testing capabilities, capacity, and technologies allow Element to support the evolution of the automotive industry as electric vehicles become the new standard.
Our capabilities at Troy go beyond just cars and trucks. Our customers include manufacturers of farm vehicles, golf carts, and other specialty vehicles. These vehicle categories are also undergoing electrical redesigns on a wide scale and manufacturers are relying on Element for advanced testing.
Element's experts are available to answer any questions you may have about our technical capabilities. For more information about how we can serve your testing needs, contact us today.
Our team of over 9,000 Engaged Experts in North America, Europe, The Middle East, Australia, Asia and Africa are ready to help you.