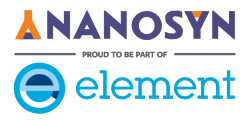 We're thrilled Nanosyn is part of Element. We continue to provide the same high-quality CDMO services you've come to expect from us. Plus, you now have access to a greater depth and breadth of expertise - in addition to end-to-end support for the entire product development lifecycle. Together, we'll accelerate discovery to clinic timelines, leveraging Element's global platform and world-leading experts.
Accelerate discovery to clinic timelines
You'll cut costs and reduce time to market when you partner with us to develop suitable and stable formulations for various routes of administration. We make it easy to leverage Element's seamless, integrated service platform throughout the product lifecycle. Interested in learning more? We still offer the same core drug discovery and development expertise and services you've come to expect from us - look below for more. Keep scrolling to explore a handful of expanded services we now offer as part of Element. To know more about Element, scroll further down to learn about our purpose, values, history, and more.
Find our core services
For more information about the core services we continue to provide as Element, click the links below. Keep scrolling for the complete list of discovery biology assays we offer.
---
Click on the orange "Get more information" button and fill out the form. A member of our team will be in touch with you.
Let us know what you're looking for
Explore our expanded service offerings
As part of Element, we offer a greater depth and breadth of services. Click the links below to explore our global service offerings.
---
Our team of over 9,000 Engaged Experts in North America, Europe, The Middle East, Australia, Asia and Africa are ready to help you.